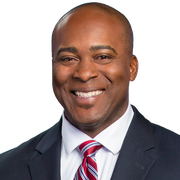 Former Atlanta Braves All-Star player Ron Gant is now part of the FOX 5 team as a co-anchor of Good Day Atlanta. That's right: the former No. 5 is now on FOX 5!
You can wake up with Ron every weekday morning at 6 a.m. and 7 a.m. Before coming to FOX 5, Ron served as an analyst on FOX Sports South coverage of Atlanta Braves games for four years. Earlier in his career, Ron was a studio analyst for the MLB Network for "Hot Stove" and "MLB Tonight." Before that, he served as commentator for the Atlanta Braves on TBS.
Before his broadcasting career, Ron spent six years with the Atlanta Braves, including playing in two World Series. Ron has lived in Atlanta for more than 20 years.
Top Dogg K-9 Foundation is an organization on a mission to improve the lives of local veterans.
If anyone close to the Braves organization knows about losing the first game of a playoff series its Good Day Atlanta anchor Ron Gant.
One member of the FOX 5 Atlanta team knows all about playing in the playoffs for the first time.
The PGA Tour Championship begins Thursday at East Lake. It's the final event for the FedEx Cup and the $10-million-dollar bonus. 
FOX 5 Atlanta's Ron Gant has been through this before. He was a member of the Braves the last time that the team fired a manager. That was Russ Nixon back in 1990.
Gwinnett County's own Arquevious Crane captured everyone's attention in 2007 when he fought his way back from a paralyzing football injury. 
Law enforcement officers have skills outside their line of work. Good Day Atlanta's Ron Gant introduces us to a Hall county sheriff's deputy who has some very impressive musical talent!