Who is Misty Hampton? Former Coffee County elections director indicted for election interference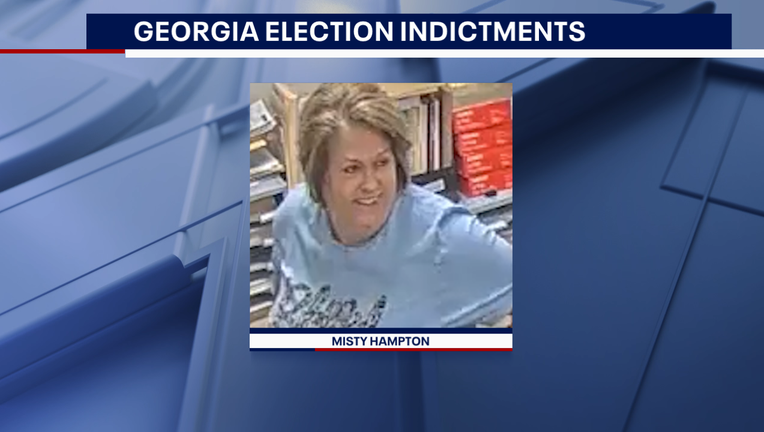 article
ATLANTA - Misty Hampton, who has been indicted along with former President Donald Trump and 17 others, was a former elections director in Coffee County.
Hampton was present in the county elections office on Jan. 7, 2021, when forensic experts from SullivanStrickler were allowed to copy software and data from the county's election equipment. That data was later distributed through a file-sharing website.
SullivanStrickler has said that it was retained by attorneys to forensically copy voting machines used in the 2020 election and had no reason to believe at the time they were hired that their employees were doing anything improper.
Additionally, Hampton was caught on surveillance video allowing two men who were active in challenging the result of the 2020 election results into the elections office on Jan. 18, 2021. The two men spent almost 4 hours there that night and more than 9 hours there the next day.  Hampton told the Washington Post that she opened the office to the two men because she did not trust the results of the election. 
WHO ARE THE 19 PEOPLE INDICTED IN FULTON COUNTY'S ELECTION INTERFERENCE CASE? 
Hampton resigned as the elections director in February 2021 after elections board officials said she falsified timesheets. She claimed she was pushed out because she had made a video criticizing Dominion voting machines. She was then hired to run a special election for Treulten County Elections. Investigators took Treutlen County's elections server after learning Hampton had been hired. It's not known if she allowed outside access to the Treulten County server.
WHAT'S NEXT FOR FORMER PRESIDENT DONALD TRUMP, CO-DEFENDANTS IN FULTON COUNTY AFTER INDICTMENT
Several people were upset that Hampton was hired for the temporary job in Treulten after she left her job in Coffee County because of suspected illegal activity.
LIST OF CHARGES
1 - Violation of the Georgia RICO (Racketeer Influenced and Corrupt Organizations) Act
32 - Conspiracy to commit election fraud
33 - Conspiracy to commit election fraud
34 - Conspiracy to commit computer theft
35 - Conspiracy to commit computer trespass
36 - Conspiracy to commit computer invasion of privacy
37 - Conspiracy to defraud the state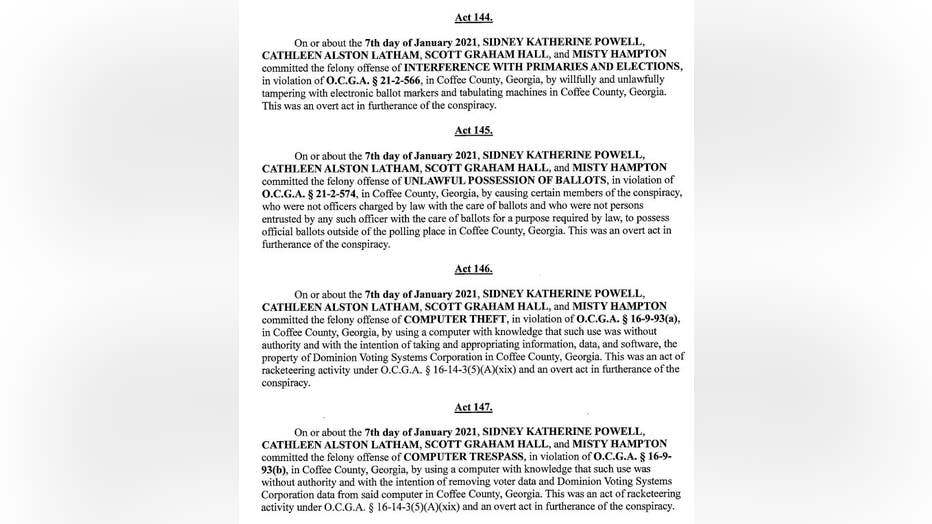 It is unknown where Hampton is currently employed.