Grief-stricken family makes funeral arrangements for slain Mays High School student
ATLANTA - Atlanta Police continue their investigation to track down the shooters who killed a 16-year-old Benjamin E Mays High School student and wounded another.
Understandably, the family of Bre'Asia Powell is devastated. They spent the day making funeral arrangements.
"We had to go pick out a casket today, and that's been one of the hardest things for me, even as an auntie," family member Sharon Williams shared with tears in her eyes.
Atlanta Police say Powell and 16-year-old Tryquez Waller were shot early Sunday morning on the exit driveway at Mays High School. The teens were with a group who had been to a graduation party at another location. When the first party ended, police say many students came to the high school to further socialize.
But the 2:30 a.m., gunfire disrupted the gathering. Police believe there were at least two shooters.
"Kids and guns don't mix. Making parents accountable and holding them responsible, that is what needs to happen. Kids should not want to pick up a gun, let alone use a gun," said Williams.
Family members say Powell was the life of the party. A student Athlete and scholar who played basketball and volleyball. She was one of six siblings. 
Now, her family wants those who have information to not look at it as snitching, but rather cooperate with the police.
"Why wouldn't you share? Why wouldn't you care enough? What if it was your niece, your sister? If it was your cousin, daughter or granddaughter, why wouldn't you want that person to be held accountable? They took a life," the teen's aunt insisted.
Police have not made any arrests.
"I hope someone will find it in her heart to tell what really happened. There is a $10,000 reward that will help police solve this case," Mrs. Williams said with confidence.
Waller is recovering at a nearby hospital.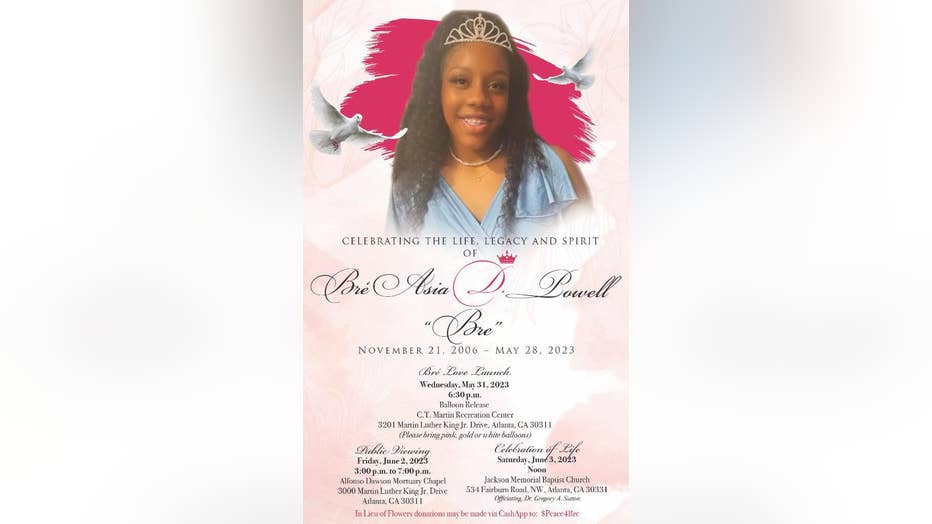 Arrangements have been made to honor the life of Bre'Aisia D. Powell.
Powell's family said they would host a balloon release at the C.T. Martin Recreation Center on Wednesday, May 31. They have asked participants to bring pink, gold or white balloons.
Her funeral is scheduled for June 3 at Jackson Memorial Baptist Church in Atlanta.