Ugandan Conjoined Twins Separated in Life-Saving Surgery in Ohio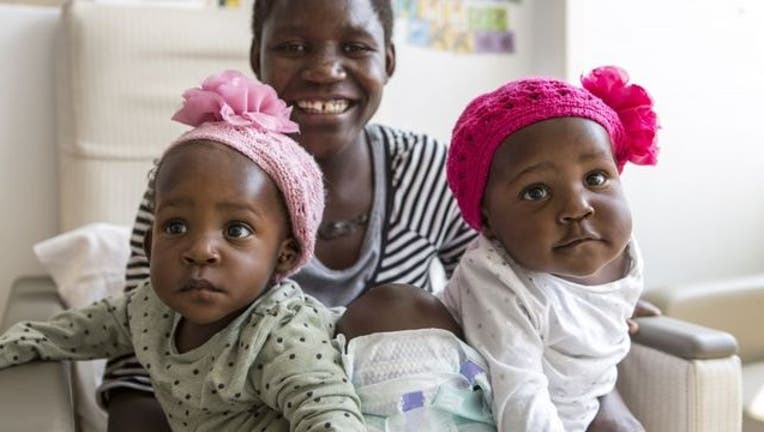 For the first time in their 11 months of life, conjoined twins Acen and Apio can be held separately and are on the path to living fully functional, healthy lives, thanks to an 18-hour separation surgery involving over 30 specialists.
The girls, born in Uganda, were brought to Nationwide Children's Hospital in Columbus, Ohio, when they were 7 weeks old. On Thursday, they entered the operating room at 7:30 a.m. and returned to the intensive care unit (ICU) at midnight.
"It was truly a multi-disciplinary effort from several teams of surgeons that really worked well together in order to obtain the optimal output for the babies," lead surgeon Dr. Gail Besner, chief of the department of pediatric surgery at Nationwide, told FoxNews.com.
That team included general pediatric surgery, pediatric plastic surgery, pediatric neurosurgery, colorectal surgery, a neurophysiology monitoring team, anesthesiologists and nurses.
Acen and Apio weighed a combined 18.7 pounds, were joined at their pelvic and hip region, and shared some soft tissue and connective tissue. The biggest concern for the team was their spinal cords— they shared some common areas that controlled their ability to walk and their bowels and bladders. During the surgery, doctors had to figure out which nerves went with which baby to maximize their ability to have good motor function, and competence with bowel and bladder function.
"One of the biggest concerns after separation surgery like this is how well the extremities will be moving," Besner said. "We were glad to see the legs were moving beautifully."
The girls were born without an opening to evacuate stool, which was not discovered until they were 5 weeks old. At that point, a surgeon took them in for emergency colostomies, which saved their lives.
During the separation surgery, doctors found the areas of the rectum that should have come through the skin and put them in the proper place for each girl. After their colostomies are closed in the next few months, the twins will undergo reconstruction so they can evacuate their bowels normally.
An additional concern for the surgeons was the amount of skin that would be able to close the wounds after surgery. Months before the procedure, the plastic surgery team inserted tissue expanders under the skin of each girl, which were enlarged each week until they determined there was enough skin for the operation.
Conjoined twins occur in about 1 in every 200,000 pregnancies, and the girls' configuration was unusual, Besner noted.