Trump mugshot: Shirts for sale with fake mugshot of Trump on his online store
HOUSTON - Following Donald Trump's indictment on more than 30 felonies, many were curious if the former president would have his mugshot taken and while he didn't, Trump is offering up his mugshot in a different way.
DOWNLOAD THE FOX 26 HOUSTON APP BY CLICKING HERE
Through Trump's campaign website, people can buy a shirt with a fake mugshot printed on it.
TRUMP ARRAIGNMENT: Trump arraigned: Former president pleads not guilty to 34 felony counts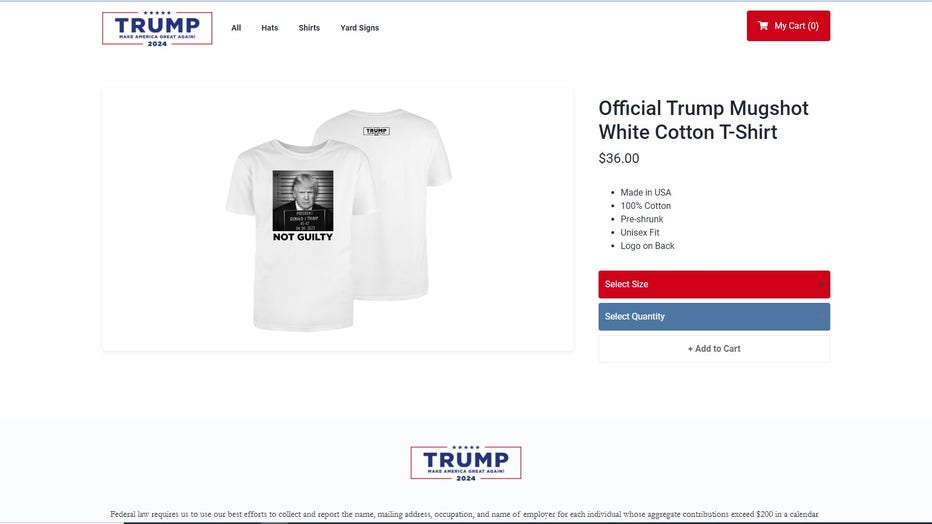 Trump merchandise website showing fake mugshot shirt
The shirt has a "mugshot" of Trump on it with 45-47, as a nod to him being the 45th president and campaigning to be the 47th. It also has the date 04-04-2023, which is the day he appeared in court for his arraignment.
RELATED: Donald Trump turns himself in: The day in photos
On the WinRed site, the shirt is called the "Official Trump Mugshot White Cotton T-Shirt" and is listed to cost $36.