Tory Lanez denied new trial in Megan Thee Stallion shooting
LOS ANGELES - A Los Angeles judge Tuesday rejected a bid for a new trial for jailed rapper Tory Lanez, who was convicted of shooting hip-hop star Megan Thee Stallion in the feet three years ago in the Hollywood Hills.
Lanez's current attorney, Jose Baez -- who famously won an acquittal for Casey Anthony -- argued Monday that procedural errors, prosecutorial misconduct, discovery violations and ineffective counsel led to his client's conviction in December on one felony count each of assault with a semiautomatic firearm, having a loaded unregistered firearm in a vehicle, and discharging a firearm with gross negligence.
But back in court on Tuesday, Los Angeles Superior Court Judge David Herriford denied the motion for a new trial.
RELATED: Tory Lanez sentencing postponed in Megan Thee Stallion shooting
"The court finds no error, prosecutorial misconduct or newly discovered evidence," Herriford said. "Motion denied."
Sentencing for the 30-year-old Canadian rap star, whose real name is Daystar Peterson, was scheduled for June 13. Lanez is facing up to 22 years and eight months in prison.
During an often contentious hours-long hearing Monday, Baez asked for frequent recesses and complained of the order in which the judge took up the defense claims of trial error.
Herriford repeatedly told Baez that a motions hearing was not an opportunity to "relitigate this case."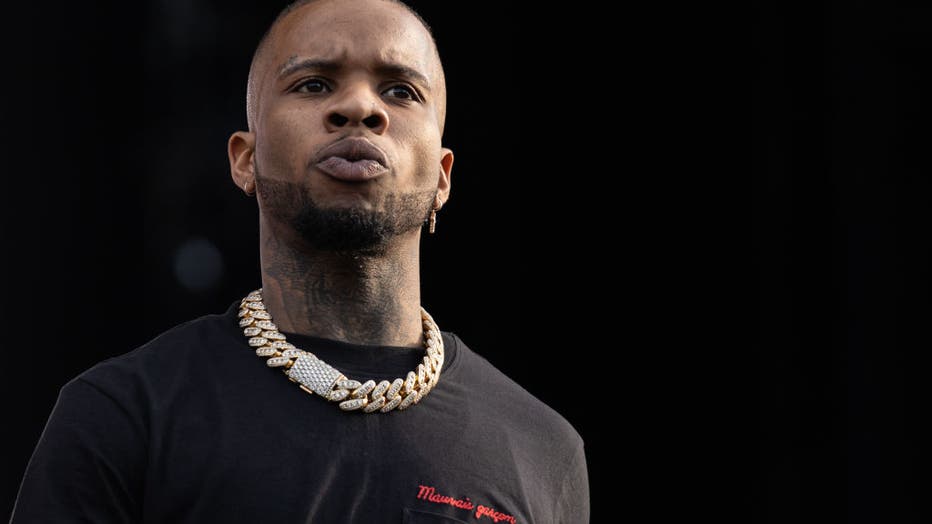 Tory Lanez performs on stage during Wireless Festival 2019.(Photo by Lorne Thomson/Redferns)
Defense attorneys Baez and co-counsel Matthew Barhoma took special issue with the judge's refusal to allow the defense to put on witnesses and present exhibits to illustrate various points, something that would be unusual for such a proceeding in the state.
"I think the court is boxing us in," Baez complained.
PREVIOUS COVERAGE: 
As for Lanez's former trial attorney, George Mgdesyan, Baez said the lawyer did not have enough time to prepare for trial and ultimately "failed" Lanez.
The rapper's defense during the 10-day trial in downtown Los Angeles "was a jumbled, bungled mess," Baez said.
Baez and Barhoma filed their motion for a new trial last month, arguing that certain evidence presented at trial and certain witness statements were prejudicial to their client, including an Instagram post and a photo of Lanez's gun tattoo.
In a posting on Instagram last month, Lanez insisted he was "wrongfully convicted" of shooting fellow entertainer Megan Thee Stallion in the feet in the Hollywood Hills in July 2020.
"Today I take a stance as an innocent Black man, wrongfully convicted of a crime I did not commit," Lanez said in the Instagram post addressed to Los Angeles County District Attorney George Gascón.
In an audio recording that accompanied the Instagram post, Lanez alleged that he "was completely robbed and deprived of a fair trial" and that he watched prosecutors "unlawfully misuse their authority to hide and suppress any and all exculpatory evidence that exonerates me and furthers my innocence."
"... So, Mr. Gascón, I come to you today as a wrongfully convicted Black man, not asking for sympathy, nor compassion, but for you to simply do what is fair and right in the laws of California, and most importantly in the eyes of God," he said in the recording, in which he cited the steps that Gascón has taken "in regards to fighting for the justice of Black and Brown minorities."
Lanez has remained behind bars since he was ordered to be taken into custody Dec. 23 shortly after the jury's verdict was read.
Jurors deliberated about seven hours before finding him guilty of the three felony counts.
During the trial, Megan Thee Stallion testified that Lanez told her to "dance, bitch," and shot her in the feet during a July 12, 2020, argument following a get-together at Kylie Jenner's home. She said she had no doubt that Lanez fired the shots, and that he later offered her $1 million not to say anything.
Under cross-examination, the Grammy Award-winning singer -- whose real name is Megan Pete -- said she initially had no intention of talking about what had happened and "didn't want to be a snitch," but felt she had to "defend my name" when she saw that people were "making things up" and suggesting that she hadn't been shot.
In a recent essay published on Elle magazine's website, Megan Thee Stallion wrote, "As I reflect on the past three years, I view myself as a survivor, because I have truly survived the unimaginable."
"Not only did I survive being shot by someone I trusted and considered a close friend, but I overcame the public humiliation of having my name and reputation dragged through the mud by that individual for the entire world to see," she wrote.
As Lanez was being escorted back to lockup after Monday's hearing, he turned toward the judge and said, "Please don't ruin my life, sir."