Doggy Con, Vegfest, free yoga and cocktails: Things to do this weekend in metro Atlanta
ATLANTA - Summer's not over yet! There's way too much fun left to be had. Dress your dog up and win a cosplay contest, grab some brew with your bros and bond over Street Fighter II, or take your best friends on a classy wine tour through the country. FOX 5 has a couple of ideas on how you can enjoy your downtime over the next few days. There's never a dull moment when your weekend is planned by FOX 5 Atlanta.
Each week, we'll update viewers and readers on fun Things to Do in metro Atlanta. 
Download the FOX 5 Atlanta App, and follow FOX 5 Atlanta on social media channels for weekly updates.
End of Summer Fun Exhibition & Pop Up Market
4 p.m. - 9 p.m. Aug. 25
Cat Eye Creative; 186 Mitchell Street SW, Atlanta
Can you believe summer's almost over? Salvage the rest of it at this fun, artsy exhibition and pop up market at Cat Eye Creative, a studio and gallery space that showcasing artists from around the world.
You just might find some funky art to take home. Learn more.
Georgia Vegfest
10 a.m. - 6:30 p.m. Aug. 26
11 a.m. - 5 p.m. Aug. 27
Atlanta Expo Center North; 3650 Jonesboro Road SE, Atlanta
Maybe you've heard of people going plant-based and it doesn't sound so appealing to you, but you know you need to make a change for your health. Check out Georgia Vegfest to get some new ideas and try out a few yummy dishes that just might blow your mind. Learn more.
Legends of Gospel: John P. Kee, Donnie McClurkin, Dorinda Clark-Cole
6 p.m. - 10 p.m. Aug. 26
Mable House Barnes Amphitheatre; 5239 Floyd Road SW, Mableton
If you're looking to feed your spirit this weekend, a couple of gospel legends are in town and ready to sing the house down. John P. Kee, Donnie McClurkin and Dorinda Clark-Cole want to take you to church this Saturday. Tickets are still selling here.
Free Yoga in Woodruff Park
10 a.m. Aug. 26
Woodruff Park; 91 Peachtree Street, Atlanta
Every Saturday morning, you can get in a 60-minute vinyasa flow for free. All levels are welcome. Learn more.
Doggy Con 2023
10 a.m. Aug. 26
Broad Street Boardwalk; Broad Street NW, Atlanta
You've heard of Comic Con and Dragon Con … but have you heard of Doggy Con? Four-legged, furry friends will take over the Board Street Boardwalk, donning all sorts of sci-fi, fantasy, pop culture-based costumes. There are prizes, treats, and plenty of photo ops planned. Learn more.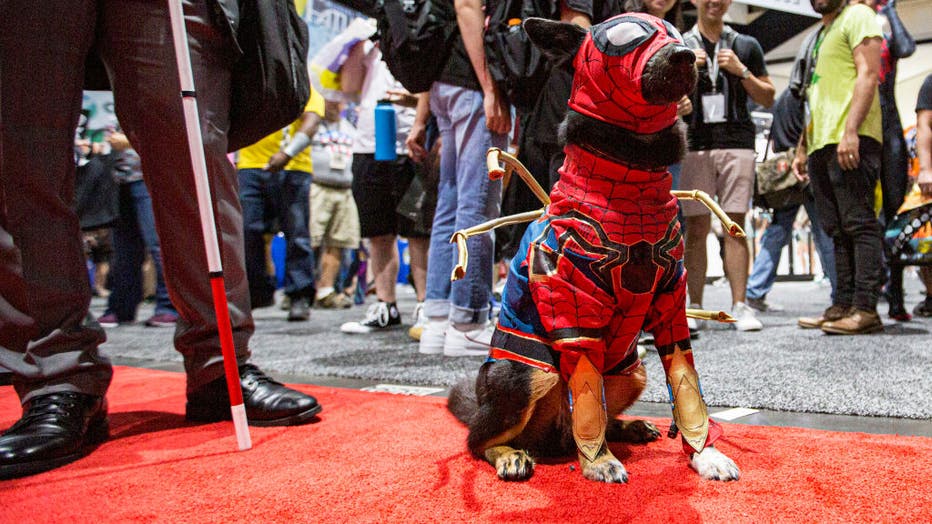 SAN DIEGO, CALIFORNIA - JULY 18: A dog dressed as Spiderman attends 2019 Comic-Con International at 2019 Comic-Con International on July 18, 2019 in San Diego, California. (Photo by Daniel Knighton/Getty Images) (Getty Images)
Summer Shade Festival 2023
Aug. 26-27
Grant Park; 840 Cherokee Avenue SE, Atlanta
It's an annual tradition. Head over to Grant Park for some music and art in Atlanta's oldest park. Proceeds go to maintain the park. Learn more.
Atlanta Food & Cocktail Crawl
Aug. 27
781 Peachtree Street NE, Atlanta
Are you new to the Peach State, or just looking to expand your palate in the city? Check out this walking food tour of Midtown. There are drinks and bites around every corner. Learn more.
North Georgia Wine Country Tour from Atlanta
Grab some friends and take a classy wine country tour outside the city. North Georgia Wine Tours will plan a private outing, complete with transportation to and from your destination. Plan your next trip here.
Get your game on at Joystick Gamebar
Joystick Gamebar; 427 Edgewood Avenue SE, Atlanta
Grab some friends and a couple controllers at Joystick Gamebar this weekend. They've got all the classics like Tekken Tag, Mortal Combat, Frogger, Pinball, Foosball and so much more. You're never too old to play. Learn more.
Celebrate Friendship at Children's Museum of Atlanta
Children's Museum of Atlanta; 275 Centennial Olympic Park Drive NW, Atlanta
Until Aug. 31
August is "Friendship Month" at Children's Museum of Atlanta. It's all about teaching children the joys of making the right kind of friends. They'll explore sharing, listening, cooperative play and so much more throughout various events all month long.
Learn more about the experience.
Van Gogh: The Immersive Experience
Atlanta Art Center; 5660 Buford Highway NE
Until Sept. 29
Allow yourself to get swallowed up in the world of Dutch artist Vincent van Gogh. We're talking about virtual reality, sensory rooms, galleries and so much more featuring his most famous works, and even some you may have never seen before.
This could be the perfect date night for two creative souls, or just a great way to get out of the house. Tickets are available here.
You can even book a relaxing yoga session, just click here.
Sneak Peek to Next Week
Dragon Con 2023
Aug. 31 - Sept. 4
It's almost that time of year again. Dragon Con 2023 is just days away from taking over Atlanta, and organizers have been pumping fans up by slowly releasing lists of celebrities expected to make an appearance. Learn more.
Come back next week for a look at even more special events happening near you. Learn more.
Keep up with the latest forecast by downloading the FREE FOX 5 Storm Team app and following @FOX5StormTeam on Twitter.