Rep. Marjorie Taylor Greene defends man accused of leak, demands answers about Ukraine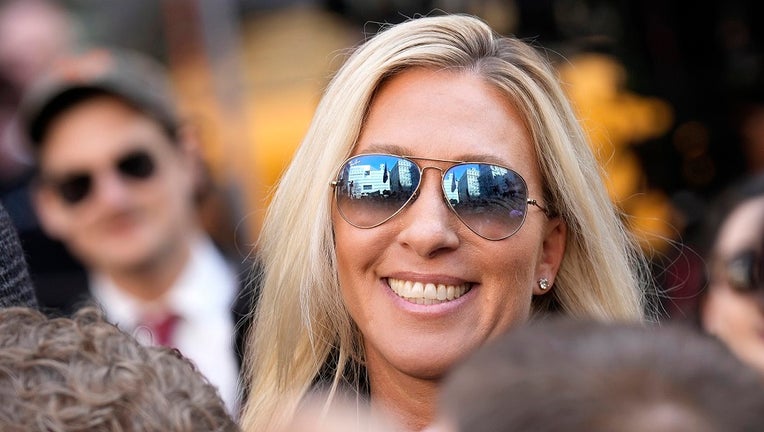 article
ATLANTA - Rep. Marjorie Taylor Greene (R-Ga.) is defending Massachusetts Air National Guardsman Jack Teixeira, who has been arrested in connection with a high-profile investigation into leaked documents. Additionally, she implied the Biden administration is "the real enemy." 
"Jake Teixeira is white, male, christian, and antiwar. That makes him an enemy to the Biden regime," Greene tweeted.
"And he told the truth about troops being on the ground in Ukraine and a lot more," she added. "Ask yourself who is the real enemy? A young low level national guardsmen? Or the administration that is waging war in Ukraine, a non-NATO nation, against nuclear Russia without war powers?"
Greene, who serves on the House Homeland Security Committee, was quickly called out by some Democrats, including campaign strategist David Axelrod and California Rep. Eric Swalwell.
Former Rep. Liz Cheney, a Republican from Wyoming, says Greene should not have security clearance after defending the Air National Guardsman.
Greene has been very vocal about wanting answers about why the U.S. is reportedly waging war in the Ukraine against Russia, including a letter that she sent the Secretary of Defense on Friday.
Greene accuses President Biden of lying to the American people about the war, sending billions of dollars' worth of weapons and aid to Ukraine, and engaging the United States in a proxy war. Greene claims in her letter that such actions has pushed the United States to the "brink of a nuclear holocaust."
This isn't the first time Greene has made headlines because of controversial posts on social media. Most recently, she was restricted on Twitter for posting anti-transgender messages after the mass shooting at a Christian school in Nashville.
RELATED: Twitter restricts Marjorie Taylor Greene's account after Nashville school shooting 
Her Twitter account was also previously suspended for violating COVID misinformation policies (it was reinstated after Elon Musk took over the company).
Despite her promotion of conspiracy theories and support for Donald Trump, Green's political clout continues to expand and she has moved beyond the fringe of the party and into more of the mainstream. She easily won re-election in November and she is known across the nation, which is unusual for a politician in their second term. 
Teixeira is accused of posting documents on a private Discord server called "Thug Shaker Central." He was arrested Thursday at his home in Massachusetts and made his first court appearance on Friday where he was charged with possessing classified documents pertaining to national security and possessing national defense materials. If convicted, he could be sentenced to prison for 10 years.
RELATED: Pentagon leak suspect Jack Teixeira charged in federal court, tells dad