Renters get some relief as rent burdens plummet, but low-income families still struggle: new report
A new report highlighting housing affordability during the first quarter of 2023 shows that renters are finally starting to see some relief from rental burdens. 
According to the findings, reported by Moody's Analytics, the number of U.S. metros experiencing higher rent burdens plummeted 91% from a quarter ago – from 49 cities in Q4 2022 down to only five in Q1 2023. 
Fairfield County in Connecticut, New York City, Los Angeles, Las Vegas, and Greensboro/Winston-Salem saw the largest declines in rental burdens, mainly attributed to lower rent prices earlier this year.   
In addition, on a year-over-year basis, more than 40% of metros (34 of 79) showed signs of relief – twice as much as in the fourth quarter of 2022 – which was mostly driven by faster income growth, according to the company.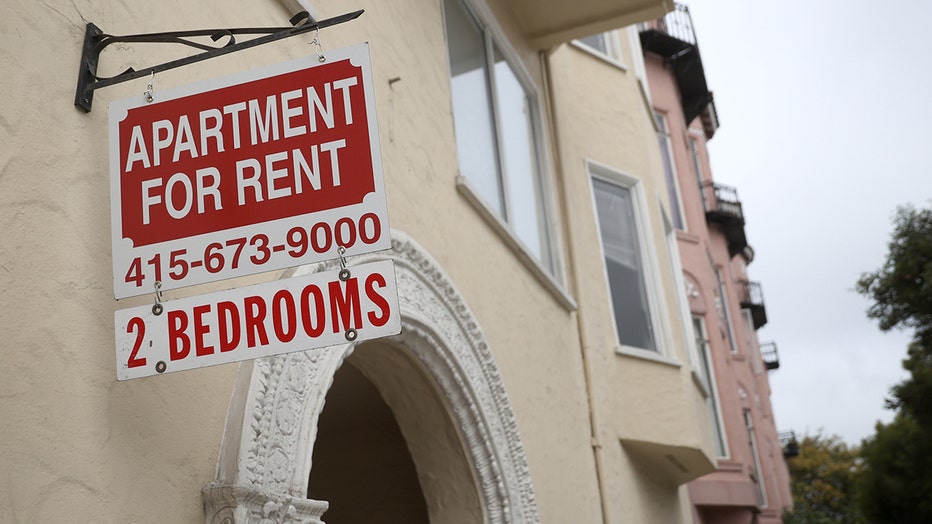 A "for rent" sign posted in front of an apartment building on June 02, 2021 in San Francisco, California. After San Francisco rental prices plummeted during the pandemic shutdown, prices have surged back to pre-pandemic levels. (Photo by Justin Sulli
"We do expect to see rent stabilizing in the near term," Moody's Analytics' senior economist Lu Chen's told FOX Television Stations. The double-digit or high single-digit growth experienced in 2021 and 2022 was never sustainable.  As rent burden grew while migration and household formation normalized, rent growth decelerated or even declined across many metros in the first quarter." 
But despite this new report, the data found there are still 45 metros facing worse rental market affordability than a year ago.
RELATED: America is more rent-burdened than ever: These cities take the biggest chunk of your budget
"This decline was a small step in the right direction, but rent-to-income levels remain uncomfortably high," the report noted, adding that median-income households still pay nearly 30% of their monthly income on renting the average-priced apartment.
And it's even worse for low-income families. The study shows that low-income families in most markets (92%) are paying more than 30% of their income on rent. And in eight metros, these families are paying more than half of their income on their rent. 
"To make paying rent a bit easier and bringing rent-to-income ratios below the rent burdened 30% threshold, low-income families in the top 20 least affordable metros need to work at least 19 to 56 more hours every week – that was an eye-opener for me and speaks to the crisis at hand," Chen continued, adding, "Essentially, many low-income households would need another part- or full-time job to keep a roof over their heads in metros where they already live."
The eight severely rent-burdened metros for low-income families are: New York (72.2%), Miami (69.1%), Fort Lauderdale (67.9%), Palm Beach (67.9%), Los Angeles (59.6%), Orlando (57.1%), Tamp-St. Petersburg (54.1%), and Boston (51.2%).
While Chen said its forecast calls for small, positive growth in 2023 and 2024, the current data on rent deceleration doesn't warrant huge savings on shelter. 
"Instead, rent burden at the national level will likely stubbornly linger around 30% for some time as both rent and income growth stabilizes, so households aren't out of the woods yet on the financial toll the cost of shelter is taking," Chen added. "Rent burden was exacerbated by runaway rent growth driven by unique COVID migration patterns and is going to be with us for some time.
This story was reported from Los Angeles.