Recovering Covington officer shot in face says 'Thank you' for the prayers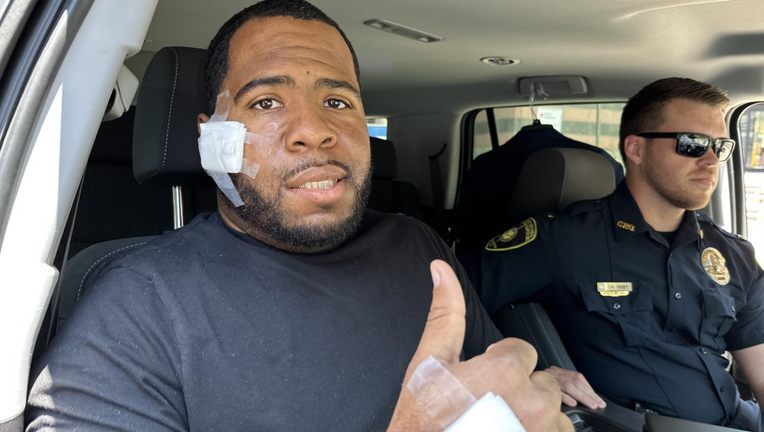 article
COVINGTON, Ga. - The Covington police officer who was shot in the face during a shootout at a motel off Interstate 20 in May posted a heartwarming video thanking anyone who took time to pray for him during his recovery.
Officer Rashad Rivers and some fellow officers were responding to a 911 call of a fight between a couple on May 23.
A witness told FOX 5 one of the officers knocked on the couple's motel room door and no one answered. When someone finally opened the door, she said the gunfight began.
"He said 'Put the gun down. Put the gun down,' and when he said that I went in my room and shots were fired," the woman told FOX 5.
In a Facebook video posted June 3 to the Covington Ga. Police Department's page, Officer Rivers appeared to be in good spirits.
"I just wanted to let you know that I really, really, really appreciate all the thoughts and prayers. I am doing OK," Rivers said through gritted teeth. He explained his jaw had been wired shut.
COVINGTON OFFICER SHOT IN FACE RESPONDING TO CALL RELEASED FROM HOSPITAL
Despite the injury, Officer Rivers promised he would return to the field in Covington once he is medically cleared.
"Until then, God bless," he said closing the video.
Officer Rashad Rivers (Covington Police Department)
A spokesperson from the department added their own message of gratitude:
"Our department would also like to thank the community and supporters from all over who have extended their kindness and graciousness to Officer Rivers, his family, the CPD and all public safety personnel involved in the May 23rd incident. We are humbled and encouraged by the support. Thank you."