Raffensperger, Atlanta Press Club debate why no runoff debate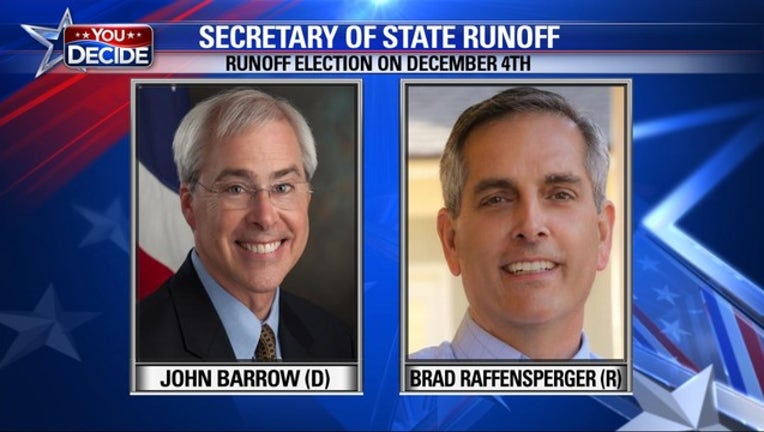 article
ATLANTA - Voters looking for a debate to help them decide in the runoff for Secretary of State were out luck Tuesday morning. Republican candidate Brad Raffensperger said he would not be attending because of the short notice.
The Atlanta Press Club hosted the debate Tuesday morning with Democratic candidate John Barrow and an empty podium where Raffensperger would have been.
In a statement to FOX 5 News, Raffensperger's campaign wrote in part:
"Due to the last minute nature of the Atlanta Press Club's debate request, we are unable to attend.
"The Press Club offered only one date and time and refused to offer any alternative times to accommodate our schedule."
His campaign said he had already scheduled an event in Moultrie and would not be able to make it the 200 miles back in time. His campaign claims the APC knew of the conflict for a week.
The Atlanta Press Club responded with their own statement:
"APC reached out to both campaigns on November 9 inviting the candidates to participate in a Secretary of State runoff debate on November 27 at 11:30 a.m. After repeated attempts to reach the Raffensperger campaign with no response, we contacted Brad Raffensperger directly on November 19 who provided another campaign contact.
"We were told on November 19 that November 27 was not an ideal date for Mr. Raffensperger's schedule, but the campaign did not decline his participation in the debate until November 25. Because the APC hosts several debates in one day, and due to limited studio availability with broadcast partner Georgia Public Broadcasting, we are not able to negotiate dates with the campaigns. As late as November 26, we were in talks with Raffensperger's campaign to see if there was another time we could reschedule the November 27 debate that would work with both campaigns, but the Raffensperger campaign did not provide any options.
"It is always the goal of the Atlanta Press Club Loudermilk-Young Debate Series to have 100 percent participation by the candidates. According to our debate rules, if a candidate does not participate, the APC still holds the debate, and the missing candidate is represented by an empty podium. This is done to make sure we don't penalize the candidate who has agreed to participate in our debate."
Raffensperger's campaign said the two candidates had already faced each other in two other debates including one Monday which happened live on the radio.
"We genuinely appreciate the offer to participate," the statement continued. "In the future, if the Press Club genuinely wants participation from candidates, we recommend that the Press Club offer an alternative date and time to accommodate multiple schedules."
There was no response from John Barrow's campaign regarding the debate.