Racial slur spray-painted on side of car in Suwanee
SUWANEE, Ga. - Police in Suwanee are searching for the vandal who spray-painted an ethnic slur on the side of a couple's car.
It happened around 9 p.m. on Feb. 26 in the parking lot of the Movie Tavern located at 2855 Lawrenceville Suwanee Road. Suwanee police said someone used black spray paint to write a derogatory word used to malign a person of Asian descent on the side of a blue Nissan Altima parked in the lot.
When Sonethida Siharath and her husband Lammone Bounphengsy left the movie theater, they found their car had been spray painted.
"We finished the movie and came out around 9:59. Got in the car. It was foggy that night. We got in and I saw someone spray-painted the car, so I got out," Bounphengsy said.
The couple said they found a racial slur spray-painted on the passenger's side of the car.
"The word they put on the car is kind of hurtful," Siharath said.
Officers said a witness saw the suspect, who was wearing all black clothing, a black mask, and had black hair. That suspect left in an older white four-door sedan, police said.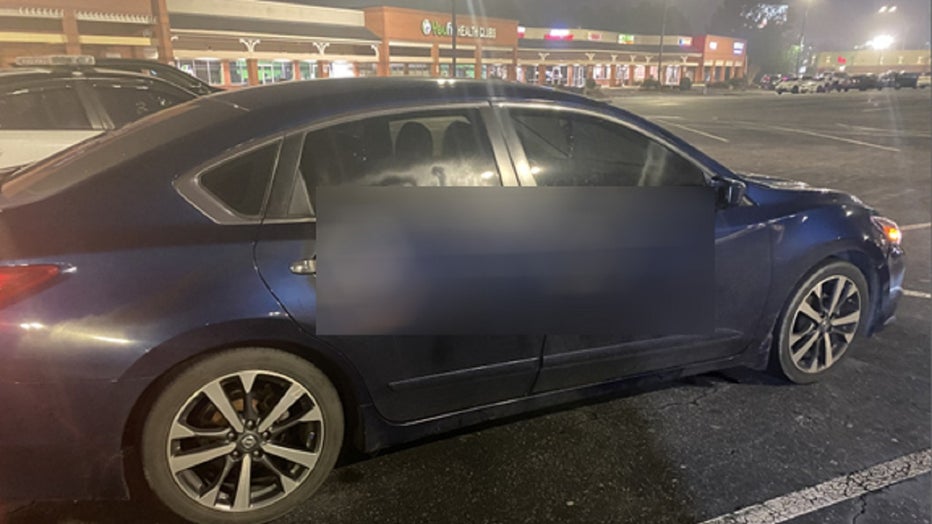 Police say a racial slur was painted on the side of this car in Suwannee on Feb. 26, 2021. (Suwanee Police Department)
The couple said they did not have any problems with other drivers on their way to the movie theater and can't think of anyone who would do this.
"I'm scared for my kids. I'm scared for my life. I admit I am scared. We haven't been sleeping the past two nights," Siharath said.
There has been an increase in reports of crimes against Asian Americans since the start of the coronavirus pandemic.
Stop AAPI Hate, an organization that tracks hate crimes received more than 28,000-reports of anti-Asian hate from mid-march of 2020 to the end of the year.  Among those, 32 were reported in Georgia.
People have organized rallies and lawmakers have condemned the racist attacks.
 Siharath and Bounphengsy said they've seen the videos and heard about the crimes.
In fact, one of their family members in California is an activist who is fighting against racism.
However, the couple never thought they'd be targeted in the area they've called home for more than 20 years.
"It made me think this is real. This is crazy. We have to watch our backs, especially for my parents, my family, we have kids. It could be anybody," Siharath said.
The couple hopes others speak out and take a stand against racism as well.
"We have to come together as an Asian community to stop the hate crimes," Siharath said.
Anyone who might have witnessed the crime or may know who is behind it is asked to contact Detective Dawn Zaenglein at 770-904-7642.
WATCH: FOX 5 Atlanta live news coverage
_____
Sign up for FOX 5 email alerts
Download the FOX 5 Atlanta app for breaking news and weather alerts.