Police searching for information on 'Peeping Tom' in Athens
ATHENS, Ga. - Athens-Clarke County police are searching for a "Peeping Tom" and asked the public's help in identifying them.
Police said the suspect was caught in the act by a home surveillance system. An image of that man was released on Tuesday.
Incidents allegedly occurred in the area of Herman Street, which is east of the North Oconee River.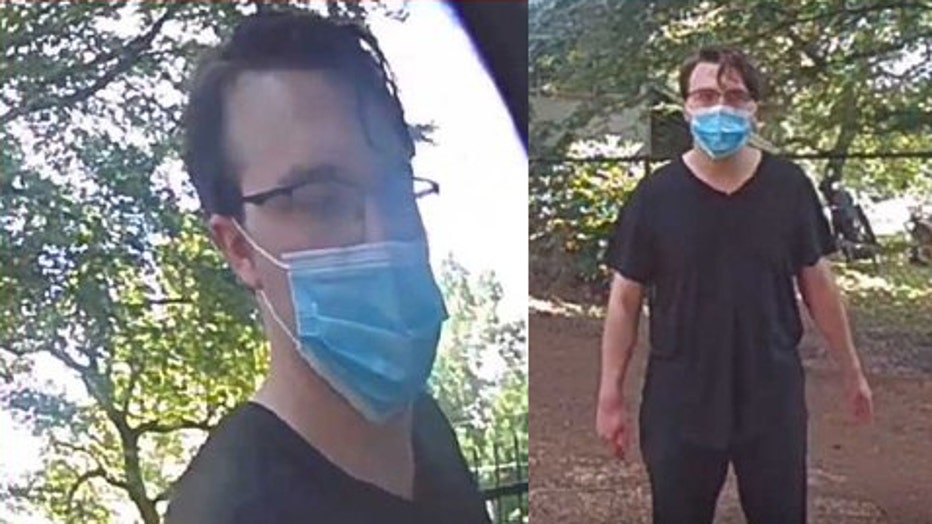 Police in Athens issued photos of a Peeping Tom suspect on Tuesday afternoon. (Photo courtesy of Athens-Clarke County Police)
Witnesses said the man claimed he was looking for someone after he was seen peering in the windows of homes in one neighborhood.
Police said the unidentified man, who was caught on a doorbell camera, was peeping in residents' windows and tried to enter one residence through a locked door in the middle of the day.
"When I first saw him he was right there. He went to all the windows," said Haley Faulkner. "He just seemed like a young college kid that's why I really didn't think too much about it."
The bold "Peeping Tom" struck at around 2 p.m. on the afternoon of July 14, targeting homes on the 100 block of Herman Street.
"This individual was first at the back window of a residence and was seen by a neighbor actually looking in the back window and pulling on the door handle. The door did not open, the door was locked. This individual then went around to the front of the residence and began looking in the windows via the front window," said Lt. Shaun Barnett, Athens-Clarke Police Department.
Lt. Barnett said a woman who lives at the residence confronted the man, questioning him via her doorbell cam. The man claimed he was looking for a couple of girls who didn't live there, then walked off.
"He then proceeded to go to a neighboring residence and do a similar thing, looking at windows and actually spoke with somebody there and asked if two females lived there and he gave two different names of two females that time," said Lt. Barnett.
The man left the area before the police arrived.
"You know oftentimes when people are trying to make entries into homes and things like that they, they may try to do it when they think nobody is there. Oftentimes people are gone during the day, so we just don't know what his motives were and that is cause for concern," said Lt. Barnett.
The suspect is described as a white male, approximately 20 to 30 years old. He has brown hair with blonde highlights. 
Faulkner said the man didn't appear threatening that day. He spoke to her and even complimented her dog.
"It definitely makes me nervous, especially at night. Just to know maybe this guy was casing the place out or something," said Faulkner.
Police said anyone with information should contact Detective Jason Cook at 762-400-7371 or jason.cook@accgov.com.
WATCH: FOX 5 Atlanta live news coverage
_____
Sign up for FOX 5 email alerts
Download the FOX 5 Atlanta app for breaking news and weather alerts.