Repo man injured in shooting crashes, causes power outage in SW Atlanta
ATLANTA - A confrontation and shooting in southwest Atlanta ended with a crash that sent one man to the hospital and left a neighborhood in the dark early Wednesday morning.
The crash happened shortly after 1 a.m. on the 2000 block of Perkerson Road in southwest Atlanta.
Officials with the Atlanta Police Department say they arrived at the scene to find an overturned vehicle and a conscious driver with a gunshot wound. Medics rushed the man to a nearby hospital for treatment.
According to investigators, the victim was repossessing a vehicle when he was confronted by a possible suspect or suspects in a white Sedan. When the driver tried to flee, police say someone in the Sedan fired shots, hitting the man once.
After the shooting, the car barreled into a power pole, snapping it in half before flipping over and coming to a stop in the front yard of a nearby home.
Neighbor Lyn Harrell was shocked to see the scene at the end of her driveway.
"I first looked out the window and I saw what appeared to be an explosion and tree fire," she said. "I was going to run out to the neighbors, and then I saw the car at the end of the driveway."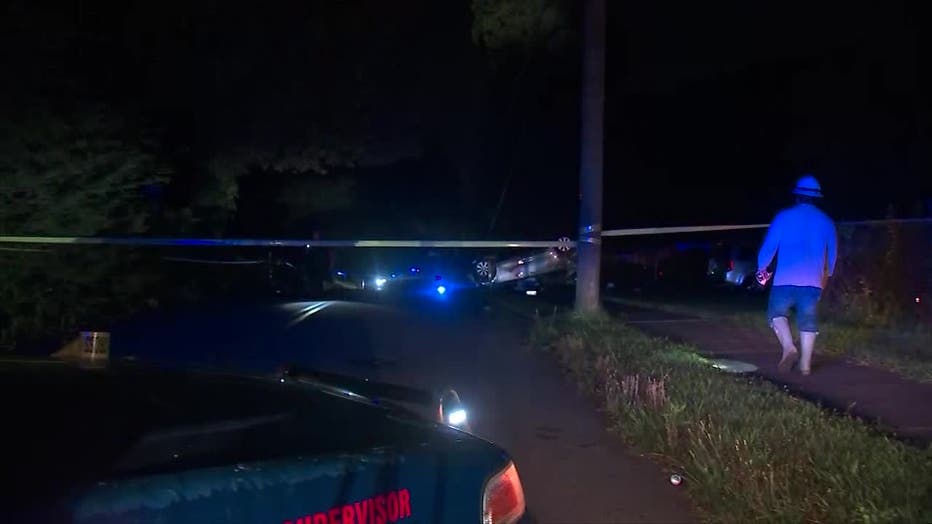 FOX 5 cameras saw an ambulance leave the scene escorted by officers while multiple investigators remained gathering evidence. 
The crash knocked out power in the neighborhood, but police were preventing Georgia Power from entering the area for repairs while investigators worked at the scene. The workers have since been allowed into the area.
Police say the gunman or gunmen fled after the shooting.
If you have any information about anyone involved with the shooting, call the Atalnta Police Department.