NASCAR delays start of Grant Park 220 because of rain, names winner in rain-shortened Loop 121 race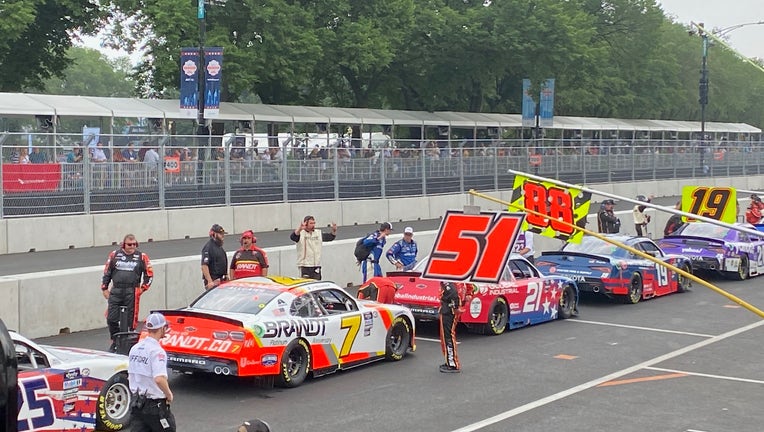 article
CHICAGO - The remainder of NASCAR's Loop 121 Race was called off because of rain, and the Grant Park 220 was delayed until 5:15 p.m. on Sunday.
The Grant Park 220 will conclude at lap 75, NASCAR said, because the sun will be setting.
A repeat of Saturday's storm woes continued. NASCAR's Loop 121 race had been rescheduled for Sunday morning after bad weather made the situation unworkable on Saturday afternoon. It was eventually called of just before 1 p.m. Sunday for the same reason.
Cole Custer won the race after completing 25 laps Saturday afternoon. Sunday's concerts have been canceled due to flooding in Lower Hutchison Field. 
NASCAR released a statement about the decision.
"With standing water and flooding a significant issue at the race track and throughout the city, there was no option to return to racing prior to shifting to NASCAR Cup Series race operations," NASCAR said in a statement. "Throughout the entire planning process for the Chicago Street Race, our relationship with the City of Chicago has been strong and among the most valuable assets in reaching this historic weekend. In the spirit of that partnership, returning on Monday for the completion of a NASCAR Xfinity Series event two laps short of halfway was an option we chose not to employ. Based on several unprecedented circumstances, NASCAR has made the decision to declare Cole Custer the winner of the race."
Sunday's race is 100 laps, equating 220 miles around a track full of turns set up by Grant Park, partially on DuSable Lake Shore Drive. 
Drivers are expected to reach speeds of 170 mph, according to one NASCAR Cup Series driver.
It's NASCAR's first-ever street race.
View the NASCAR Street Race course layout HERE.
For a comprehensive list of street closures and detours due to NASCAR'S Street Race, CLICK HERE.