'My goal was to stamp cancer out of my life': FOX 5's Aungelique Proctor shares surgery update
ATLANTA - Sixteen months after her cancer diagnosis, Aungelique Proctor is back on FOX 5 News, and things are getting back to normal.
"I feel great," Proctor says.  "It's fairly amazing how well I'm doing. I have energy. I'm working out, I'm eating."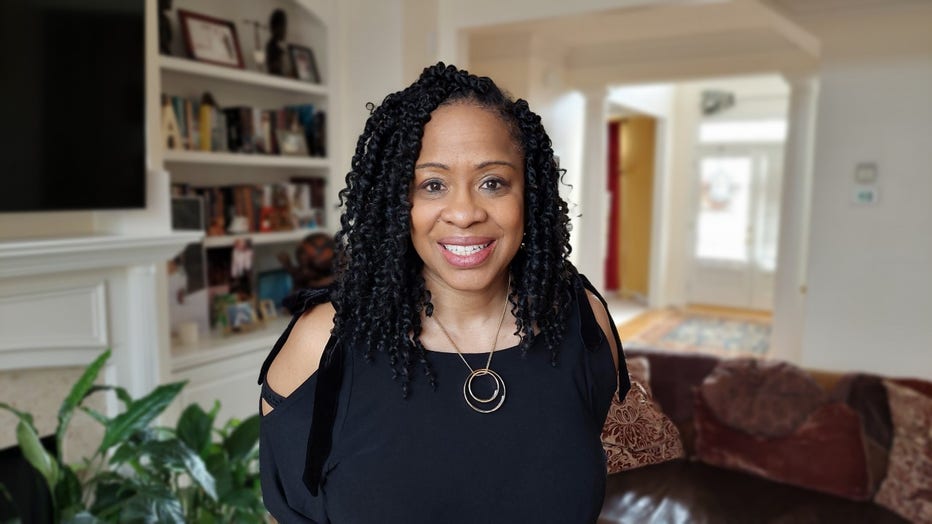 FOX 5 News reporter Aungelique Proctor at her home in Atlanta (FOX 5 Atlanta)
It's been a long road, since we first talked in the fall of 2021, a few weeks after doctors found a large tumor hidden underneath some bleeding ulcers in her stomach.
Earlier that summer, Aungelique had taken a break from reporting, to work with her medical teams and try to figure out why she was feeling so fatigued and rundown.
But, the diagnosis of stage two stomach cancer was something she never saw coming.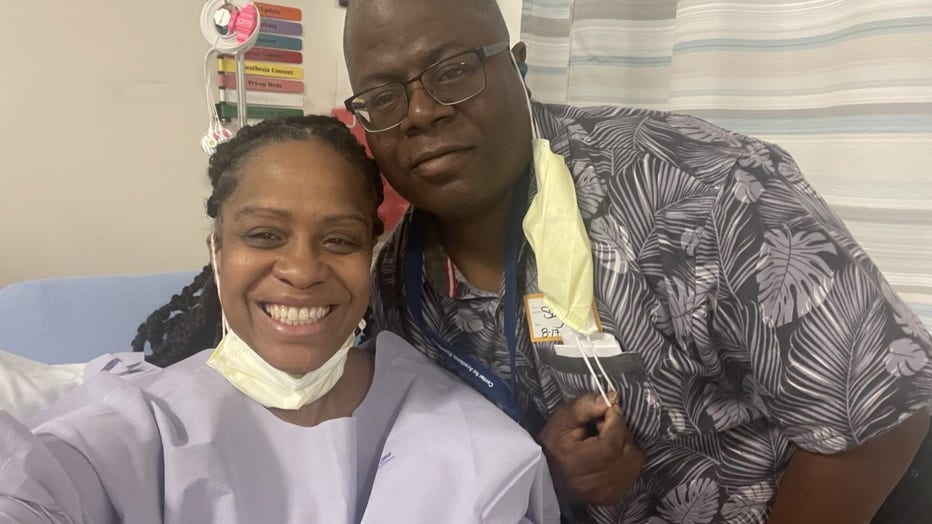 Aungelique Proctor and her husband Max Anderson pose for a photo at Emory St. Joseph's Hospital in Atlanta, where she underwent cancer surgery in August of 2022.
"It was absolutely shocking, when they gave me the news, because I had been so healthy," she remembers.
Scans showed Aungelique had what's known as a gastrointestinal stromal tumor, or GIST, that was at least 13 centimeters, or just over 5 inches in size.
Emory St. Joseph's Dr. Josh Winer, Aungelique's surgeon, says the tumor was in a tricky place, wrapped around the top part of her stomach.
"So, this tumor was adherent to her diaphragm, her liver, her pancreas, spleen," Dr. Winer explains.
Because this would be a complex surgery, Aungelique Proctor's oncologist at Emory's Winship Cancer Institute wanted her to wait on the operation until they could try to shrink the tumor.
Instead of starting chemotherapy, Aungelique began taking a targeted daily treatment, a pill, known as Gleevec.
She has never lost her hair and says she has experienced no serious side effects.
And, the pill, she says, was the breakthrough she needed.
Within a month or two, Aungelique and her husband Max Anderson, were told the tumor was shrinking, quickly.
"We were blown away," she says.  'Max and I were looking at each other like, 'This is unbelievable!'"
Dr. Winer says the Gleevec shrunk the tumor from 13 centimeters to about 7 centimeters, causing it to pull away from the stomach wall.
"If she hadn't responded and hadn't stopped bleeding, we would have had to take out her whole stomach as well as her spleen, part of her pancreas, part of the diaphragm," Winer says.  "So, it was extremely important to have that shrink the way it did."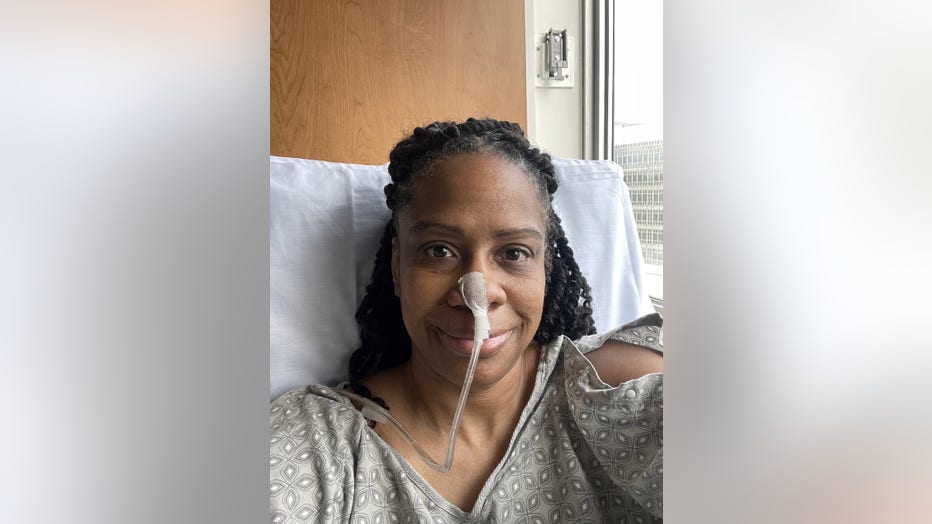 Aungelique Proctor poses for a selfie at Emory St. Joseph's Hospital in Atlanta.
She also began trying everything in her power to beat the cancer: meditating, practicing yoga, exercising with a trainer, eating a healthy diet, cutting out all alcohol, and falling back on her longtime faith.
By August 2022, they were ready to go ahead with the surgery to remove the tumor.
"Surgery was very intimidating; it was a major operation," Aungelique says.  "And, you always wonder, when they open you up, if they'll find more than the scans ever detected."
There was a small chance, if the tumor was still heavily attached to the stomach wall, Dr. Winer would have to remove Aungelique's entire stomach, and she signed a consent form permitting that.
Fortunately, it was not necessary.
"Literally, the actual amount of stomach we took out was about this much, so a few centimeters," Dr. Winer says, pinching his fingers together.
Aungelique says she asked Dr. Winer to take pictures of the tumor, which he did, and let her husband know if he was able to remove the mass.
"I was just, you know, very anxious to hear we got all the cancer," she says. "And, when I heard that, I was just over the moon. Thank you, God. Thank you, God!
From the day she was diagnosed, Aungelique says, she has clung to the belief she will beat this cancer.
"My goal was to stamp cancer out of my life," she says.  
It is something her father was not able to do.
"And, it's something that I wanted to do for him, because he died of pancreatic cancer in 2009, and I watched him suffer," she says.  "And, it's just something I've never forgotten. So, when I heard that I had cancer, I was just ferocious in my fight against it."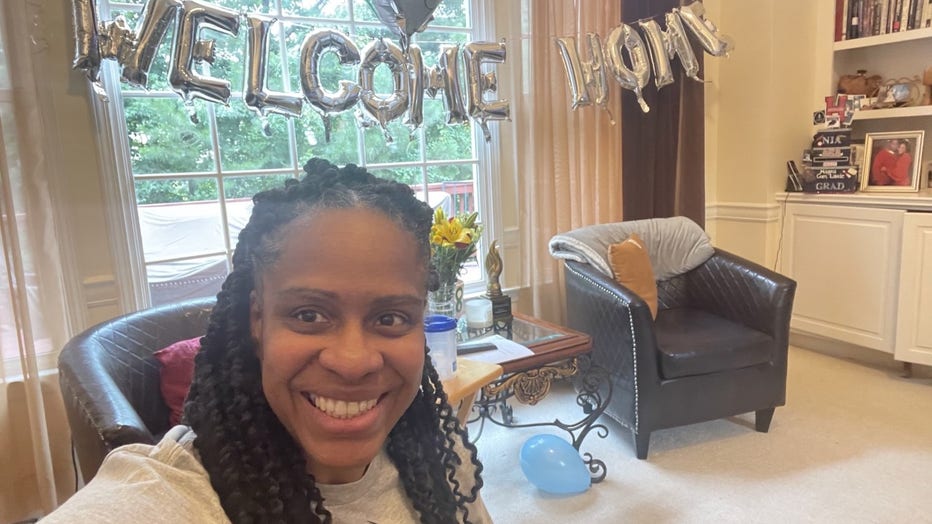 Aungelique Proctor poses in from of "Welcome Home" balloons at her home in Atlanta. (Aungelique Proctor)
The experience has changed her.
"It's refined my faith," she says.  "It's made me understand what's really important. It's been a wake-up call.  I think I'm more grateful. I understand God's grace and His mercy more now than ever, and I take nothing for granted. I take nothing for granted."
Not her husband Max, not their 3 girls, not her mom.
"I've always loved my family, but I hold them tighter now," Aungelique says. "Sometimes, I think I was so busy in life, you know, that I didn't stop and pinch myself. But, now I understand that every moment is precious. Every moment."
She'll stay on Gleevec for at least another 3 years and  has begun getting scans every three months.
"And I'm just, you know, now I'm looking forward to, I guess, year five: 'You are cancer-free," Aungelique Proctor smiles.  "I did it! That's the goal now."