Suspect drives truck into Hiram bar, fires gunshots
HIRAM, Ga. - Multiple people are injured after a man drove his truck in a Hiram restaurant and fired gunshots at people inside. 
According to police, the driver fired gunshots through the window of a black Dodge Ram 2500 towards customers inside the establishment. 
Police later identified the driver as 34-year-old Eduardo Morales.
"When his weapon was empty, Morales then drove the vehicle into the bar through the front doors striking numerous patrons," Hiram police said. 
Eduardo Morales (Hiram Police Department )
He later attempted to drive out of the establishment, but his car got stuck. 
"We still feel the pains but the pain is a reminder that we are still alive I guess," Mauricio 'Moe' Puerto said.
Puerto was a little sore Sunday but he's grateful to be able to tell his story after he jumped in to stop the shooter.
"We were just having a good time. It couldn't have been more perfect and then this truck comes crashing through. We heard shots first and then seconds later this truck comes barreling through the entrance," Puerto described.
That's when Puerto jumped into action. He said the gunman put up a fight but he was able to snatch it away.
"My instinct was to run towards the truck and I dove into the driver's side window. I noticed he had a pistol and he was reloading," Puerto said.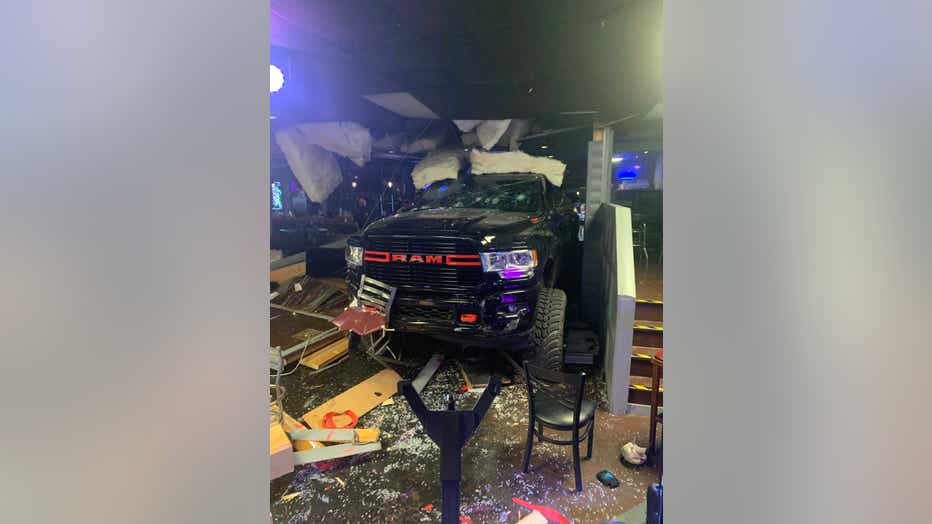 Yvon Germeus was inside the bar and helped those injured.
"All you hear was the sound of him hitting on the gas but he couldn't go anywhere. Then all the bouncers in the vicinity jumped in the truck and pulled the gun away from them," Germeus said.
Germeus was inside the bar and helped those injured.
Police said those inside the bar pinned the suspect down until police arrived.
"When I saw there were people underneath we had to go help. It was more scary to see the people underneath and when one woman said she couldn't move I thought she had gotten hit," Germeus said.
"I was surrounded by friends but to see them go down is kind of hard," Puerto said with tears in his eyes.
Many said they are thankful it wasn't worst.
"By the grace of god nobody got shot because he shot directly in through his windshield into the bar. I'm just glad nobody got shot," Puerto said.
At least one person was grazed by a bullet. Another customer received treatment after being hit multiple times by the truck. Several others inside reported minor injuries. 
The restaurant remained closed on Sunday.
 No word on possible charges Morales may face.
Anyone with information on the incident is asked to contact Hiram investigators at 770-943-3087.
_____
WATCH: FOX 5 Atlanta live news coverage
_____
Sign up for FOX 5 email alerts
Download the FOX 5 Atlanta app for breaking news and weather alerts.