Motorcylist dies in wreck along Cobb Parkway during high-speed chase
ACWORTH, Ga. - A motorcyclist who led authorities on a high-speed chase across county lines died after being striking a car Monday night.
The wreck happened in the area of Cobb Parkway and Acworth Summit Boulevard.
According to the Georgia State Patrol, the motorcyclist was approaching the intersection at a high speed and struck a Honda Accord that was making a left turn. The motorcycle driver, a male, died at the scene. The driver of the Honda was taken to the hospital with life-threatening injuries.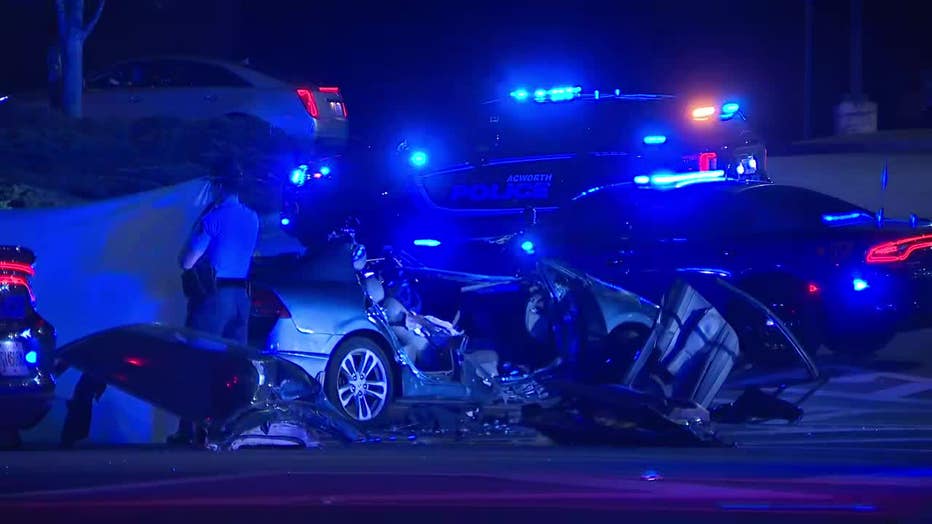 A motorcyclist was killed after striking another car during a chase that ended on Cobb Parkway, GSP says (FOX 5 Atlanta).
Prior to the crash, GSP says troopers were assisting the Bartow County Sheriff's Office pursuing two motorcycle drivers who were racing on GA 3 near Mockingbird Road. Troopers began chasing one of the riders, who continued driving "in a reckless manner" into Cobb County.
Authorities have not released the identity of the motorcycle rider who was killed.