Motions begin to pour from defendants in Georgia election RICO indictment
ATLANTA - Former President Donald Trump and 18 others indicted this week by a Fulton County grand jury on RICO charges for attempting to subvert the 2020 election results in Georgia are beginning to respond to those formal criminal accusations.
The first few motions from attorneys representing the 19 defendants have been filed. Attorneys for former Department of Justice official Jeffrey Clark and Georgia state Sen. Shawn Still are among those making motions.
Attorney for state Sen. Shawn Stills says he is innocent
Tom Bever, who represents Sen. Still, says his client is innocent.
His attorney, in a statement, wrote:
"The evidence at trial will show that Sen. Still is innocent as the day is long. We look forward to our day in court to clear his good name."
Still represents Georgia's 48th District, which encompasses portions of Fulton County and northwest Gwinnett County.
Jeffrey Clark's attorney responds to pretrial timeline
A motion filed by Jeffrey Clark's attorney, Harry MacDougald, calls the pretrial timeline given earlier this week by Fulton County District Attorney Fani Willis as "highly premature."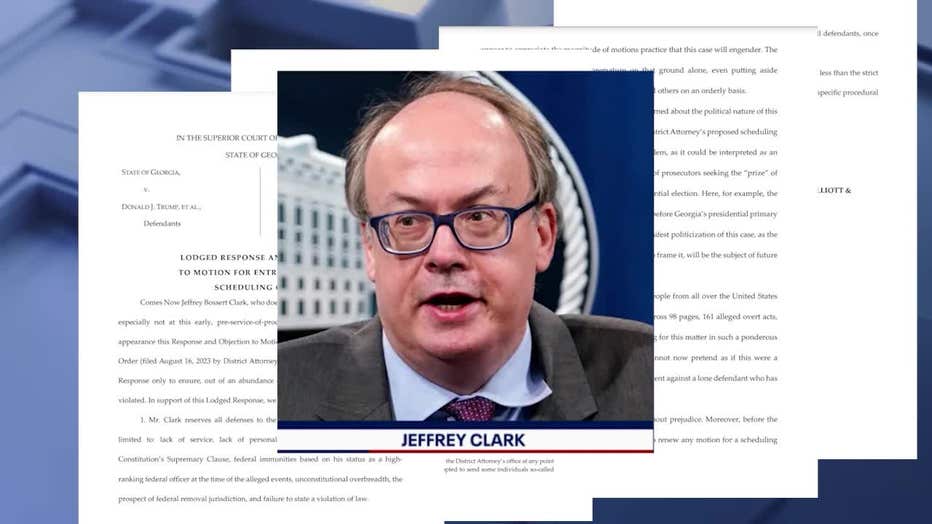 Former DOJ official Jeffrey Clark (Supplied)
Clark, a former DOJ official, drafted a letter to the Georgia Legislature to convene a special session to review the election results, Monday's indictment outlines.
DA Willis has gone on the record as saying she is looking for all defendants in the highly-complex RICO case to be arraigned on the week of Sept. 5 with the trial to start on March 4, 2024.
GEORGIA SENATOR WANTS GOV. KEMP TO CALL SESSION TO INVESTIGATE FULTON COUNTY DA
However, the motion by Clark's attorney claims Willis' office has made "zero attempts to confer with counsel for any of the 19 defendants regarding the proposed scheduling order" and therefore the state "has no earthly idea whether any of the proposed dates fit the calendars" of any of the defendants' attorneys.
They want the pretrial scheduling order to be thrown out.
The motion also claims Willis is "seeking the 'prize' of trying the former president before the 2024 presidential election."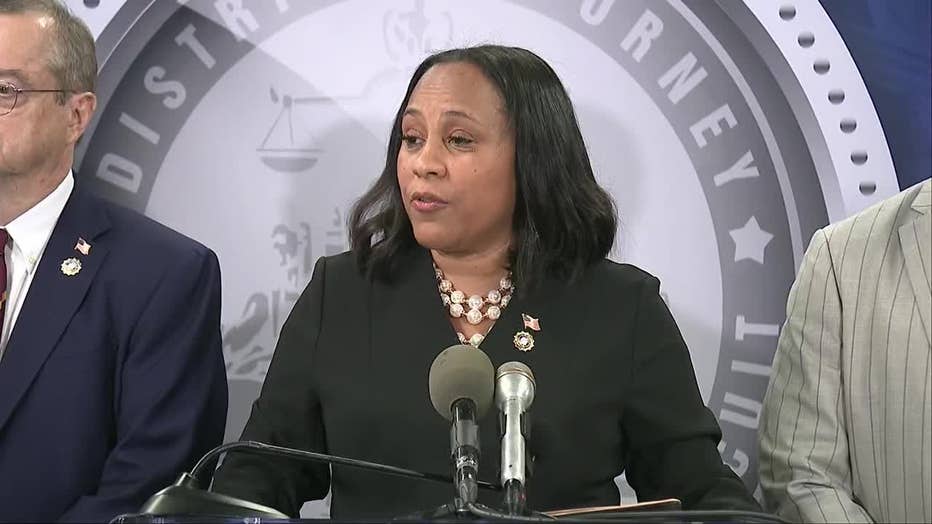 Fulton County District Attorney Fani Willis announces the indictment of former President Donald Trump and 18 others, charged with RICO for trying to subvert the results of the 2020 election. Willis spoke during a press conference shortly after the in (FOX 5)
DA Willis attempted to preemptively shoot down that argument during her late-night press conference on Monday following the unsealing of the indictments. She affirms her timeline is not politically motivated.
"I don't have any desire to be first or last. I want to try him and be respectful for our sovereign states. We do want to move this case along," Willis said.
Mark Meadows, Trump's former chief of staff, also filed a motion two days ago to have his trial moved to federal court. A U.S. district judge ordered a hearing on the matter for Aug. 28.
These are just a few of the multitude of motions expected in this case.