Mental health courts: How much can they help jail crisis?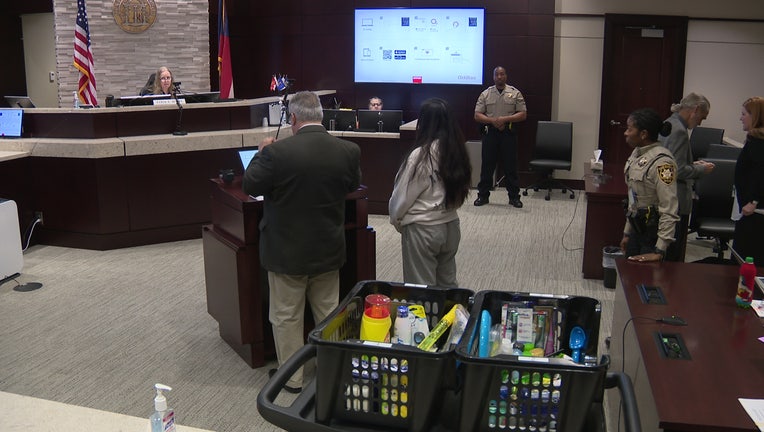 article
LAWRENCEVILLE, Ga. - Her baby appeared to be only a few months old. But for at least one day, his mother was going back to jail.
"This is all about tough love and this is a difficult piece of what I do," Gwinnett County Superior Court Judge Karen Beyers told the rest of audience sitting quietly waiting their turn.
Welcome to reality. Welcome to Mental Health Court.
The FOX 5 I-Team was given unprecedented access, where mentally ill offenders not only face punishment for their crime but undergo intensive intervention designed to hopefully make sure they don't get into trouble again.
With prosecutors calling the rise in mentally ill crime a true crisis, Mental Health courts are offering an alternative solution.
"Nobody wants to be mentally ill," Judge Beyers told the FOX 5 I-Team. She created the Gwinnett Mental Health Court in 2011. "It's the best thing I spend my time doing. I wouldn't give it up for anything."
Heading a team of prosecutors, defense attorneys, counselors and law enforcement, Beyers requires participants attend regular therapy sessions, be randomly drug tested, get the proper medication and provides someone they can call when the struggles seem insurmountable.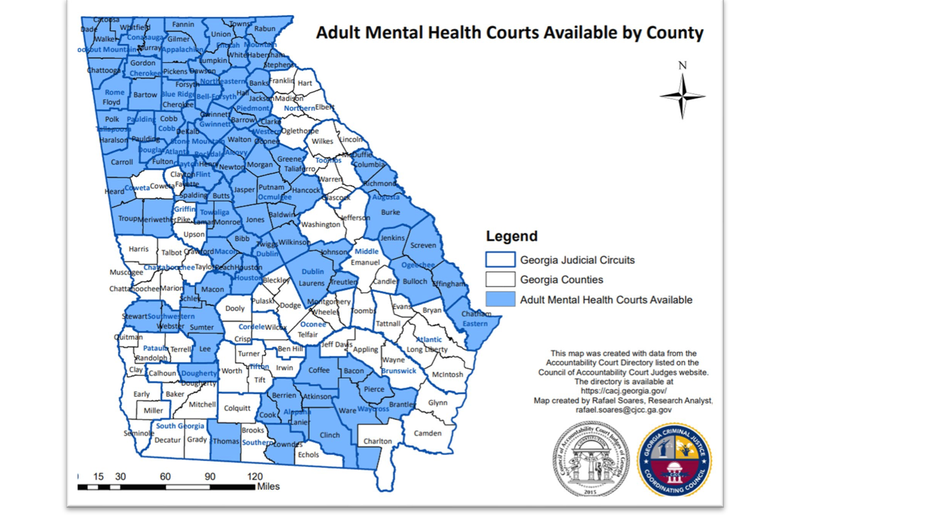 Not all Georgia counties have a mental health court.
Chastity is the one who brought her baby to the hearing. Her crimes involved domestic battery and drug possession. Her last drug screen came back positive.
"To disappoint those around me… the court system… my family… it's rougher on them than it is on me sometimes," Chastity told the judge. We agreed to not use last names for those in court.
"Taking codeine cough syrup with your history is just… you're setting yourself up for massive, massive relapse," scolded Judge Beyers.
She ordered Chastity taken to jail for 24 hours. Anticipating the punishment, a woman — perhaps a relative — came with her to court and take the baby home.
"That was the hardest one today," admitted Judge Beyers after Chastity was led away by deputies.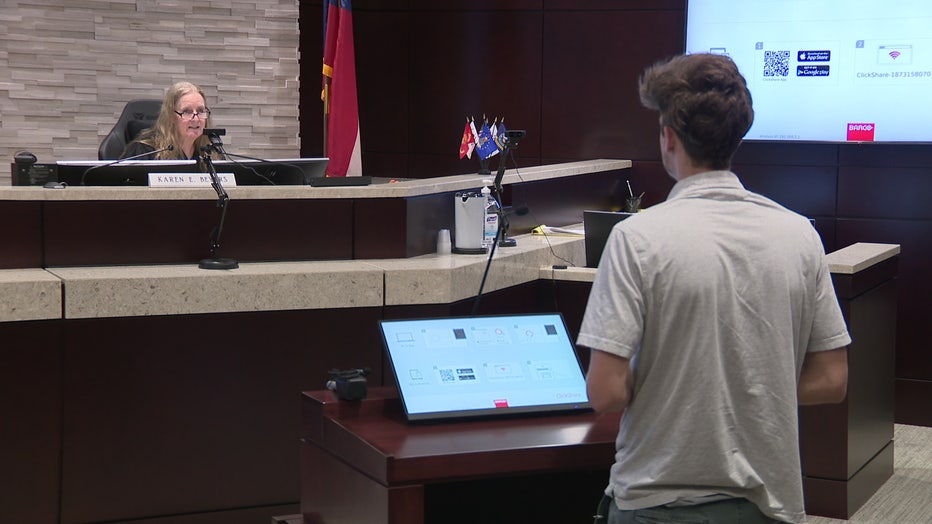 The FOX 5 I-Team was given unprecedented access to the Mental Health Court hearings. State statistics indicate participants fair far better than those who don't take part.
Sheriffs across Georgia complain jails have become de facto psychiatric wards, often the worst place for the mentally ill while making staff more difficult to retain.
In 2017, a Gwinnett deputy was fired and later prosecuted after delivering a blow to a prisoner's face while trying to restrain her during an outburst. She already had a history of mental illness before her arrest on battery charges. The deputy later pled guilty to federal civil rights violations.
It's an image Rachel Newman, 33, remembers all too well.
"I was — sigh — I definitely was that bad, yeah," she said.
In her 20s, Rachel said she suffered from uncontrolled schizophrenia and bipolar disorder, a dangerous condition that came to a head in 2011 when she crashed her car into the front of a Suwanee Walmart.
She meant to do it.
"I went through some things where it hurts my heart when I remember them," she said, thinking back 12 years later.
The answer she says? Agreeing to go through Mental Health Court.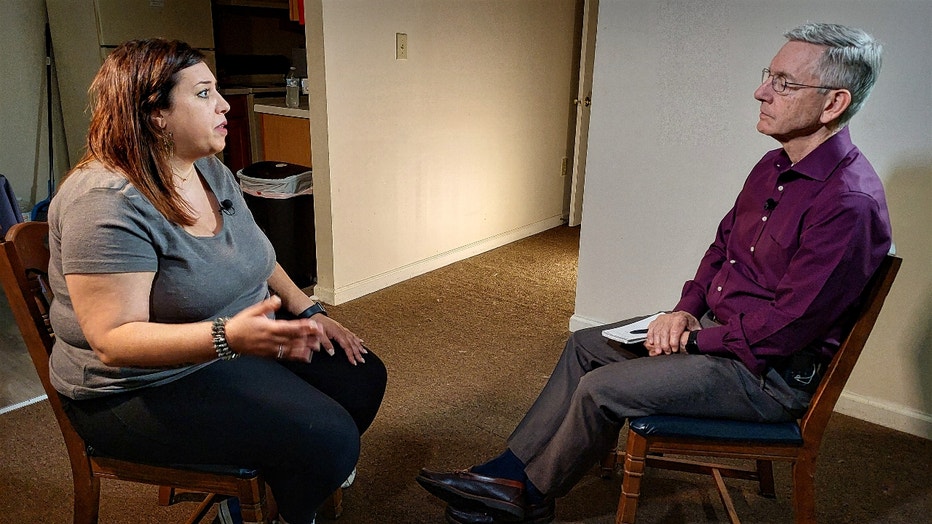 We talked to Rachel in the apartment she shares with her cat. At one point in her life mental illness left her homeless.
"Mental Health Court gave me the chance to become stable in all areas of my life," she said. "And that's what I never had."
She said the key was finding the right medication for her illness. And having a mental health court team member she could call for those moments that seemed overwhelming.
Rachel graduated from the program in 2018. Once homeless, she now has a job, a car, her own apartment that she shares with Scarlett her cat. She takes her mother to church. Normal moments in a normal life.
And when Rachel wakes up each morning, she now sees light instead of a lifetime of constant darkness.
"I'm back to normal," she said with a smile. "My friends and family have their Rachel back."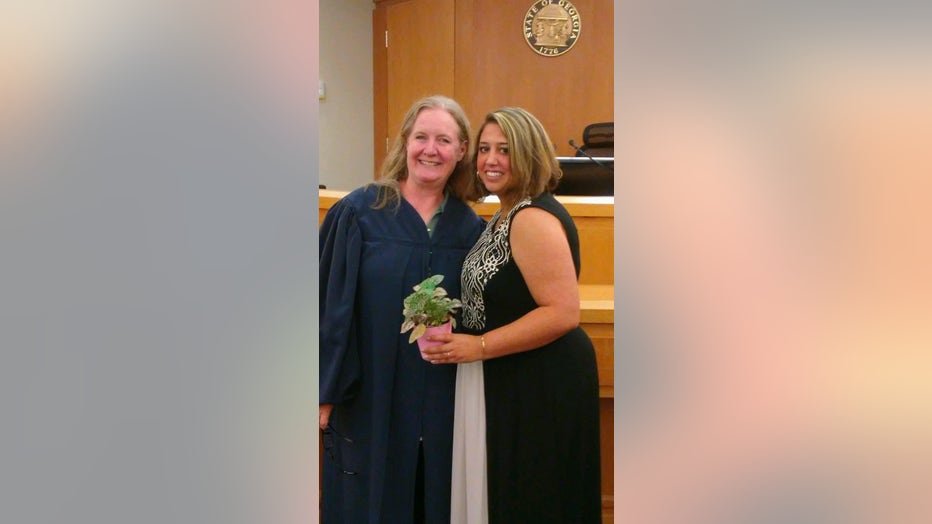 Rachel Newman with Judge Karen Beyers on the day she graduated from Mental Health Court. (Courtesy Rachel Newman)
She's one of 86 who have graduated from the program so far in Gwinnett County. It requires participants go through four phases of progress. That typically takes at least 18 months.
Gwinnett's program is capped at 35 at any one time. Most mentally ill offenders don't qualify because they don't have stable housing, a problem the Mental Health Court still doesn't have resources to help.
"We could serve hundreds and hundreds of people if we had housing," said Judge Beyers. "But we simply don't have housing."
Not every Georgia county has a mental health court, either. Statewide, similar courts have helped 16,861 people, according to the Council of Accountability Court Judges.
Their records also indicate the program is making remarkable progress. Only 26% of graduates are arrested later for a felony… compared to 60-81% for similar offenders who went to prison instead.
"Without mental health court, these people are in a revolving door and eventually that door doesn't open anymore," said Judge Beyers.
Rachel saw that door and slammed it tight behind her. She's hoping her story will encourage others that there is another way.
"It completely changed my life," she said. "I haven't been back to jail in six years."