LIST: Celebrate Beyoncé at these events before and after concerts in Atlanta
ATLANTA - Beyoncé is bringing her Renaissance World Tour to Atlanta for performances Aug. 11, 12 and 14 and fans are excited to see the mega star.
If you aren't able to make it to a concert or you are just looking for a way to celebrate Beyoncé before or after a concert, check out this list of events and specials:
Chattahoochee Food Works, Power 96.1 and 105.3 the Beat are hosting a unique pop-up bar experience dedicated to Queen Bey from 8 to 11 p.m. Aug. 10. The experience will feature Beyoncé's top hits and a one-of-a-kind cocktail menu inspired by her music. There will also be a photo wall and someone will win floor tickets to see Beyoncé in concert at Mercedes-Benz Stadium.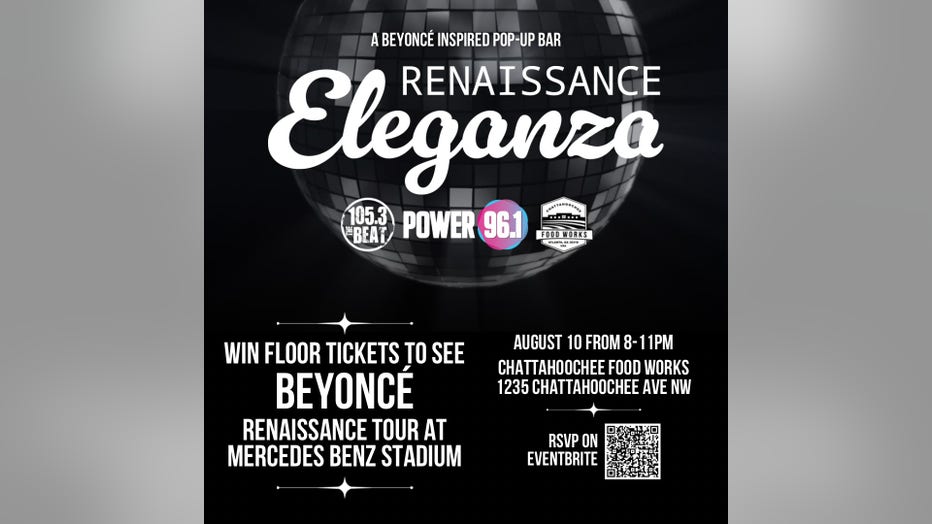 The Official Honeycomb Suite Experience for The BeeHive & Friends is happening Aug. 11-14 at SODO Pop Space. There will be specialty drinks, a food truck, vendors with exclusive merchandise, The Black Woman Magic Art Exhibit, a DJ music tribute, photo ops, prizes and more. General admission tickets are $10.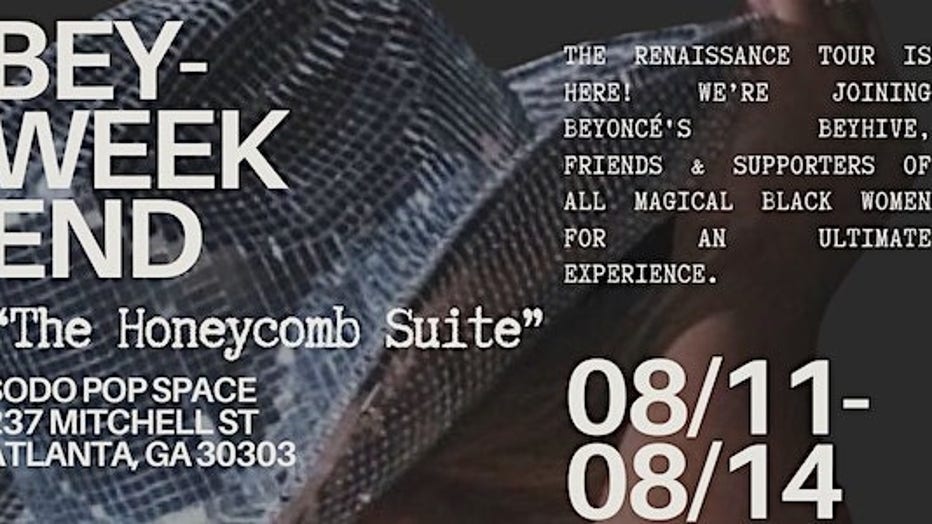 Wild Leap Atlanta on Ted Turner Drive SW (walking distance to Mercedes-Benz) is hosting Bey-Gates: The Ultimate Renaissance Tour Pre-Party from noon to 6 p.m. Aug. 11 and 12. There will be photo ops, themed cocktails and slushie flights, food trucks, and a DJ playing all the bops by Queen Bey.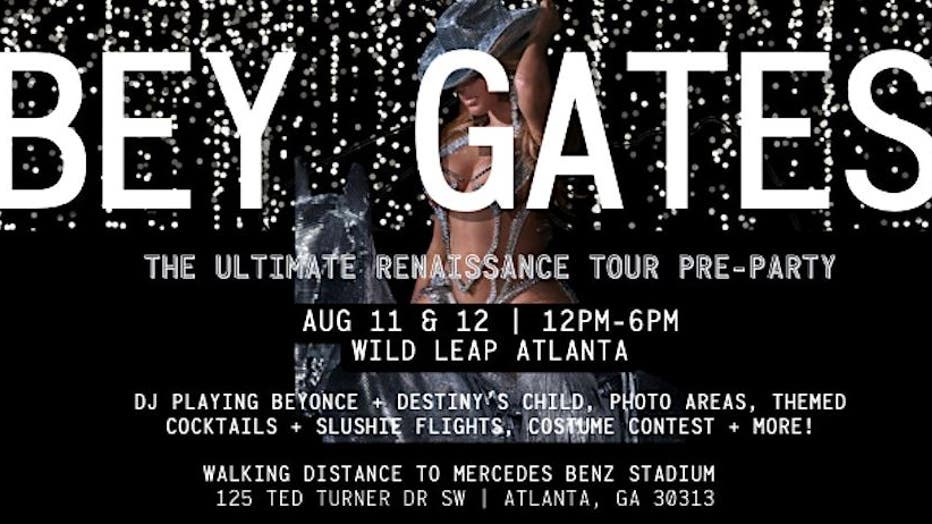 Spray Paint and Sip will experience a Beyoncé takeover from 6 to 7:30 p.m. Aug. 10. Listen to the Renaissance Tour set list while their artists teach guests how to use indoor-quality spray paint to create a masterpiece. There will also be a Beyonce-themed photo booth. 
The Commerce Club on Peachtree Street NE is hosting a Beyoncé listening party from 7 to 9 p.m. Aug. 10. DJ Reece will be spinning the tunes and there will be specialty cocktails created just for the event and an array of delectable bites from savory appetizers to mouthwatering desserts. A professional photographer will be present to capture Beyoncé-inspired looks and candid moments. Tickets are $40.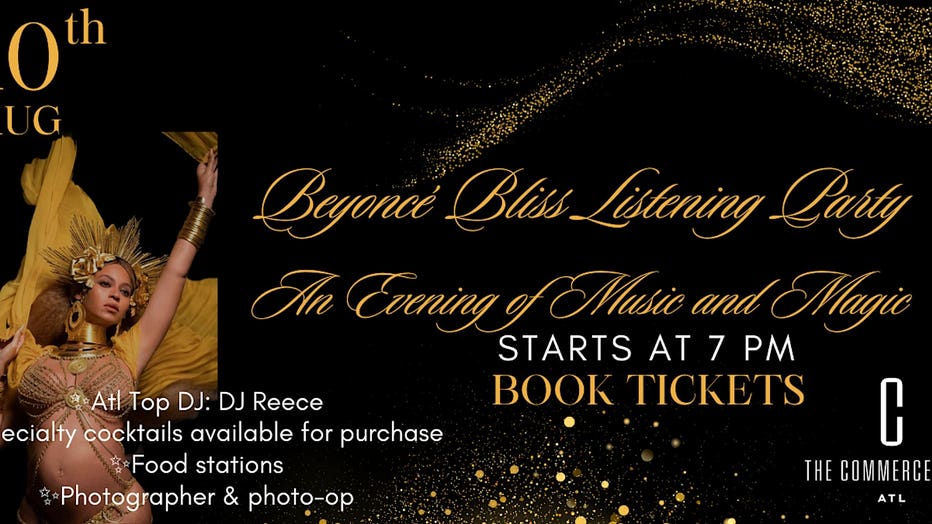 New Realm Brewing on Somerset Terrace NE will host a Beyoncé-themed karaoke night from 7 to 11 p.m. Aug. 10. 
The Beyoncé Renaissance LGBTQ After Party is happening starting at 8 p.m. Aug. 11 at 1104 Crescent Ave. NE. Some of Atlanta's hottest queens will be performing and there will be a Beyoncé costume contest. There will also be two dance floors, two DJs, food, drinks and hookah.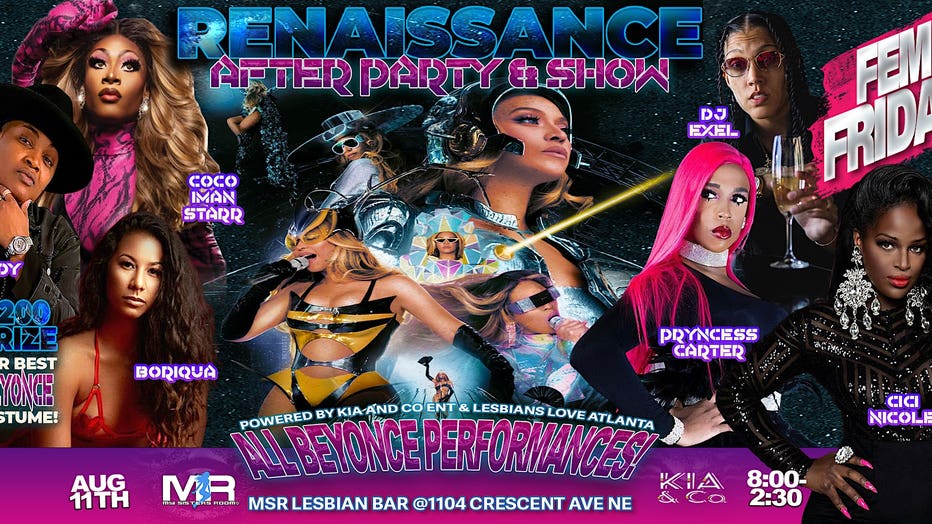 Buckhead Art & Company is hosting All The Hits: Beyoncé Dance Party from 7 to 10 p.m. Aug. 12 at 288 Buckhead Ave. VIP admission includes a complimentary wine bar for the evening.  
The Nello Exchange is hosting "Who Run The World" -- A Pop-up Vintage Night Market featuring Beyoncé music sets curated by talented women DJs all on Aug. 12 and 13 from 4 to 9 p.m. each day. The night market is happening at 1651 Pryor Road SW and there will be small business vendors, food and refreshments, lush greenery and plants, henna art and more.Attendees are encouraged to dress to impress and be ready to dance. 
Atrium at Ponce City Market is hosting a Beyoncé-themed drag brunch from noon to 4 p.m. Aug. 13. Expect performances by Arrianna Paris, Tatyanna Tuesday Dickerson, Rachel Angelica Paig, & Michael Robinson and surprise acts from your other favorite Queens. 
R3 Rosendale Concepts on Peachtree Street NW is offering 3 special cocktails in honor of Beyonce. To The Left is made with tequila, vodka, rum, melon liquor and sourt. The purple drink is decorated with glitter, edible pearls, flowers and a sugar rim. The Formation is made with Maker's Mark, lemon juice, simple syrup and a cabernet sauvignon float. It's garnished with edible flowers. Drunk in Love is made with tequila, hibiscus syrup, simple syrup and lime guice. There's silver glitter for a flashing effect and a golden sugar rim. Available Aug. 11 and 12. 
The Rowdy Tiger on West Peachtree Street NW is offering two special cocktails Aug. 11-14: The Renaissance and The Queen B, which is a cocktail fit for Queen Bey herself or any other woman who is ready to unleash the queen in herself.  
The Ponce Room on Peachtree Street NE is offering 4 cocktails Aug. 11-14 to celebrate Beyonce. The cocktails are the BeyHive, a champagne-based cocktail; Drunk In Love, made with tequila; Giniassance, a floral and aromatic libation; and the Queen Bee, a delightful cocktail with main character energy.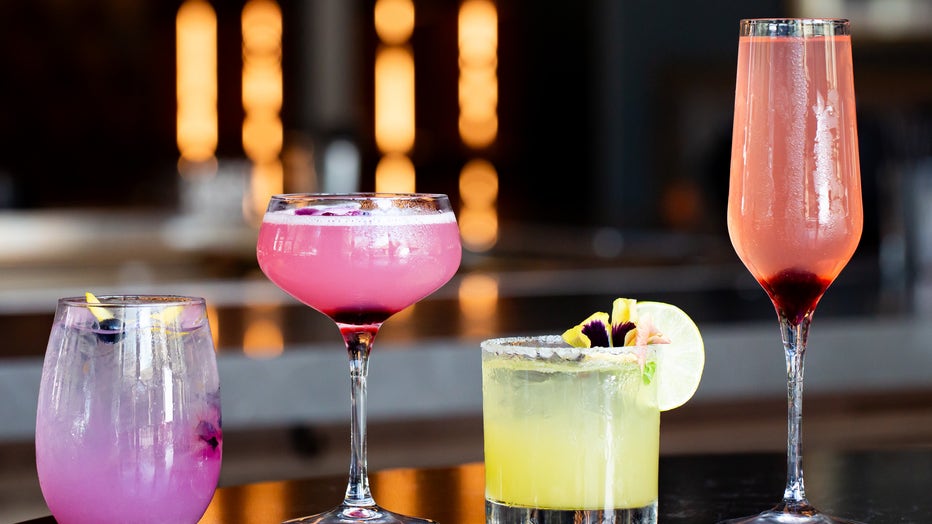 If you would like to submit an event to be added to this list, send an email with details to joyce.lupiani@fox.com.