Georgia election case: Trump won't be tried with Chesebro, Powell next month
FULTON COUNTY, Ga. - The judge overseeing the Georgia case that accuses former President Donald Trump and others of illegally trying to overturn the 2020 election in the state has ruled that two of the defendants in the trial may be separated from the rest of the group and tried together next month.
The announcement came just hours before Thursday's motion hearing.
Attorneys for defendants Kenneth Chesesbro and Sidney Powell spoke to reporters outside the Fulton County Courthouse after Superior Court Judge Scott McAfee ruled they'll be tried separately from former President Donald Trump and other co-defendants in the case because they requested  a speedy trial.
"Our client is entitled to a speedy trial. Our client's going to get a speedy trial, and we're not going to be the ones to try to delay that," said attorney Scott Grubman who represents Chesebro.
 During the hearing the prosecution gave the defense a list of the names of the unindicted co-conspirators, but opposed a motion to allow Chesebro and Powell's attorney to speak with grand jurors, and a motion to unseal special grand jury transcripts.
Despite the state's objections Judge McAfee indicated he was open to allowing defense attorneys to conduct voluntary interviews with members of the grand jury, but wants the defense to submit a list of questions before ruling on the matter. 
"The bottom line," Grubman said, "politics aside, you know, partisanship aside, this is a criminal case. The prosecution's trying to send my client to prison. So the idea that I might want the same access to information that the state of Georgia has is not, should not be very controversial. "
The defense also argued that they should have the right to review grand jury transcripts as they build their case. The judge didn't rule on that motion, but told prosecutors to turn over transcripts for witnesses they plan to call to testify.
Lawyers for Kenneth Chesebro and Sidney Powell both had previously filed speedy trial demands and had asked for two distinct trials, arguing separately that their clients don't know each other and are not accused in the indictment of having participated in the same acts. 
According to filings by both Chesebro and Powell's lawyers, the trial would be like conducting two distinct cases at the same time, and that the evidence against one of them could taint the other.
Thursday, Fulton County Judge Superior Court Judge Scott McAfee denied the pair's motions to separate, arguing that the pair did not satisfy "their burden to show that due process mandates severance from each other," and that their concerns did not outweigh the resources needed for a second trial. 
However, McAfee agreed that the two needed to be separated from the rest of the 17 defendants because of their request for a speedy trial.
In court earlier this month, McAfee said he was skeptical of Fulton County prosecutors' arguments that all 19 defendants could be trial together by the date of Oct. 23.
"It just seems a bit unrealistic to think we can handle all 19 in 40 days. That's my initial reaction," he said.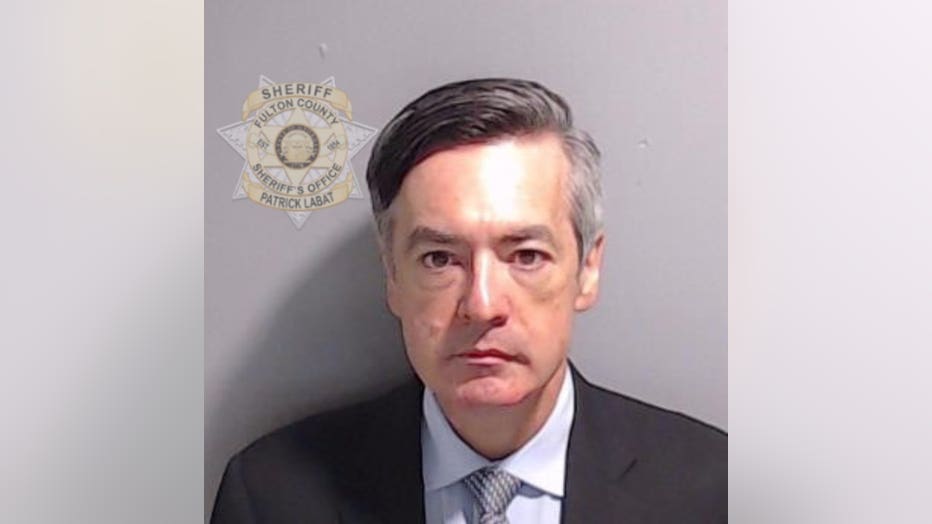 Kenneth Chesebro (Fulton County Sheriff's Office)
McAfee raised concerns about what that fight by some defendants to have their cases moved to federal court could mean for the rest of the case, saying appeals and final decisions on that issue could take months.
He continued that line of thought in Thursday's ruling, saying that "severing the remaining 17 co-defendants is simply a procedural and logistical inevitability." The judge pointed out that the Fulton County Courthouse does not have a courtroom large enough for all 19 defendants, attorneys, and support staff. 
"We must consider the ripple effects of a months-long, multi-defendant trial on the local criminal justice system, sidelining dozens of defense counsel from handling other cases and preventing this Court - and quite likely most colleagues - from managing the rest of the docket," McAfee wrote.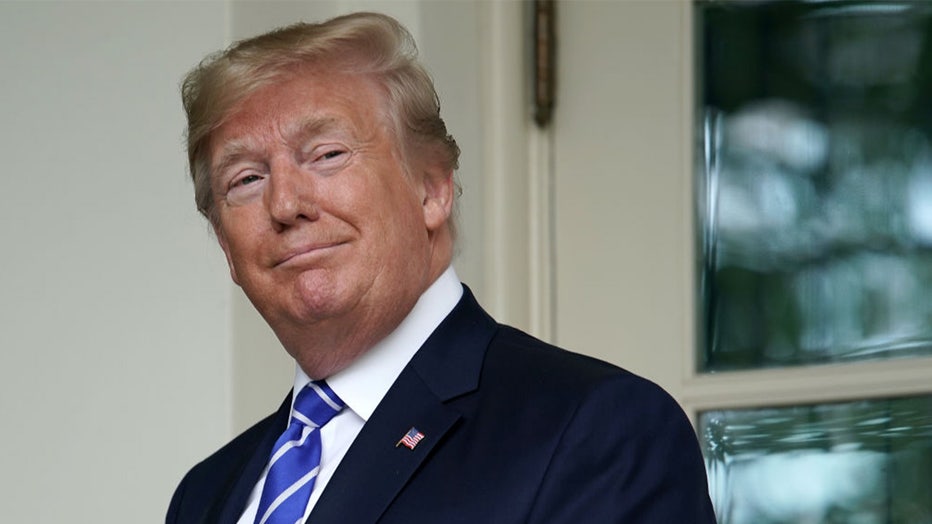 FILE - U.S. President Donald Trump looks back at journalists after welcoming Mongolian President Battulga Khaltmaa to the White House July 31, 2019 in Washington, DC.
Prosecutors estimate a trial would take four months and that they'd call more than 150 witnesses. It was also broadcast live on television and on the judge's YouTube channel, a marked difference from the other three criminal cases against Trump, where cameras have not been allowed in the courtroom during proceedings.
Special prosecutor Nathan Wade, who provided the four-month estimate, said that didn't include jury selection and added that whether or not defendants choose to testify could affect timing. But he said he expects a trial to take that long regardless of how many defendants it includes, arguing that the indictment was brought under Georgia's anti-racketeering law and prosecutors would seek to prove the entire alleged conspiracy against each defendant.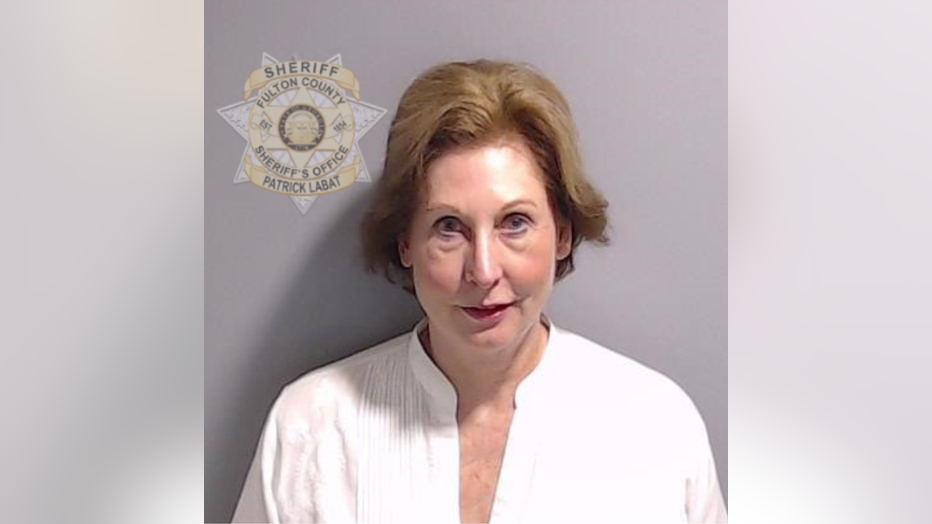 Sidney Powell (Fulton County Sheriff's Office)
OTHER RECENT STORIES
In announcing the wide-ranging 41-count indictment last month, Fulton County District Attorney Fani Willis said she wants to try all 19 defendants together. But the legal maneuvering that has begun in the three weeks since the indictment was returned underscores the logistical complexity inherent in such a sprawling indictment with so many defendants.
Many of those charged are seeking to speed up the process, some are trying to separate themselves from the others accused in the alleged conspiracy and some are trying to move the case from a state court to federal court. All have pleaded not guilty.
Chesebro is accused of working on the coordination and execution of a plan to have 16 Georgia Republicans sign a certificate declaring falsely that Trump won and declaring themselves the state's "duly elected and qualified" electors. Another Chesebro attorney, Manny Arora, called that the "intellectual" part of the case, which had nothing to do with any "shenanigans" on the ground in Georgia and said his defense would rely on paperwork and legal opinion.
Powell is accused of participating in a breach of election equipment in rural Coffee County. She's alleged to have hired and paid a computer forensics team that copied data and software from the election equipment without authorization.
Her attorney, Brian Rafferty, said the evidence will show she was "not the driving force" behind that effort. He said he's afraid the evidence he presents will get "washed away" by the technical evidence produced by Chesebro's defense team if they're tried together.
Several other defendants have also asked to be tried separately or in small groups, and Trump, the early front-runner in the 2024 Republican presidential primary, has asked to be tried apart from anyone who files a speedy trial demand.
Whenever and wherever any trial in the case ultimately takes place, jury selection is likely to be a challenge. Jury selection in a racketeering and gang case brought last year by Willis began in January and is still ongoing. In another big racketeering case that Willis tried nearly a decade ago against former Atlanta Public Schools educators, it took six weeks to seat a jury. In Fulton County's case against rapper Young Thug and the YSL group, no jury members have been seated since selection started in January.
You can read the full ruling below: