Kemp signs bills targeting 'divisive concepts' in schools, trans girls playing sports
CUMMING, Ga. - Georgia Gov. Brian Kemp signed a series of seven education bills into law Thursday morning at the Forsyth County Arts and Learning Center in Cumming.
A handful of them have drawn a lot of attention, including a bill aimed at Critical Race Theory.  The measure bans the teaching of nine "divisive concepts" in Georgia classrooms, including that the United States is "fundamentally racist."  That bill also tasks the Georgia High School Association with deciding whether transgender girls should be allowed to participate in school sports.  
"We put students and parents first by keeping woke politics out of the classroom and off the ballfields," Gov. Kemp said before signing the legislation. 
Banned "divisive concepts" would include claims that the U.S. is "fundamentally or systematically racist," that any people are "inherently racist or oppressive, whether consciously or unconsciously," and that no one "should feel discomfort, guilt, anguish, or any other form of psychological distress because of his or her race." Bills using identical language have been proposed in dozens of states, backed by the Center for Renewing America, a think tank led by former Trump administration officials.
School districts would have to respond to complaints, and people who don't like the outcome could appeal to the state Board of Education. If the board finds the school district in the wrong, it could suspend some or all of its waivers from state regulation.
The measure also bans training of school employees by anyone who advocates for the banned divisive concepts.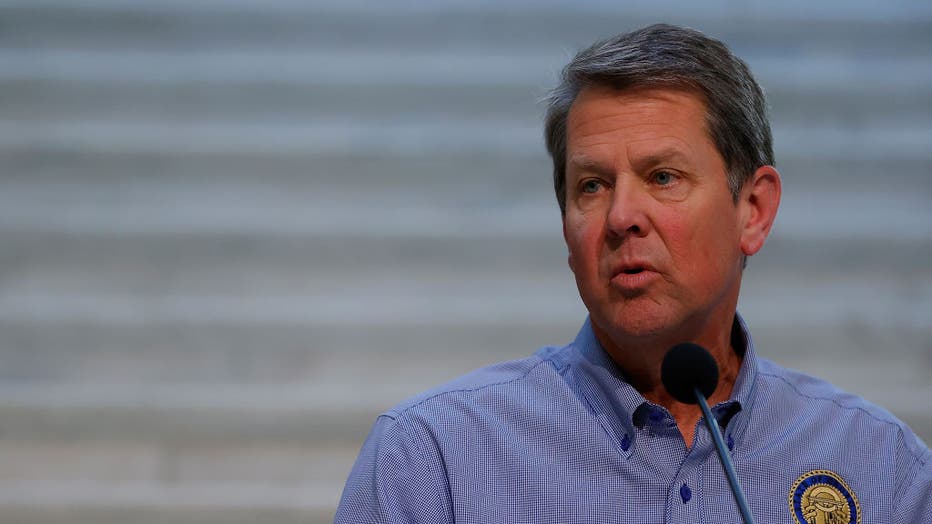 Georgia Governor Brian Kemp speaks to the media during a press conference at the Georgia State Capitol on April 27, 2020 (Photo by Kevin C. Cox/Getty Images)
The governor also signed the Parent's Bill of Rights, which supporters said gives parents and guardians more access to and control over the materials their children see in school.
While state lawmakers, educators and parents applauded the governor's actions inside, a group of protestors pushed back against the new policies outside.
"We do not want Kemp to think that everyone agrees with these bills he is signing into law today," said Forsyth County mother Becky Woomer.  "Even though he has come to what he probably thinks is a deep red county, there are a lot of people here who don't feel that way and we feel these bills harm teachers and harm student learning."
Woomer called the bill signings "a political ploy" by Gov. Kemp and said he was the one politicizing education.
"I believe that oftentimes government in the past has been very reactive," said state Rep. Will Wade, R-Dawsonville, who sponsored the divisive concepts legislation.  "I believe what this is able to do is try to drown out the national media that has tried to politicize these type of things, be proactive before it becomes ingrained in our classrooms and allow parents and teachers and the school systems to keep children at the center and not allow those things to creep in."  
At the last minutes of the 2022 legislative session came to a close, lawmakers stuffed a bill dealing with transgender athletes into the "divisive concept" bill. Under the soon-to-be new law, the Georgia High School Association "may" ban transgender girls who play for public schools from competing against other girls.
The bill does not explicitly give the association the power to ban from competition transgender girls who play for private schools. A number of private schools are also members of the association.
At least 10 Republican-led states have banned transgender women or girls in sports. Some other GOP-led states are also considering such bans.
Proponents of the ban say transgender girls have an unfair advantage because they were born as stronger males and warn that those born as girls will be denied places on the team or the podium if playing against transgender girls.
Democrats warned that transgender children are already vulnerable to suicide and that excluding them could only lead more kids to harm themselves.
Gov. Kemp said he was not elected to avoid controversy.  
"Making sure parents have the ultimate say in their child's education should not be controversial," said Gov. Kemp.  "And as the parents of three daughters, Marty and I want every young girl in this state to have every opportunity to succeed in the sport they love.  That should not be controversial."
The Associated Press contributed to this report.