Gov. Kemp backs 'Constitutional Carry' legislation
ATLANTA - In what is dubbed "The World's Largest Gun Store," Gov. Brian Kemp announced his support for a measure that would do away with the need for weapons carry permits in Georgia.
"I believe the United States Constitution grants the citizens of our state the right to carry a firearm without state government approval," Gov. Kemp said to applause.
KEMP ANNOUNCED GEORGIA NATIONAL GUARD DEPLOYMENT ASSIGNMENTS TO FIGHT OMICRON VARIANT
Currently, Georgians must have a Weapons Carry License, or WCL, in order to carry a concealed weapon in public.  Residents have to apply for a WCL through their county's probate court.  Applicants must pass a criminal background check, pay an average fee of $75 and provide their fingerprints.  
State Sen. Jason Anavitarte, R-Dallas, filed the legislation in March 2021, but it remains active for the 2022 session.
"I am proud to be leading the fight to bring Constitutional Carry to Georgia. Georgians should not need a permit to exercise their 2nd Amendment rights, defend themselves and protect their families. This law will keep safeguards in place to ensure that only law-abiding citizens can purchase and obtain a firearm while eliminating the bureaucratic red tape that infringes on Georgians' constitutional rights. I look forward to carrying this bill across the finish line and having it signed into law," Sen. Anavitarte said in a statement.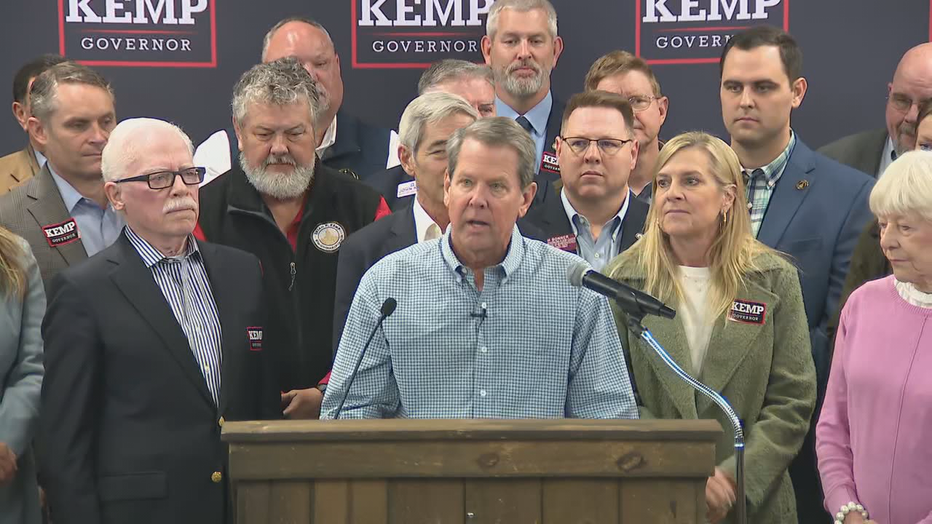 Georgia Gov. Brian Kemp pushes for a new state law that would loosen requirements to carry a handgun in public. (FOX 5 Atlanta)
The governor's announcement comes when he is locked in a tough re-election battle.  Former U.S. Senator David Perdue and former state Rep. Vernon Jones are both running against Kemp in the Republican primary.
"It's despicable that Brian Kemp is willing to endanger Georgians' lives for the sake of his re-election campaign," said Rebecca Galanti, spokesperson for the Democratic Party of Georgia.  "Kemp's reckless proposal to make our state less safe is nothing more than a desperate ploy to appeal to the GOP's increasingly far-right base – and we know David Perdue would sell Georgians out to the gun lobby just the same. As Brian Kemp and David Perdue remain locked in a race to the bottom and Georgia Republicans hijack the upcoming legislative session for political theater, Democrats remain focused on protecting Georgians' lives and making our state a safe place for families to prosper."
The legislative session begins Monday, Jan. 10.