Independence Day fireworks can trigger PTSD in veterans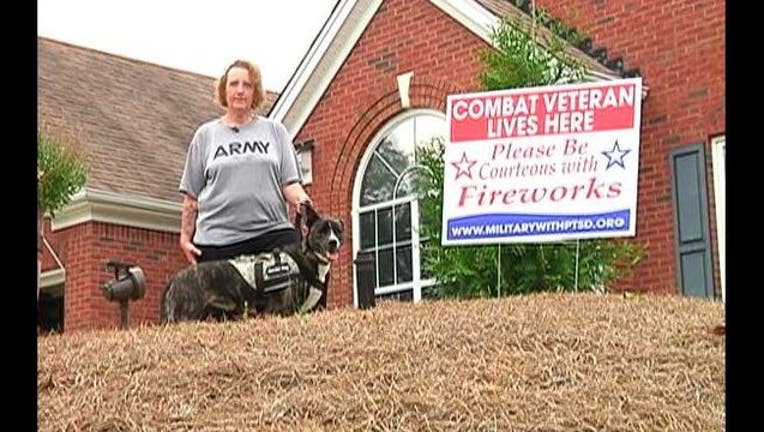 article
Along with her American flag, one Gwinnett County veteran added some extra red, white and blue to her yard this Independence Day.

Faith Tyler, who served in the Army from 1989 to 1993, put a sign in her garden that reads, "Combat veteran lives here.  Please be courteous with fireworks." 

"It can be tough," said Tyler. "I do have flashbacks. It's hard to get sleep knowing that the Fourth of July is coming." 

The sudden booms and even the smell of fireworks can trigger anxiety, explained Tyler.

"I get nervous. My anxiety goes really, really high. Then I want to go into hiding," she said.

Fireworks also scare Tyler's service dog, Murphy, who she got through Operation Atlas in Auburn, Georgia. Murphy was trained to help Tyler cope with her PTSD, but that can be difficult when they are both anxious. 

Tyler hopes the sign will encourage neighbors to consider her when they celebrate the Fourth of July.  She just asks that people give her some notice before they lite that first fuse. 

"If they want to shoot off the fireworks and maybe I can sit in my yard and watch them. That's fine. I'm prepared," shared Tyler. "But when I'm not prepared, it takes me back. My mind--it just turns. That's part of the PTSD."

Tyler was one of more than 2,500 veterans all over the country who got a sign from the website MilitaryWithPTSD.org. The group wanted to raise awareness of the issue and used donations to provide the signs to veterans free of charge. 

"I'm proud--proud of our country. I'm proud that I served and I would do it again. I just, all I ask is just to be courteous," said Tyler.