Tracking Ian: Storm could make landfall in Florida as catastrophic Cat. 4 hurricane, Georgia braces
ATLANTA - Georgia officials are keeping a close eye on Hurricane Ian's path as the storm continues gaining strength.
Ian became a major Category 3 storm Tuesday, making landfall in Cuba's Pinar del Rio province as it continued to strengthen, with sustained winds of 120 mph.  The devastating storm is roaring on a path that could see it hit Florida's west coast as a catastrophic Category 4 hurricane.
RED CROSS IN GEORGIA MOBILIZES VOLUNTEERS AHEAD OF HURRICANE IAN
Hurricane Ian leaves most of Cuba in the dark
Hurricane Ian tore into western Cuba as a major hurricane Tuesday and left 1 million people without electricity.
Ian made landfall in Cuba's Pinar del Rio province, where officials set up 55 shelters, evacuated 50,000 people, and took steps to protect crops in the nation's main tobacco-growing region. The U.S. National Hurricane Center said Cuba suffered "significant wind and storm surge impacts" when the hurricane struck with top sustained winds of 125 mph.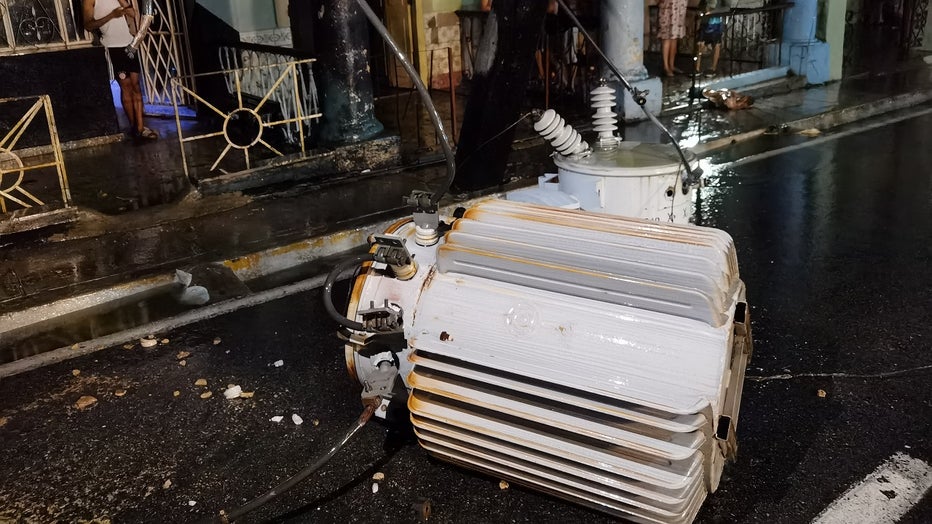 Several people observe part of a downed power line in a street after Hurricane Ian hit Pinar del Rio, Cuba, on September 27, 2022 in the province of Pinar del Río, Cuba. Ian made landfall at 4:30 a.m. EDT Tuesday in Cubaâs Pinar del Rio province, wh
As the storm's center moved into the Gulf, scenes of destruction emerged in Cuba's world-famous tobacco belt. The owner of the premier Finca Robaina cigar producer posted photos on social media of wood-and-thatch roofs smashed to the ground, greenhouses in rubble and wagons overturned.
"It was apocalyptic, a real disaster," wrote Hirochi Robaina, grandson of the operation's founder.
Local government station TelePinar reported heavy damage at the main hospital in Pinar del Rio city, tweeting photos of collapsed ceilings and toppled trees. No deaths were reported.
Hurricane Ian could cause catastrophic damage to Florida's Gulf Coast
Ian didn't linger over Cuba and is expected to slow down over the Gulf of Mexico, growing wider and stronger, "which will have the potential to produce significant wind and storm surge impacts along the west coast of Florida," the hurricane center said.
Deadly storm surge of 8 to 12 feet is possible between Longboat Key and Bonita Beach, including Charlotte Harbor. Bonita Beach to Chokoloskee could see 6 to 9 feet. Elsewhere, along Florida's Gulf Coast, areas could see up to 6 feet above normal tide. Those same areas could see up to 18 inches of rain with totals as high as 24 inches in some isolated areas. Many coastal communities along Florida have already had evacuation orders given for multiple zones, totaling about 2.5 million people.
"It is a big storm, it is going to kick up a lot of water as it comes in,"Gov. Ron DeSantis told a news conference in Sarasota, a coastal city of 57,000 that could be hit. "And you're going to end up with really significant storm surge and you're going to end up with really significant flood events. And this is the kind of storm surge that is life-threatening."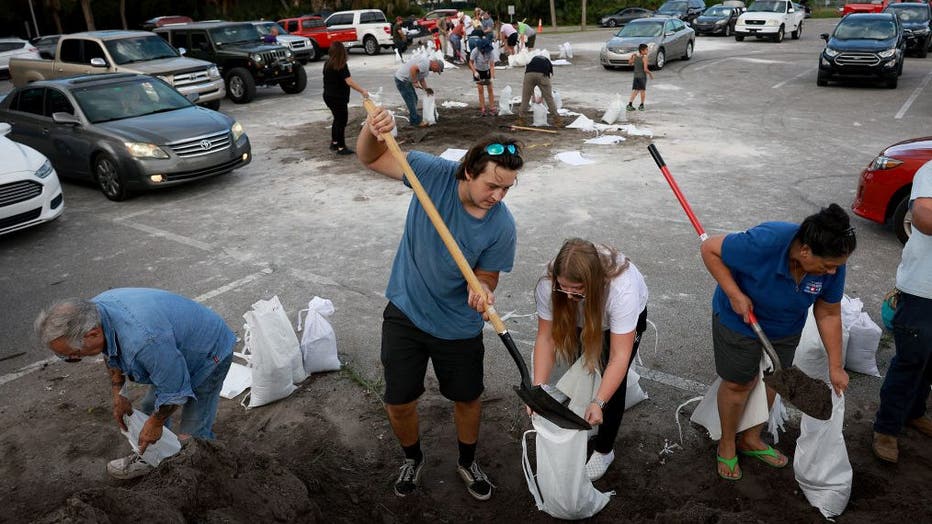 People fill sandbags at Helen Howarth Park as they prepare for the possible arrival of Hurricane Ian in St Petersburg, Florida. (Photo by Joe Raedle/Getty Images)
Floridians lined up for hours in Tampa to collect bags of sand and cleared store shelves of bottled water. Gov. DeSantis declared a statewide emergency and warned that Ian could lash large areas of the state, knocking out power and interrupting fuel supplies as it swirls northward off the state's Gulf Coast.
"You have a significant storm that may end up being a Category 4 hurricane," DeSantis said at a news conference. "That's going to cause a huge amount of storm surge. You're going to have flood events. You're going to have a lot of different impacts."
Tropical storm-force winds were expected across the southern peninsula late Tuesday, reaching hurricane-force Wednesday — when the eye was predicted to make landfall. With tropical storm-force winds extending 140 miles from Ian's center, damage was expected across a wide area of Florida.
It was not yet clear precisely where Ian would crash ashore. Its exact track could determine how severe the storm surge is for Tampa Bay, said University of Miami hurricane researcher Brian McNoldy. Landfall south of the bay could make the impact "much less bad," McNoldy said.
He said about 30,000 utility works have already been positioned around the state but it might take days before they can safely reach some of the downed power lines.
"This thing's the real deal," DeSantis said. "It is a major, major storm."
DeSantis said nearly 100 shelters had been opened by Tuesday afternoon, with more expected. He said most buildings in Florida are strong enough to withstand wind, but the 2.5 million people who have been told to evacuate face the greatest danger from flooding.
HURRICANE IAN: AIRPORT CLOSURES TO IMPACT TRAVEL BETWEEN TAMPA AND ATLANTA
Hundreds of residents were being evacuated from several nursing homes in the Tampa area, where hospitals were also moving some patients. Airports in Tampa, St. Petersburg and Key West closed. Busch Gardens in Tampa closed ahead of the storm, while several Orlando-area theme parks, including Disney World and Sea World, planned to close Wednesday and Thursday.
NASA rolled its moon rocket from the launch pad to its Kennedy Space Center hangar, adding weeks of delay to the test flight.
Forecasters warned the hurricane will be felt across a large area as it plows across Florida with an anticipated turn northward. Flash floods were possible across the whole state, and portions of Florida's east coast faced a potential storm surge threat as Ian's bands approach the Atlantic Ocean. 
At the White House, President Joe Biden said his administration was sending hundreds of Federal Emergency Management Agency employees to Florida and sought to assure mayors in the storm's path that Washington will meet their needs. He urged residents to heed to local officials' orders.
"Your safety is more important than anything," he said.
White House press secretary Karine Jean-Pierre said Biden spoke later Tuesday evening with DeSantis on federal steps to help Florida prepare for the storm and both committed to close coordination.
Georgia braces as Hurricane Ian churns closer to Peach State
Georgia Gov. Brian Kemp pre-emptively declared a state of emergency Tuesday, ordering 500 National Guard troops on standby to respond as needed.
Leaders in the Peach State say they want to take every measure to keep people safe, working with FEMA, local emergency management officials, and the National Weather Service as they track Ian's movement.
Eastward changes to the forecast mean the greater impact from the hurricane would likely be in South Georgia.
"We're talking to a lot of our friends in the southern part of the state - obviously watching the path of the storm," Gov. Brian Kemp said. 
Parts of Georgia and South Carolina also could see flooding rains into the weekend. Eastern Georgia and coastal South Carolina could see between 4 and 8 inches of rain with isolated amounts up to 12 inches. How much rain falls in metro Atlanta depends on the storm's track.
Current forecasts predict south Georgia could start to feel the effects of the storm on Thursday. Ian is expected to be downgraded to a tropical storm by that point. The predicted track has the storm emerging into the Atlantic just south of Jacksonville on Friday morning before turning back inland towards Savannah. 
As with any tropical system, that track and intensity could change. Authorities are urging all Georgians to be alert to those changes.
Georgia has already activated its operation center where it will coordinate efforts both before Ian makes landfall and after the storm possible does any damage.
GEMA says resources are ready to move wherever they are needed.
"We do have some pre-positioned assets around the state - basic essentials that we keep on ready at all times. For this particular event because it's so widespread - it's going to cover most of South Georgia - we do have materials in Macon ready to deploy," GEMA Director James C. Stallings said.
State and federal leaders are also working to accommodate both Florida and Georgia residents trying to get out of Ian's path by making sure there are plenty of hotel rooms and shelters available.
"I'll use every power I got to prepare for the storm and to be ready where it hits and to respond afterwards," Kemp said.
Officials say Georgians who end up in the path of the storm should prepare with GEMA's suggested guide to what residents should do before, during, and after a hurricane including making a family communications plan and evacuation plan and prepare a "Ready kit" in case of evacuation.
You can find all their suggested guidance on the GEMA website.
Keep up with the latest by downloading the FREE FOX 5 Storm Team app and following @FOX5StormTeam on Twitter.
The Associated Press contributed to this report.