Houston Astros at White House: President Joe Biden congratulates team on 2022 World Series win
WASHINGTON - President Joe Biden congratulated the Houston Astros on their 2022 World Series win during the team's visit to the White House on Tuesday.
The team defeated the Philadelphia Phillies in Game 6 last year to claim their second World Series title.
SUGGESTED: Houston Astros win 2022 World Series
President Biden highlighted the players' accomplishments on the field but also in the community.
He stressed the impact of the team's efforts to raise awareness on domestic violence, support kids with cancer, help the community following the big freeze in 2021, and coming together for the Uvalde community after the deadly mass shooting at Robb Elementary School in 2022.
"I think you athletes underestimate how much hope you give," President Biden said.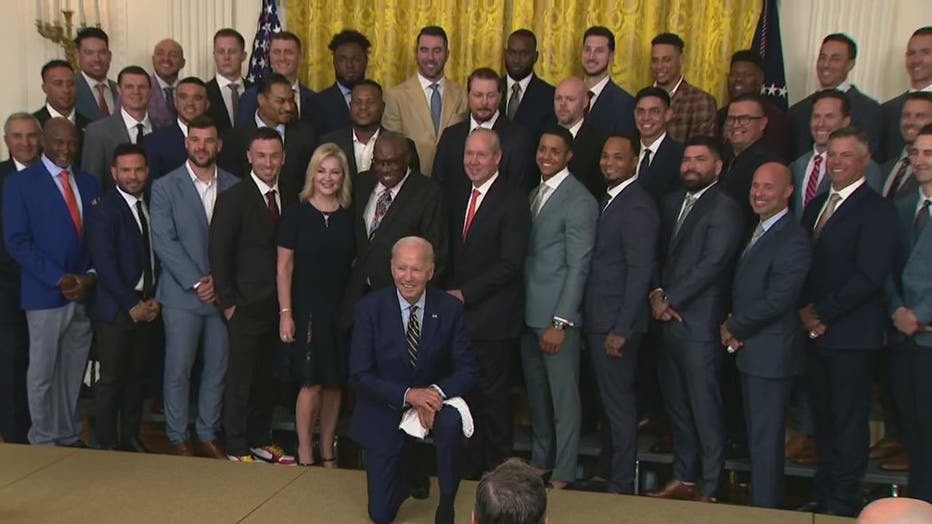 President Joe Biden hosts the Houston Astros at the White House.
Astros Owner Jim Crane recognized the players, the coaches, and the entire organization.
"The whole organization pitches in. I don't think everyone realizes how hard everyone works – from the announcers, the guys cleaning the stadium – all of those jobs are very important. It really helped us win 2022," Crane said. He also thanked the fans for their support.
SUGGESTED: Dusty Baker becomes oldest MLB manager to win World Series title
The 2022 victory was also the first World Series title win for Astros manager Dusty Baker since he started managing MLB teams in 1993. Baker has been with the Astros since 2020.
"These guys standing behind me are the greatest that I've been around," Baker said. "They always believed in themselves prior to me even coming here that they had the ability to win. They show what perseverance and character can do for you."
Crane presented President Biden with his own Astros jersey, featuring his name and the number 46 on the back.