Arrests made in Marietta teen's 'senseless' murder at 2022 graduation party
MARIETTA, Ga. - Over a year after a 17-year-old was shot and left for dead at a graduation party in a Marietta gated community, authorities say they've arrested three suspects connected with his murder.
Marietta police said 17-year-old Grayson Green was killed during a chaotic night at Walton Village, a gated community located on the 1600 block of Roberta Drive on May 21. Around 10 p.m., officers were called to the scene after reports of shots being fired.
Neighbors estimated about 200 teens were gathered in the street at the time. Once on scene, officer-worn body camera footage shows officers rushing into the gated community with dozens and dozens of teens taking off running. The video also shows police discovering Green in the street.
Surveillance video shows as police rushed to the complex, dozens and dozens of teens took off running.
Medics rushed Green to Wellstar Kennestone Hospital, where he died.
Investigators have tied the gathering to a previous party that evening at an Airbnb outside city limits. They think social media led the children to the apartment complex, where the party continued until the deadly shooting.
After spending hours gathering evidence, Marietta detectives say they have arrested two teenagers and charged an adult with Green's murder.
"This is classic, old-fashioned police work. Day in and day out, piecing individuals, small pieces together until you can see the actual puzzle develop before your eyes," Officer Chuck McPhilamy recalled.
Officials say on May 29, detectives traveled to Newport News, Virginia. Working with local authorities, police arrested 17-year-olds Ne'riyah Vargas and Ne'cquo Vargas the next day. Both teens are from Cobb County and have been extradited to Georgia.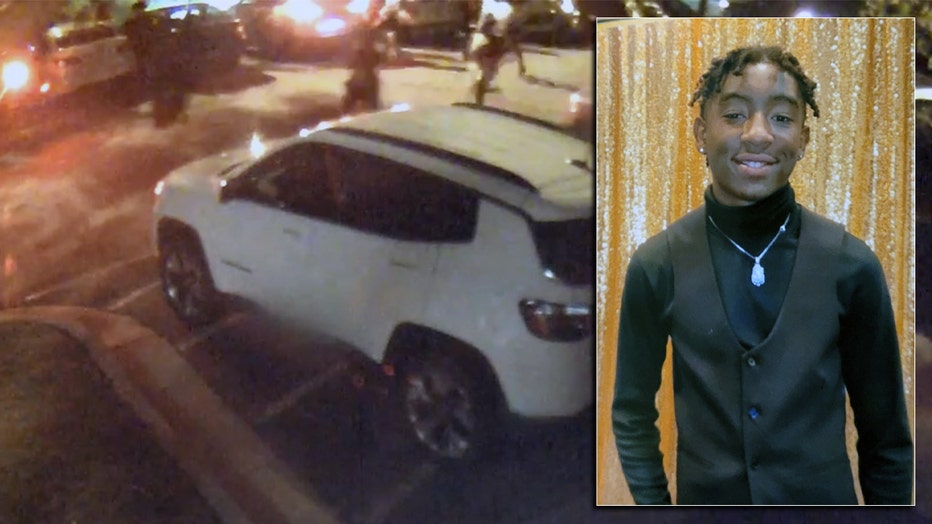 Grayson Green, 17, was shot and left for dead during a massive graduation party at a Marietta apartment complex on May 21, 2022. (Marietta Police Department)
Along with the two arrests, police also charged 21-year-old Paulding County resident Tahkel Beverly Smart, who was already in custody in Douglas County.
"While the three suspects are now in custody, the investigation into their activities remains open," the Marietta Police Department said in a statement. "We appreciate the patience and trust of Grayson's family while we methodically gathered evidence to hold the suspects accountable."
The three suspects each face eight felony charges of malice murder, felony murder, aggravated assault, possession of a firearm during the commission of a felony, and the related violations of Georgia's Street Gang Terrorism and Prevention Act.