Fred brings damage, flooding to north Georgia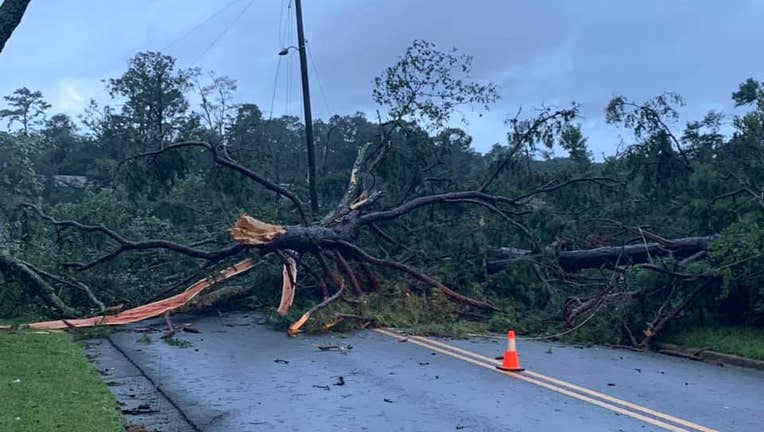 article
ATLANTA - Tropical Depression Fred left damage, power outages and heavy rains in Georgia as it continued its path through the South.
Fred, while weakened to a Tropical Depression as passed through Georgia will continue to produce widespread rain, and gusty winds in the northern part of the state throughout the day. 
The storm caused multiple Tornado Warnings around the state, with possible tornadoes touching down: One hit Americus, in the southwestern part of the state, one hit a rural area of Meriwether County, between Atlanta and Columbus, and one hit Jeffersonville, near Macon, according to the National Weather Service.
The National Weather Service has not yet confirmed a tornado did actually touch down in the area but is expected to send a team to investigate.
"In just preliminarily checking the area and damages along with the radar signatures seen, and based on eye witness reports, we do believe it was but we don't know how big and we don't believe it ever had a prolonged touch down which is a huge blessing," The Banks County EMA & E-911 wrote on its Facebook page. "The NWS had advised us that they did indicate a debris field on the radar and they reached out directly and immediately when they saw it. Warnings were issued immediately. We are very thankful that we didn't have anyone injured in the event. We will know more after the NWS finishes their investigation and provides their report."
MORE: Northeast Georgia residents assess damage from possible tornado
While Fred rapidly deteriorated as it moved through our area, lingering showers and thunderstorms will remain in the forecast through the end of the week. 
One death has been reported from the storm— a Las Vegas man whose car hydroplaned near Panama City, Florida, Monday night and overturned into a water-filled ditch, the Florida Highway Patrol said.
Heavy rains drenched parts of metro Atlanta just before dawn Tuesday, snarling commutes. About two inches of rain was recorded in Atlanta and Macon, with more than an inch falling overnight in Augusta and Columbus.
MORE: Sumter County first responders, neighbors scramble to address storm damage
Keep up with the latest by downloading the FREE FOX 5 Storm Team app and following @FOX5StormTeam on Twitter.
WATCH: FOX 5 Atlanta live news coverage
_____
Sign up for FOX 5 email alerts
Download the FOX 5 Atlanta app for breaking news and weather alerts.
The Associated Press contributed to this report