Forsyth Sheriff reacts to tragic murder-suicide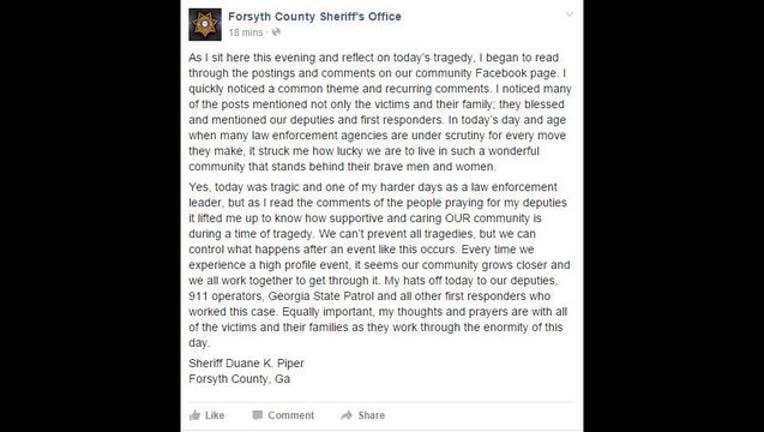 article
After news of a tragic murder-suicide ripped through Forsyth County, dozens of people turned out to lay flowers, stuffed animals, and pay their respects to the family that was murdered in a home off Old Atlanta Road. Their 75-year-old grandfather remains in critical condition at the hospital. 
Detectives believe 32-year-old Matthew Fields was the man behind the gun. They say he fatally wounded his wife, 37-year-old Rebecca Manning, and her two sons, 8-year-old Jared Smith and 9-year-old Jacob Smith. He also critically wounded Rebecca's father, 75-year-old Jerry Manning, before turning the gun on himself.
Investigators have ruled this case a domestic incident. But much of this is still under investigation. 
Sheriff Duane Piper took to the Office's Facebook page Wednesday night to address the outpouring of support and unity that has come over the close knit community.
He writes: 
"As I sit here this evening and reflect on today's tragedy, I began to read through the postings and comments on our community Facebook page. I quickly noticed a common theme and recurring comments. I noticed many of the posts mentioned not only the victims and their family; they blessed and mentioned our deputies and first responders. In today's day and age when many law enforcement agencies are under scrutiny for every move they make, it struck me how lucky we are to live in such a wonderful community that stands behind their brave men and women.
Yes, today was tragic and one of my harder days as a law enforcement leader, but as I read the comments of the people praying for my deputies it lifted me up to know how supportive and caring OUR community is during a time of tragedy. We can't prevent all tragedies, but we can control what happens after an event like this occurs. Every time we experience a high profile event, it seems our community grows closer and we all work together to get through it. My hats off today to our deputies, 911 operators, Georgia State Patrol and all other first responders who worked this case. Equally important, my thoughts and prayers are with all of the victims and their families as they work through the enormity of this day."
Sheriff Duane K. Piper
Forsyth County, Ga
As of 11 p.m., nearly two thousand people have liked this post, and its been shared 86 times.