2 dead in fiery crash on I-20 that caused hours-long shutdown, police say
ATLANTA - Atlanta police said a wreck on Interstate 20 left at least two dead and several more hospitalized on Sunday. 
Police said the crash involved one person driving a burgundy Dodge Charger and a Chevrolet pickup truck with three people, including a three-month-old baby girl. The driver of the Charger and a man inside the Chevy pickup died. A woman driving the Chevy pickup, a 16-year-old boy and the infant survived and were rushed to Grady Memorial Hospital. 
Police said a dog was also injured. 
Atlanta Fire Rescue found a burgundy Dodge Charger engulfed in flames and turned the wrong direction when firefighters arrived at 5:15 a.m. on I-20 eastbound near exit 51 to I-285. 
They found the truck overturned nearby, several lanes over from the Charger. One person was partially out of the truck, another person was entrapped, and the truck had been carrying the infant. 
Firefighters extinguished the flames on the Charger and paramedics rushed all surviving people to Grady Memorial Hospital. 
Police said preliminary details of the investigation indicate the Chevy pickup truck was traveling east and attempted to avoid hitting the Charger but crashed. Police continue to investigate the accident.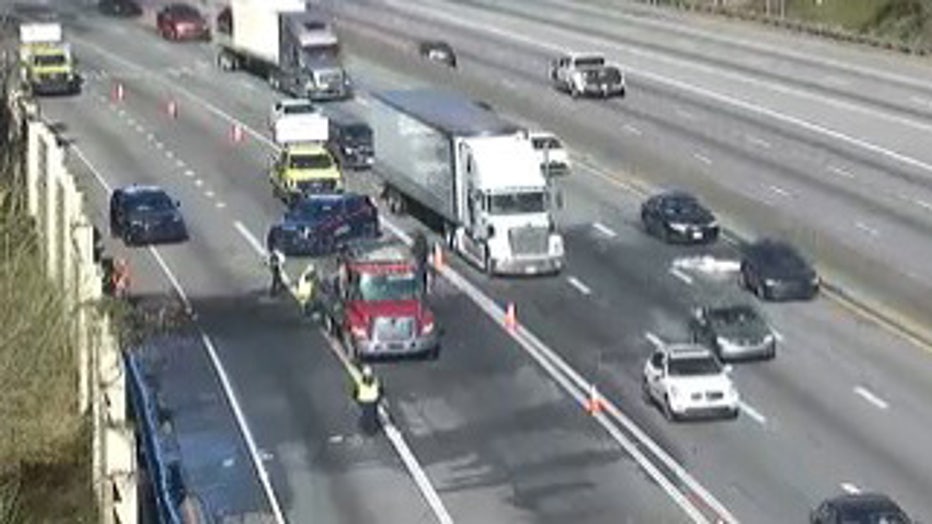 Traffic begins moving on I-20 eastbound in Fulton County on March 20 where a fiery crash closed all lanes for hours. The exit ramp to I-285 remained closed.
The Georgia Department of Transportation closed all lanes on Interstate 20 eastbound for hours on Sunday morning. 
By 9:30 a.m. traffic was moving in the three left lanes on I-20. Exit lanes to I-285 were initially closed, but re-opened by 9:55 a.m. 
First responders were at the scene of the wreck at around 8 a.m. addressing cars with major damage on both shoulders of the interstate.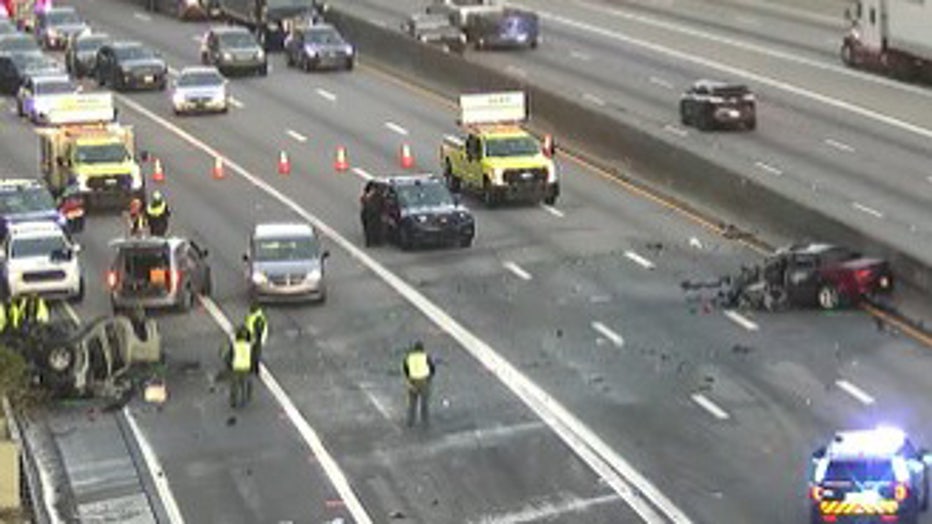 The Georgia Department of Transportation said all lanes on Interstate 20 eastbound are closed after a collision and car fire on Sunday morning.  (FOX 5 Atlanta)
Wreckers were at the scene to clear both cars at 8:30 a.m.
Traffic was backed up between I-285 and Six Flags Parkway.