Feds raid home of Subway spokesman Jared Fogle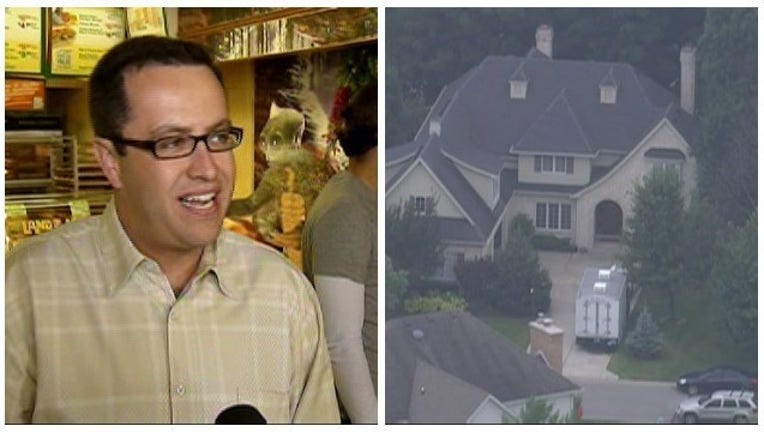 article
ZIONSVILLE, Ind. (AP) - FBI agents and Indiana State Police raided the home of Subway restaurant spokesman Jared Fogle on Tuesday, removing electronics from the property and searching the house with a police dog.
FBI Special agent Wendy Osborne said the FBI was conducting an investigation in Zionsville, an affluent Indianapolis suburb, but wouldn't say whether it involved Fogle or describe the nature of the investigation.
Fogle, wearing tan shorts and a dark T-shirt, was photographed early Tuesday by The Indianapolis Star stepping out of a police evidence van parked outside his home.
Late Tuesday morning an armed officer with a badge on his belt briefly stepped outside Fogle's house wearing a blue T-shirt reading, "U.S. Postal Inspector Police," then went back inside.
Fogle, 37, became the Subway restaurant chain's pitchman after shedding 245 pounds more than 15 years ago, in part by regularly eating Subway sandwiches. Subway began featuring Fogle in commercials soon after, and his story was instrumental in giving the sandwich chain an image as a healthy place to eat.
He has since worked to create awareness of childhood obesity through his Jared Foundation.
Calls to Fogle's home went unanswered Tuesday. A representative for Subway, Cindy Carrasquilla, did not respond to emails or phone messages seeking comment.
WTHR-TV and The Indianapolis Star reported Fogle was detained while electronics were removed from the home and analyzed inside a mobile forensics van Tuesday morning. Fogle was seen leaving the van.
Neighbors said the family entertained frequently and would say hello but that they didn't see Fogle and his wife outside a lot.
Jacob Schrader, 19, who lives across from Fogle's house, said the pitchman seems "like a pretty private guy" and that he'd only seen him about a dozen times in the last five or six years.
"He's like an endangered species or something like that," Schrader said.
Subway, which is based in Milford, Connecticut, and is privately held, has struggled in recent years. Last year, industry tracker Technomic said average sales for Subway stores in the U.S. declined 3 percent from the previous year. The company has about 44,000 locations around the world.
___
Associated Press writers Candace Choi in New York and Rick Callahan in Indianapolis contributed to this story.
Copyright 2015 The Associated Press. All rights reserved. This material may not be published, broadcast, rewritten or redistributed.
APP USERS: Click here to view the photo gallery.