Delta plane tire blows on landing at Atlanta airport, 1 person injured
ATLANTA - Emergency crews quickly responded after a Delta Air Lines flight blew a tire out upon landing at Atlanta's airport on Wednesday evening.
A FOX 5 camera spotted the Boeing 757-200 on a taxiway with emergency vehicles surrounding it. It appeared at one point, water was being sprayed onto the plane.
Hartsfield-Jackson Atlanta International Airport officials say the incident happened upon arrival.
Delta flight 1437 from Richmond, Virginia, landed safely around 6:20 p.m. Wednesday.
All passengers were able to self-evacuate from the plane.
Photos posted to social media show passengers using the plane's emergency inflatable slide to exit the plane.
One person was injured, but their condition was not immediately released.
Atlanta-based Delta Air Lines released the following statement:
"We appreciate the efforts of our flight crew and Hartsfield-Jackson Atlanta International Airport first responders to manage through the safe landing of flight 1437 at our hub this afternoon. Initial reports indicate that one of the aircraft's tires blew upon landing and components of the landing gear were hot. Customers evacuated via emergency slides and are being moved to the terminal via bus. We apologize to each for this experience – nothing is more important than the safety of our customers and crew."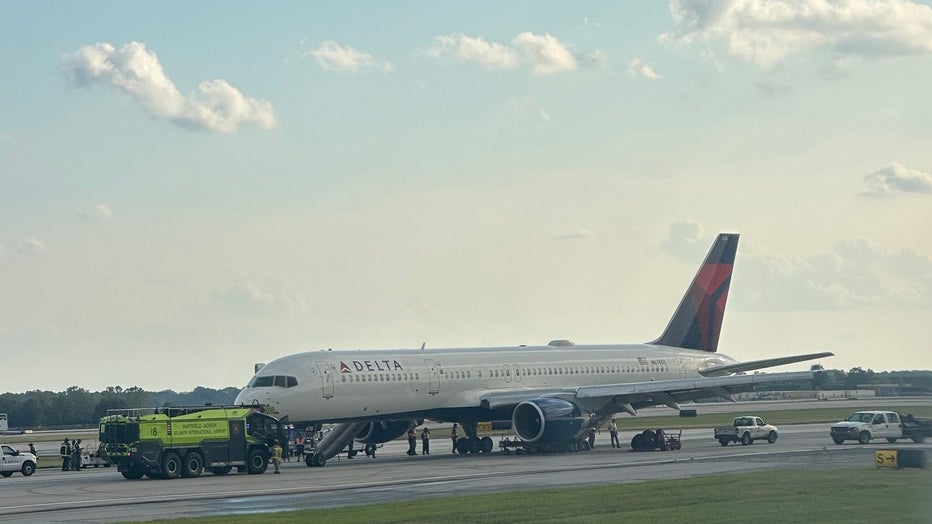 A Delta flight was surrounded by emergency crews at Atlanta's airport on August 2, 2023. (Supplied)
A total of 190 passengers where on board.
The FAA will be investigating the incident.
This story is breaking. Check back for details. If you have additional information, pictures, or video email newstipsatlanta@fox.com.