Truck driver charged in Marietta hit-and-run that left pedestrian critically injured
MARIETTA, Ga. - Marietta police have arrested a man accused of a hit-and-run that left a pedestrian fighting for his life.
The dangerous collision happened on Delk Road near the Interstate 75 overpass just after 11:30 p.m. Sunday.
Police say the white Ford F-150, allegedly driven by Miguel Bacilio-Marquez struck 40-year-old Oscar Sanchez as he walked along the road that night.
Instead of stopping, Bacilio-Marquez is accused of driving off, leaving Sanchez in the street.
"It is simply unacceptable that you will strike someone and leave the scene without even trying to render aid," Marietta police's public information officer Chuck McPhilamy told FOX 5.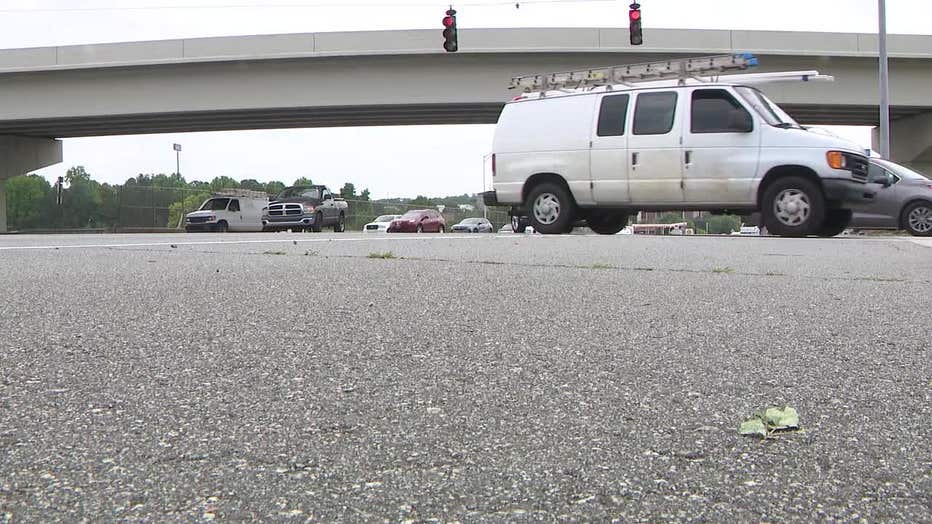 A recent hit-and-run incident along Delk Road near I-75 calls into question the safety of pedestrians in the area. (FOX 5)
Thankfully, good Samaritans pulled over and helped Sanchez, who remains at a local hospital in critical condition.
Bacilio-Marquez is now charged with felony hit-and-run, felony serious injury by vehicle and misdemeanor failure to maintain lane and driving on a suspended license.
Pedestrians told FOX 5 that the stretch of road Sanchez was hit on has no crosswalk and requires them to walk on the shoulder to get over Interstate 75.
Further up the road, there is a sidewalk, but it ends before the overpass on which Sanchez was reportedly struck. 
Multiple crashes in single day
McPhilamy said Sunday was a dangerous day on Marietta's roads – part of what he sees as a dangerous trend.
On top of the hit-and-run, there were two multi-vehicle accidents that happened minutes apart shortly before 11 a.m. Sunday. 
The first accident happened in the southbound lanes of I-75 just before the S Loop. Officials say all but one lane are closed while crews work at the scene. 
The second accident happened on the S Loop of South Marietta Parkway just east of I-75. Most of the west lanes have been shut down.
"These crashes are getting worse," he said. "Speed is almost always a contributing factor. Some sort of impairment, or some sort of distraction."