Teen fugitive wanted for Philadelphia murder may be hiding in Atlanta, US Marshals say
ATLANTA - The U.S. Marshals are searching for a 17-year-old wanted for the murder of a teenager during an ambush outside his Philadelphia high school in 2022.
WTXF reports that on Sept. 27, 2022, 14-year-old Nicolas Elizalde was leaving a joint football scrimmage at Roxborough High School when five gunmen left a car and started firing. When the gunshots were over, Elizalde was dead and four other teens were injured.
"Him and some other individuals were engaged in a gunfight. Nicolas Elizalde, who was a member of the football team, was tragically struck and killed as a result of that gun fight," US Marshals Service Supervisory Deputy Robert Clark told FOX 5.
Nicolas Elizalde, 14, was shot and killed, and four others wounded as they were walking outside of a football scrimmage at Roxborough High School in Pennsylvania on Sept. 27, 2022. (Supplied)
Elizalde's mother Meredith told WTXF she was at the school waiting for her son by her car when she heard the gunshots ring out and began running.
"The first thing I saw was his cleat. We just bought those cleats in the summer," she said. "God told me right when I got there, before I even got up to his body that 'He's going to go. You have to let him go.'"
Investigators have arrested four of the teens suspected of being involved in the shooting, but the fifth, identified as 17-year-old Dayron Burney-Thorn, remains on the run. Investigators say they connected the teen with the murder after linking the "infotainment system" of the vehicle involved with Burney-Thorn's cell phone.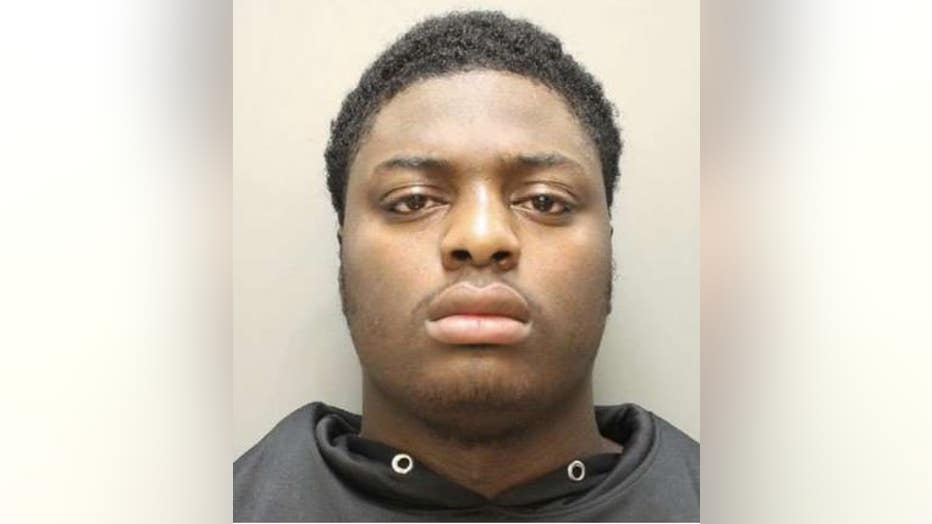 Dayron Burney-Thorn (US Marshals Service)
Authorities now say they have a credible tip that Burney-Thorn traveled to and was hiding in the Atlanta area months after the shooting.
"At the end of last year, we fielded numerous tips," Clark said. "One of those tips led us down to the Atlanta, Georgia, area. We sent numerous investigators down there for a week, had a positive sighting that Burney-Thorn was in the Atlanta area."
However, the suspect managed to elude police. The wanted teenager is described as being around 6-feet-3-inches tall with a weight of around 215 pounds. He has black hair and brown eyes.
Authorities are searching for Dayron Burney-Thorn, wanted for the murder of a 14-year-old football player in the Philadelphia area. He may be in the Atlanta area. (Supplied)
Authorities urge the suspect to surrender.
"This young man has to have help out there. He has to have help and he has to wonder every day, when he goes to bed, 'Is there going to be a US Marshall coming to get me? And the answer is, 'Yes, we will catch up with him unless he does the right thing and turns himself in.' Unless his family does the right thing and come forward and bring him to authorities. Only he can determine how this is going to end," Clark said.
The Philadelphia Police Department, the Bureau of Alcohol Tobacco Firearms and Explosives, and the U.S. Marshals Service are offering a reward of $50,000 for information that leads to Burney-Thorn's arrest and indictment - with $10,000 from the Marshals paid immediately when the wanted teen is arrested.
They're asking anyone with any information on the case or Burney-Thorn's whereabouts to call PA CrimeStoppers at 1-800-4PA-TIPS or send information through the USMS Tips App.