Coyote sightings on the rise in Georgia: Why and what to do if you encounter one
ATLANTA - It's that time of year. More coyotes are being spotted in neighborhoods across metro Atlanta, and it is worrying some pet owners.
A wildlife expert explains why more of these critters are being seen and what can be done to keep cats and dogs safe.
The big question is why are so many people posting about coyotes on social media these days? There is a simple answer is the animals are getting more frisky this time of year. 
"It's mating season right now," said Brandon Sanders, who runs Sanders Wildlife, a company that humanely removes wild animals from homes and businesses. "They're going looking for other mates. So they are going off their territories that they're used to in search of a new mate. Their sightings have become more prevalent. 
Sanders says coyotes tend to be scared of human interaction.
SHEEPDOG FIGHTS OFF COYOTES TO PROTECT FLOCK
"Coyotes actually aren't dangerous," he said, who added they usually eat vegetation. "Fruits. They love persimmon seeds. A lot of those food choices dry up during the winter."
So, they venture out looking for other sources of food. 
"They also eat mice, rats, things of that nature," Sanders said.
That means they can get closer to homes and pets. Sanders says, however, cat and dog, generally, are not on the menu.
"Statistically speaking they're not eating a lot of cats and dogs," he said.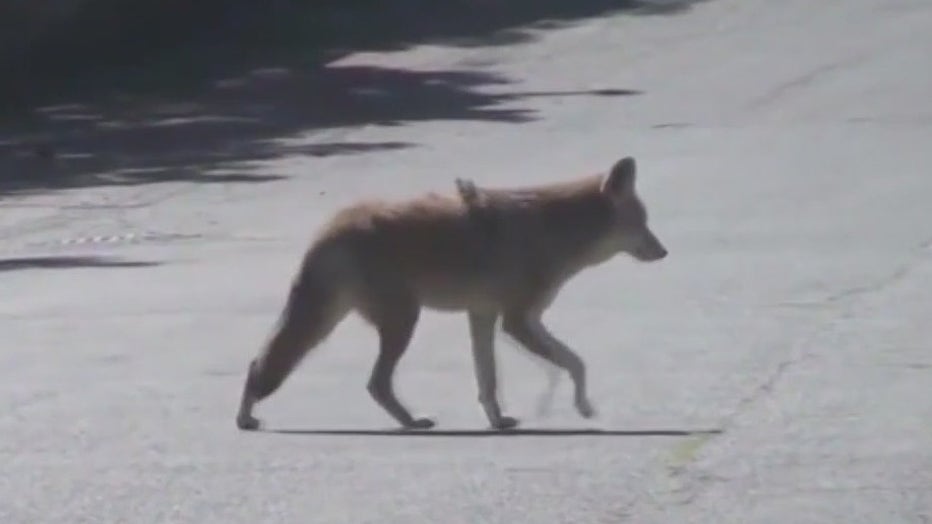 Coyotes are wild animals and everyone should always be cautious around them. 
CAT FACES OFF WITH COYOTE ON BACK PORCH IN WILD VIDEO
But there are run-ins. Coyotes in December injured a dog in Dunwoody. The dog recovered. Sanders says residents can help reduce the chance of conflict by bringing in pets and their food at night and tightly seal food you keep outdoors to cut down on rodents.
"Cutting down on rodent problems will actually decrease the sighting of coyotes as well," he said.
Coyotes are wild animals and everyone should always be cautious around them. Sanders says anyone who does encounter one should make themselves appear as big as possible. Yell, clap hands or throw something at it, but don't run away.
Learn more about coyotes here.