Coweta County deputy credited with saving life of man who suffered cardiac arrest at gym
COWETA COUNTY, Ga. - A Coweta County deputy is credited with helping save a man who suffered cardiac arrest while working out at the Newnan YMCA. The recent events surrounding Buffalo Bill's safety Damar Hamlin have put a spotlight on such lifesaving events
The outcome is never a certainty, but quick intervention is important. For Buffalo Bills Safety Damar Hamlin, the medical staff was right there on the sidelines. For everyone else, including the man who was working out at the YMCA gym, that first person who responds might be a police officer, or in this case a deputy sheriff.
It was Deputy Sheriff Christian Spinkx who got the call from 911 to respond to the Newnan YMCA. He was trained in CPR both in the Marine Corp and the Coweta Sheriff's Office. He says this would be the third time in his career that he has been called in to save a life with CPR.
"When it comes to situations like this, the people that are around you really matter. I say that by saying this, individuals who know CPR are some of the biggest help in these types of situations, so CPR is very important," said Coweta County Sheriff's Deputy Christian Spinkx.
He says when he arrived that man was unconscious, not breathing, his heart not beating, and those around him had started CPR and shocked him twice. Deputy Spinkx credits that initial teamwork, that heroics, with making all the difference.
"I give them every bit of credit. If it weren't for them doing what they were doing before, we never would have been able to continue with CPR to get a pulse back on this individual," said Deputy Spinkx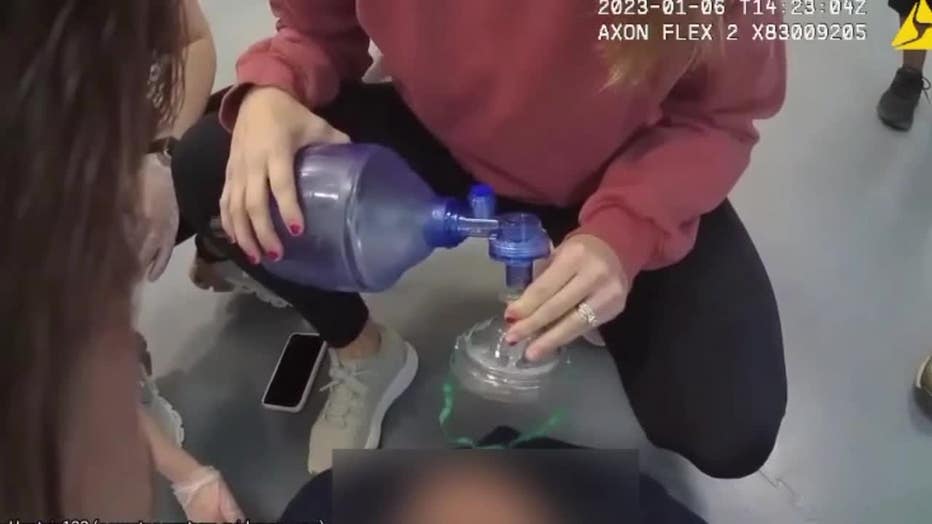 Body camera shows live-saving measures in progress when a Coweta County deputy arrives to at the Newnan YMCA after a medical alert call. (Coweta County Sheriff's Office)
Within a few minutes of doing CPR, the video shows and you can also hear the relief of everyone there when the man wakes up, breathes on his own.
Spinkx says that law enforcement trains in life-saving CPR and recertifies every year. It is likely that an officer will show up before a paramedic and in those precious first few minutes begin to resuscitate a victim of cardiac arrest.
He says they get cardiac arrest calls nearly every single day.
"And even not us, it may take three or four minutes to respond to a location depending on traffic, so people out here that know this are really what matters," the deputy said.
Deputy Spinkx encourages everyone to learn CPR. Don't wait to call 911 or wait for the sirens or the first responders to show up.