Controversial Douglas County judge must face disciplinary panel Sept. 5
DOUGLASVILLE, Ga. - Douglas County Probate Judge Christina Peterson must appear Sept. 5 to answer 40 allegations of alleged judicial misconduct.
The Hearing Panel for the Judicial Qualifications Commission set the date after rejecting Peterson's motion to dismiss most of the violations because they happened before she was sworn into office.
Peterson originally faced 50 violations, but the JQC earlier agreed to drop 10 because some did take place before Peterson declared her candidacy.
"We contend that even if everything they say is true, it's still not a disciplinary offense," asserted Lester Tate, Peterson's attorney and a former chairman of the JQC.
Regardless, they are certainly a topic of conversation in Douglas County.
Peterson has also done some part-time acting. While running for probate judge in 2020, Peterson posted a satirical, sometimes sexually graphic rant on Twitter.
Wearing a fake mustache and using a country accent, Peterson pretended to be a white man giving dating advice to a Black woman stuck with a Black boyfriend.
"Janiqua! You've got a homeless sexual. That man will do anything for a place to stay."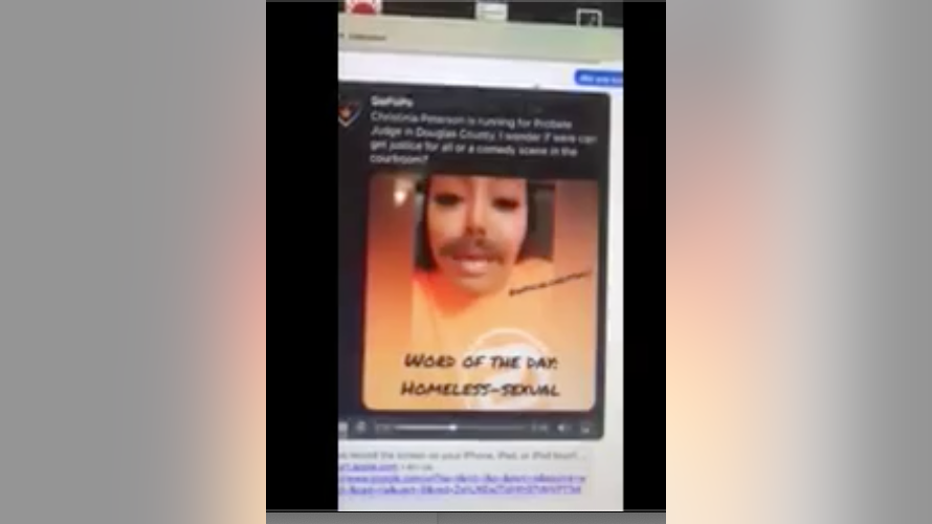 An image from Christina Peterson's Twitter page showing her playing a character giving graphic dating advice to a black woman.
Around the same time, Peterson celebrated her birthday by posting her Cash App address on Instagram, "if anyone feels like sharing their quarantine wealth."
And she promoted her appearance at a local bar in the days after she won her primary election.
All of those social media posts have her in judicial hot water, accused of violating the Code of Judicial Conduct even though they happened when she was still a candidate.
Peterson filed a motion asking that anything that happened before she was sworn in be dismissed.
In a 13-page order, the JQC rejected all of Peterson's motions, writing the Georgia Supreme Court has "unequivocally held" that the JQC's jurisdiction covers "conduct undertaken while someone is a judge or judicial candidate."
Attorney Tate disagreed.
"It's not the job of the JQC to be overturning elections," said Tate.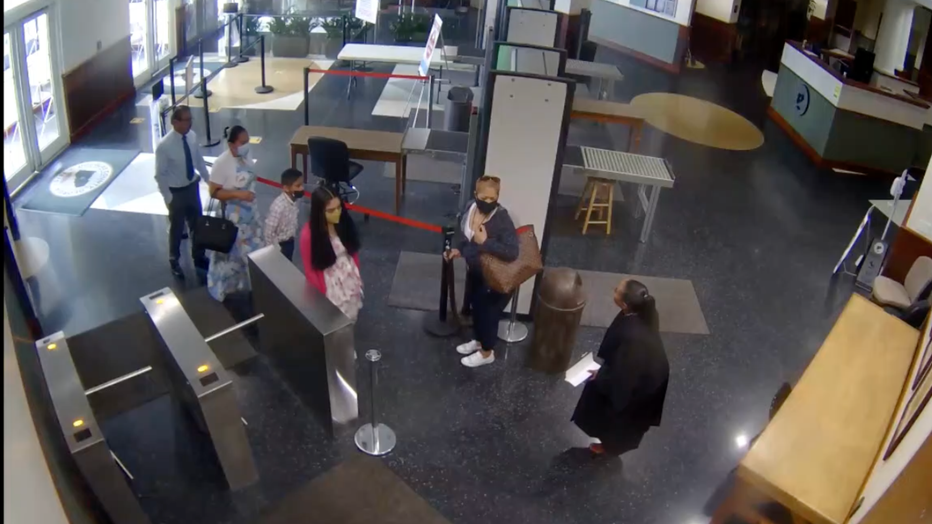 Judge Peterson allowed seven people into the courthouse without going through security despite earlier warnings from the Douglas County Sheriff's Office.
The order also leaves in place other disturbing allegations involving Peterson:
Her decision to let seven people into the courthouse for a Saturday wedding even though the sheriff's office had warned earlier they didn't have staff to operate the security checkpoint.
Peterson said a part-time deputy had the keys and let her inside.
Then there's Peterson's public dispute with her homeowner's association where she called one attendee "a witch" and offered the board a deal to dismiss a lawsuit she had filed.
"Call a special election and I'll drop the lawsuit," Peterson can be heard saying on video a neighbor recorded with their phone.
And the time she ordered a woman jailed for contempt for two days.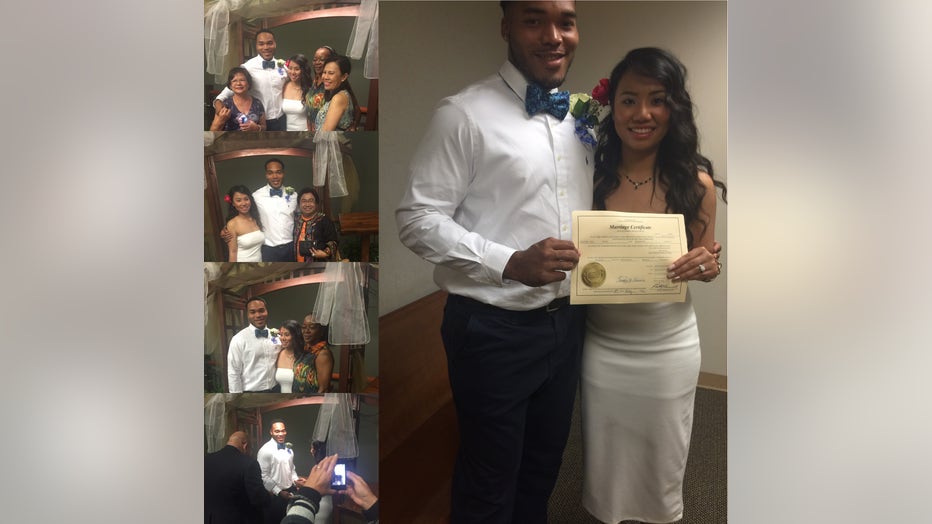 Peterson found PJ Skelton in contempt of court for lying on her wedding certificate application years earlier. Skelton had requested to update her license after learning the true identity of her father. Instead, Peterson ordered her to jail for two d
PJ Skelton asked to amend her wedding license after learning years later the true identity of her father. 
In what was expected to be a simple hearing, Peterson ruled Skelton had lied on the initial application and ordered deputies to take her to jail immediately.
"I had no thought in my mind that she's about to be arrested," Skelton's husband Montavious Skelton told the FOX 5 I-Team in 2021.
Did anyone advise your wife that she might need an attorney before the hearing?
"No one," he said. "I thought it was going to be an easy fix."
Meanwhile, the GBI continues investigating whether Douglas County employees misused their purchase cards to buy personal items.
Judge Peterson doesn't have a p-card, but she does have a county credit card.
The FOX 5 I-Team noticed five charges in 2022 to USAA Insurance totaling $4,458.85.
Peterson would not provide records showing the county purpose for those charges.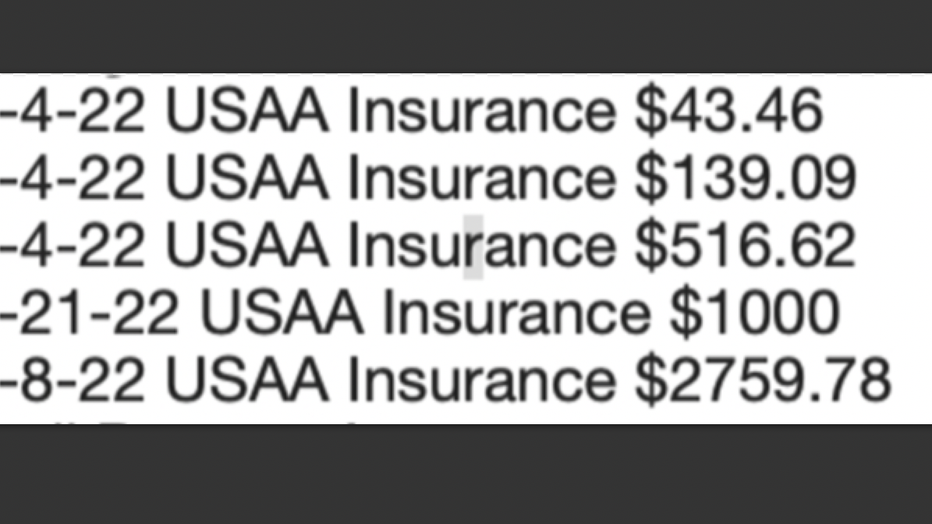 A list of unexplained charges to USAA Insurance by Judge Peterson.
Her attorney offered no additional information. Rather than punishing Peterson, Tate said the JQC should let voters decide.
"Next year she'll be standing for election again," said Tate. "So if the people think those judges are out of control wherever they may be, they have the authority in the state of Georgia… to vote those judges out of office."