Cheetah cub and puppy develop unlikely friendship at Va. zoo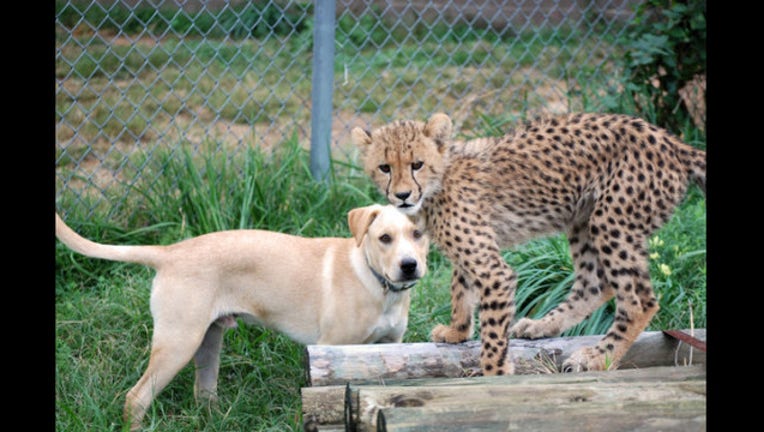 article
MOSELEY, Va. - Dogs are known as man's best friend, but apparently they can also be cheetah's best friend too. At the Metro Richmond Zoo in Virginia, a cheetah cub and a lab mix puppy have been pretty much inseparable.
When the cheetah cub named Kumbali was only two weeks old, zookeepers decided to hand-raise him after they discovered he was losing weight. It was discovered his mother was not producing enough milk for her three cubs.
Since then, the cub made great strides and has steadily gained weight while his motor skills have improved to a point where he can jump, run, lick and play.
However, the zoo is unable to place Kumbali back with his mother because they say she "would most likely consider him a threat." Because of this, the zoo had to find a companion for Kumbali.
The Metro Richmond Zoo adopted Kago, a puppy who was brought to Virginia after being rescued from a high kill shelter in Alabama. He was donated to the zoo by the rescue organization, The Art of Paws.
"After slowly introducing the two, they quickly assumed the title of friends," the zoo's website wrote. "Now Kumbali can jump, run, lick, and play with his pal Kago. They don't even seem to recognize their differences in species, size, or color. There is only acceptance."
The zoo plans to continue to raise the two animals together and they hope their friendship will be an example in raising other similar animals.
"Kumbali could possibly become an ambassador animal -- one who represents his species for the benefit and encouragement of its conservation," the website said. "In this case, Kumbali and Kago, will live out their lives together. If determined to be best for Kumbali, he will be reintroduced to his brother when older. Kago will still stay at the Zoo and join the Zoo Director's family to live out his life there with the Zoo Director's personal dog. Or, Kago may be used again as a cheetah companion if the need arises in the future."