Chattahoochee River stretch remains closed due to sewage spill
SANDY SPRINGS, Ga. - A roughly 10-mile stretch of the Chattahoochee River remains closed after officials say a water treatment plant sent sewage spewing into the water near Roswell last week.
The closure has been disappointing to people like Nicole Zitron.
"It's sad because, you know, so many kids put their toes in the water," she said. "People are fishing, they're not getting that experience that we should be getting."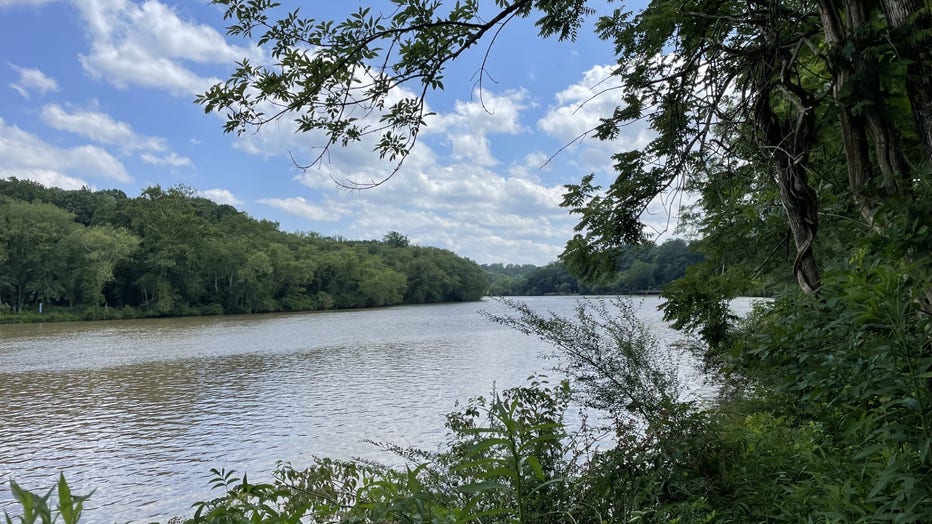 CHATTAHOOCHEE RIVER (Joyce E. Lupiani/FOX 5 Atlanta)
"Right now, you'd have 50 floats go by with us sitting here for five minutes," said Rich DeVon.
The river is closed from the nature center to all downstream sections of the Chattahoochee National Recreation Area. 
Chattahoochee Riverkeeper Jason Ulseth says the Big Creek Wastewater Treatment Plant in Fulton County malfunctioned which sent raw sewage into the river.  
"It allowed sewage to go through the plant and not receive its full treatment before it was put back into the river," he said.
Ulseth says the Chattahoochee Riverkeeper organization regularly tests 200 locations along the river. That testing found potentially dangerous levels of E. coli in the water since last week. The organization tracked the spill down themselves and notified Fulton County to get the plant fixed.
"The river will rebound. We just need to give it a little bit of time, and it will be back to normal conditions where it's perfectly safe for people to come out and recreate," Ulseth said. 
The Chattahoochee Riverkeeper says the plant has been partially fixed, and he expects the water to reopen as soon water quality tests show an improvement. 
E. coli exposure can cause diarrhea and vomiting, but could also be more severe.
FOX 5 reached out to the Fulton County Government for a statement. A spokesperson released the following:
"Fulton County continues to implement measures to address E. coli levels in the partially treated discharge from the Big Creek Water Reclamation Facility.
To correct the imbalance in the biologic process in wastewater treatment, crews are re-introducing "good" microbes into the treatment process and optimizing conditions for their growth. This process will occur in phases, with truckloads of healthy bacteria introduced each day over the next week.
We have also introduced additional UV treatment processes to provide further disinfection.
Approximately 5-million gallons of wastewater have been diverted to Cobb County's Sutton Water Reclamation Plant. We are grateful for their support.
Testing is continuing, and very preliminary results show that the process is beginning to work. We will continue to carefully monitor and test throughout the plant.
Fulton County continues to work with the Georgia Environmental Protection Division. We are also in communication with Chattahoochee River Keeper, National Park Service and municipal partners. We have also advised the Fulton County Board of Health of our efforts to address this issue.
Crews will continue work until the issue is addressed. Additional updates will be provided as more information becomes available."
ORIGINAL STORY
A busy stretch of the Chattahoochee River will be closed over the July 4 holiday weekend due to a sewage spill, according to Chattahoochee Riverkeeper.
The spill was discovered Thursday in the area of Morgan Falls in Sandy Springs and Bull Sluice Lake underneath the river bed, officials said.
Sections of the river will be closed from Chattahoochee Nature Center to Johnson Ferry.
The closure comes at the recommendation of public health professionals due to E. coli levels in the river exceeding 120,980 most probable number, well above the recreational water quality standard of the Environmental Protection Agency. 
Officials with the Chattahoochee River National Recreation Area say they are working with Chattahoochee Riverkeeper on continued sampling and monitoring.
It's unclear when the stretch of the river will be reopened to the public,