Butts County sheriff steps up patrols following federal ruling
BUTTS COUNTY, Ga. - In Butts County, deputies were front and center on Halloween night, passing out candies to trick-or-treaters in neighborhoods where sex offenders live. The approach followed a court ruling which prohibited the Sheriff's Office from placing warning signs in front of the homes of sex homes.
"We have an additional 25 on duty just for this activity tonight," said Captain Bruce Knight with the Butts County Sheriff's Office. The additional deputies happily passed out candy to trick-or-treaters, were at the same time positioned near the homes of sex offenders. It follows the court ruling earlier this week prohibiting the Sheriff's Office from posting warning signs in front of the homes of sex offenders.
RELATED: Federal judge grants injunction in Butts County trick-or-treat case
"What we've done is replaced the signs with deputies. We've placed deputies in neighborhoods we've identified as potential areas," said Captain Knight.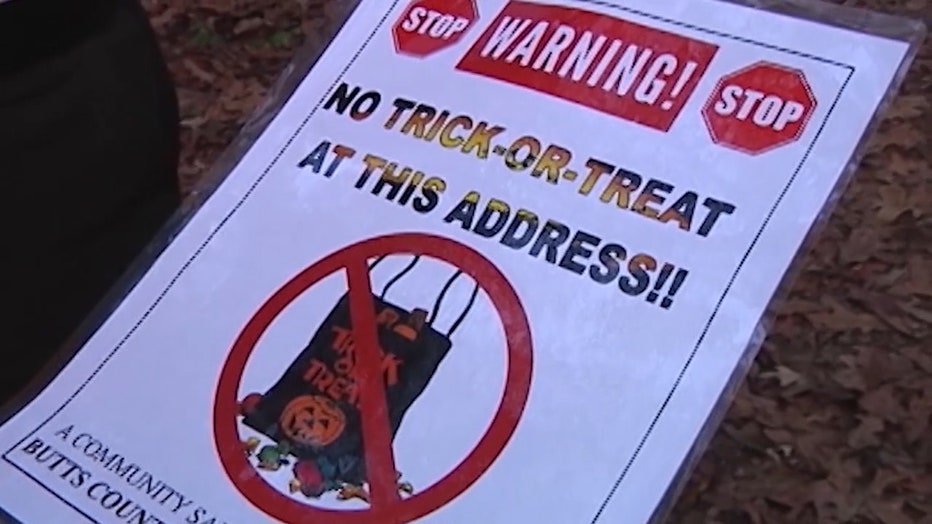 He said the deputies were placed near the homes of sex offenders, unlike the signs which would have been placed directly in front of their homes. Jessica Cabrera-Couoh, a mother escorting her children for Halloween, applauded the approach.
"I think that the signs are a bad idea and extra protection is a great idea," said Cabrera-Couoh.
While deputies were in neighborhoods, registered sex offenders on parole or probation were required to attend class at the sheriff's office from 6 to 9 at night. They were taught what is legally required of them and law enforcement. And even though the court ruled no evidence had been presented of previous specific threats from sex offenders in Butts County toward children on Halloween, on this Halloween night one of them didn't show up for class.
"We've got an outstanding warrant on one of them right now, so of course he's not here, so he's wanted, so we have a registered sex offender on the run right now," said Butts County Investigator Jeanette Riley who was teaching the class.
The outcome of this court case may still be unknown but when it comes to the safety of children on Halloween night and any other night the Sheriff's Office said they'll do what they have to do.
RELATED: Federal judge hears arguments in Butts County trick-or-treat lawsuit