Bill giving state more power in struggling schools advances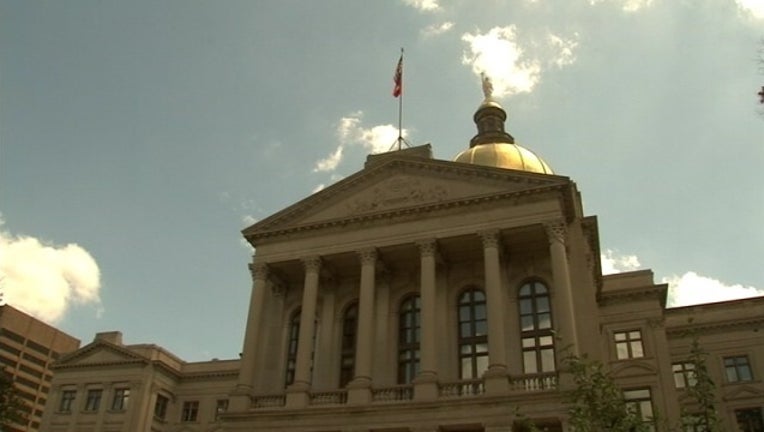 article
ATLANTA (AP) - Legislation giving the state more power to intervene in struggling schools neared final passage Friday as lawmakers worked through the day to pass legislation.
Friday marks the 38th day of the 40-day session. The final days of the legislative session are always chaotic as lawmakers push to vote on as many bills as possible. They also use legislative maneuvers to hitch stalled proposals to other bills.
Here's a look at some of Friday's action:
STRUGGLING SCHOOLS
A bill to grant the state more power to intervene in Georgia's struggling schools is one step from reaching Gov. Nathan Deal's desk.
Under the proposal, a new "chief turnaround officer" will be hired by the State Board of Education to work with the lowest performing schools.
The bill is an alternative to Deal's proposed constitutional amendment seeking to let the state take over schools dubbed "chronically failing" that voters firmly rejected in November.
The "turnaround" bill still prescribes some dramatic consequences for schools that show no improvement after three years or refuse to sign a new contract with the state. In both situations, state education officials can take actions including removing staff, turning the school into a charter or allowing parents to enroll their children elsewhere.
The Senate bill identifies eligible schools as the lowest 5 percent based on student achievement. The turnaround officer and other state education officials could use other factors, including location, accreditation status and the school's recent performance to select which schools the state will approach.
State Sen. Lindsey Tippins, chair of the Senate's Education committee, said Georgia officials, teachers and parents have worried about the state's lowest-performing schools "for years" but struggled to find a solution.
"This bill is about working through problems," said Tippins, R-Marietta. "It's about coming alongside people laboring in these schools to help them find a solution and deliver the education to students that they need."
The bill's sponsor, Rep. Kevin Tanner, R-Dawsonville, also has said he wanted a partnership between state officials and local schools rather than a state takeover.
The state's largest education groups have remained neutral on the measure but did unsuccessfully push for the turnaround officer to be appointed by the state superintendent, who is elected statewide, rather than Board of Education members who are appointed by the governor.
The Senate approved the bill Friday, 37-18. If the House agrees, the bill goes to the governor who has said he supports the idea.
The state budget lawmakers approved earlier this week included $1 million to hire the chief turnaround officer and get the program started. Several Senate Democrats said they doubt the state will commit to more funding in future years before voting no.
Supporters envision a team of "turnaround coaches" to work directly with low-performing schools and organizations in those communities and identify issues that students face outside the classroom, including poverty.
That work will require more state support, Democrats argued.
"We have to be prepared to actually fund those types of projects," said Sen. Harold Jones, D-Augusta. "If it were not, this bill cannot be successful."
___
AUTONOMOUS VEHICLES
House members approved legislation allowing self-driving vehicles in the state.
Supporters said car and technology companies, insurance providers and injury attorneys signed off on the proposal and warned that Georgia would be "left behind" as other states pass similar legislation.
"The future is today; the technology has arrived," said Rep. Kevin Tanner, R-Dawsonville.
The bill's sponsor, Rep. Trey Kelley, said he believes vehicles with autonomous technology will make roads safer and let people with physical disabilities travel more easily.
The House vote was 151 in favor and 17 opposed.
Rep. Dave Belton, R-Buckhead, was among those voting no. Belton, who works as a commercial pilot, said he wasn't comfortable with allowing systems that are independent of a human driver.
"Every machine fails," Belton said. "And when that machine fails, there's got to be someone in that machine, controlling that machine, who can stop it."
The bill returns to the Senate. If that chamber agrees with the House version, the bill heads to Gov. Nathan Deal.
___
OPTOMETRIST INJECTIONS
House members also decided that it's OK for optometrists, who are not medical doctors, to perform injections around the eye.
They voted 121-36 in favor of the bill.
The bill will change state law, which currently requires that only ophthalmologists, who have at least four additional years of medical training, perform injections.
Optometrists would have to do 30 hours of training before performing injections, and they would be restricted to working around the eye, rather on the globe itself.
Optometry schools have been teaching the skills necessary for several years. But Rep. Betty Price, who is an anesthesiologist, said that the training was insufficient.
"This bill is in the wrong direction for patient care in this state," said Price, R-Roswell.
The bill returns to the Senate for final approval.