Baltimore mass shooting: FBI offering 28K reward for information leading to arrest, charges
BALTIMORE - The FBI and other law enforcement officials are offering rewards up $28,000 for information leading to an arrest and charges in an investigation of a mass shooting in Baltimore, Maryland that left two dead and 28 others injured. 
As of Monday, July 3, more than one person was suspected of opening fire during the shooting at a holiday weekend block party, according to police. 
No arrests had been made by early Monday. Richard Worley, Baltimore's acting police commissioner, said it wasn't clear if the shooting was targeted or random, but he said police believe there were multiple shooters.
"We don't know exactly how many, but we do know more than one person was shooting," Worley said.
"The #FBI is assisting @BaltimorePolice in the investigation into the deadly mass shooting in Baltimore's Brooklyn neighborhood," FBI Baltimore wrote on social media Monday. "@FBIBaltimore and @ATFBaltimore have contributed to the $28,000 reward for information leading to an arrest and charges."
The FBI said that anyone with information regarding this incident is asked to submit a tip through Metro Crime Stoppers.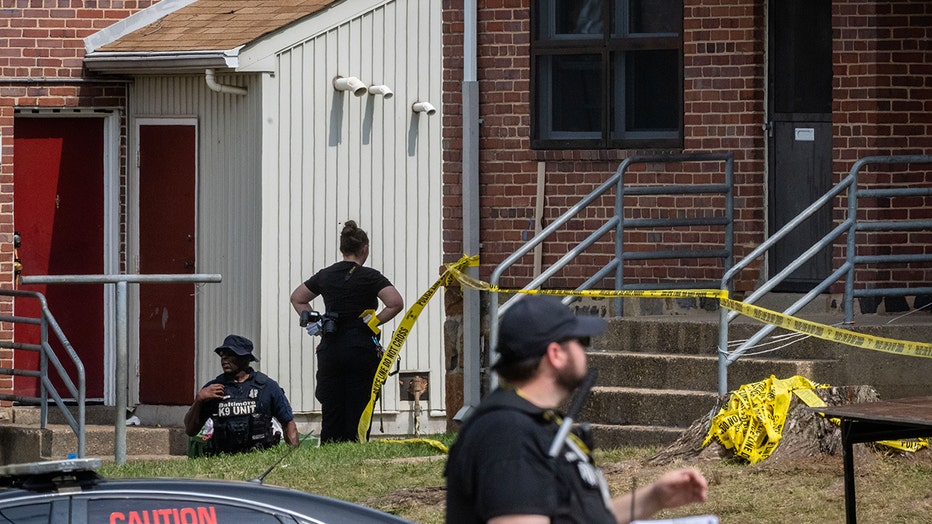 Authorities search for evidence at the scene of last nights mass shooting that left 2 dead and 20 wounded in Baltimore, MD. (Photo by Bill O'Leary/The Washington Post via Getty Images)
The circumstances leading up to the shooting early Sunday remained under investigation after police spent hours combing a massive crime scene in the Brooklyn Homes area in the southern part of the city. 
Nine of Sunday's victims were transported by ambulance and 20 walked into area hospitals with injuries from the shooting, Worley said. Nine remained hospitalized Sunday afternoon.
RELATED: Baltimore mass shooting: 30 people shot, 2 killed at block party during holiday weekend
The deceased victims were identified as 18-year-old Aaliyah Gonzalez and 20-year-old Kylis Fagbemi. Gonzalez died at the scene and Fagbemi died at the hospital. The 28 injured victims ranged in age from 13 to 32, with more than half younger than 18, officials said.
The shooting comes amid gatherings around the country leading up to the July Fourth holiday. A shooting in Kansas left seven people with gunshot wounds and two more victims hospitalized after being trampled as people rushed out of a nightclub early Sunday morning, police there said.
This story was reported from Los Angeles.