911 operator coaches new dad through helping wife give birth to daughter along I-285
DUNWOODY, Ga. - It was something drivers may not expect to encounter along the highway: a woman giving birth. That's exactly what happened on Interstate 285 in Dunwoody earlier this month. A 911 operator helped coach the parents through it all.
It's not unusual to see gridlock and flashing police lights during the morning rush hour, but this was no accident.
Operator: "911, what's the address of your emergency?"
On the other line, a man stuck in traffic attempting to get his wife, who is 38 weeks pregnant and in labor, to the hospital.
Operator: "Hello, sir? What's the address of your emergency?"
Father: "Uh. Uh, you speak Spanish?"
Operator: "No, sir, I do not. Let me get an interpreter."
With an interpreter's help, the 911 operator tries to get the man's exact location on the highway to dispatch police.
Operator: "I need a better location. Did he say he's on 285?"
Operator: "Yeah he's saying, he's saying 285 westbound. What's the nearest exit?
Interpreter: "The 29th exit."
Operator: "Exit 30, Exit 29? Is he before or after Ashford Dunwoody?"
Meanwhile, the baby would make its arrival.
Operator: "Let him know I'm sending the paramedics to help him now. Stay on the line, I'm going to tell him exactly what to do next."
Operator: "Gently wipe the baby's mouth and nose. Dry the baby off with a clean towel and then wrap the baby in another clean dry towel."
Operator: "We're going to watch the baby closely for 3 minutes and then tie the chord with a clean string. If you don't have a string you can use a shoelace."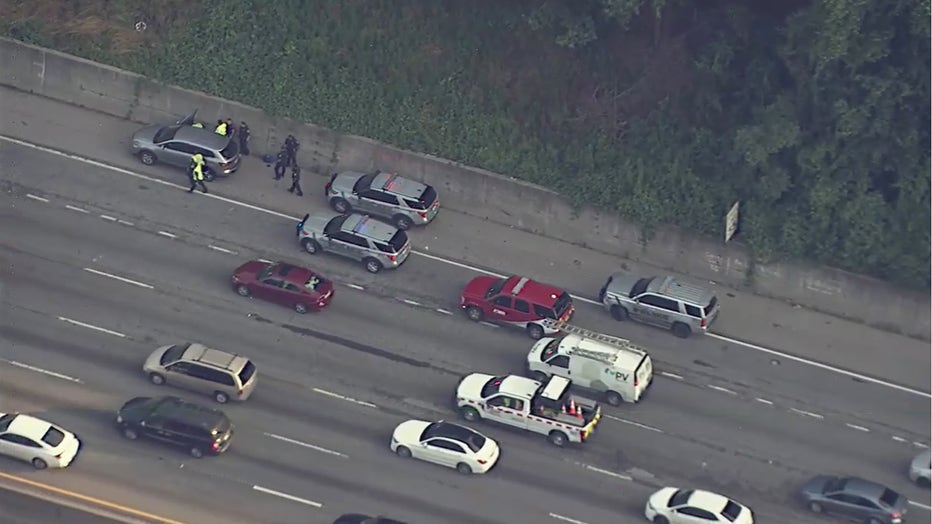 Dunwoody police arrived afterward and kept the family calm until EMS got there.
Operator: "Can you ask him if it was a boy or a girl?
Father: "Nina."
Operator: "It's a girl! Tell him that we said congratulations and I'll let him talk to the officers, sir."
The baby girl is doing OK.