Atlanta clerk sued for denying 'Stop Cop City' petition lets effort move forward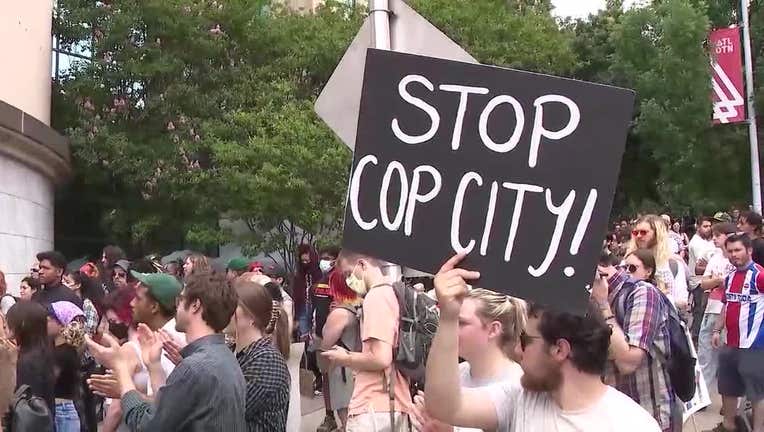 article
ATLANTA - Facing a lawsuit from opponents of Atlanta's proposed police and firefighter training center, the city clerk on Wednesday approved a petition that seeks to force a voter referendum on halting the complex.
The approval of the petition, which the clerk had twice rejected over technicalities, clears a significant hurdle for "Stop Cop City" activists, who have been gearing up to gather more than 70,000 signatures by Aug. 15 in order to get on the November ballot. 
Demonstrators say they hope they'll be able to start gathering signatures Thursday, barring any other delays from the clerk's office.
"We are grateful that the Municipal Clerk has fulfilled her legal obligation to recognize our repeated efforts to incorporate her requested changes in a timely manner," said Mariah Parker, who filed the initial petition.
Irate over Waldon's earlier rejection of the petition, activists had filed a lawsuit against the city Tuesday and asked a judge to force Waldon to approve the form. 
Waldon confirmed to the Associated Press on Wednesday that she has approved the petition. She declined to comment on the lawsuit. 
Atlanta Mayor Andre Dickens and others say the $90 million center would replace inadequate training facilities and would help address difficulties in hiring and retaining police officers that worsened after nationwide protests against police brutality and racial injustice three years ago.
ATLANTA POLICE BRING FOX 5 ONTO SITE OF THE CONTROVERSIAL SITE ACTIVISTS CALL COP CITY
But opponents, who have been joined by activists from around the country, say they fear it will lead to greater militarization of the police and that its construction will exacerbate environmental damage in a poor, majority-Black area. The "Stop Cop City" effort has gone on for more than two years and at times has veered into vandalism and violence.
The initial petition was filed June 7, a day after the City Council rejected hundreds of protesters' pleas to refuse to fund the training facility. 
The referendum would ask voters whether they want to repeal the ordinance that authorized the lease of the city-owned land where the project is set to be built.
ATLANTA CITY COUNCIL APPROVES FUNDING FOR PUBLIC SAFETY TRAINING CENTER AFTER HOURS OF PUBLIC COMMENT
In order for the language to get on the ballot, organizers must first gather the signatures of more than 70,000 registered Atlanta voters. They're soliciting money to pay canvassers.
Construction crews have already begun clearing wide swaths of the overgrown, urban forest in an unincorporated area of DeKalb County ahead of the construction of the 85-acre (34-hectare) campus. Project opponents said they plan to seek a court order to halt the work pending the outcome of their ballot effort.
As approved by the City Council in September 2021, the land is being leased to the private Atlanta Police Foundation for $10 a year. The proposed referendum would seek to cancel that agreement.