'Angel Street' production's intimate, historic setting its own character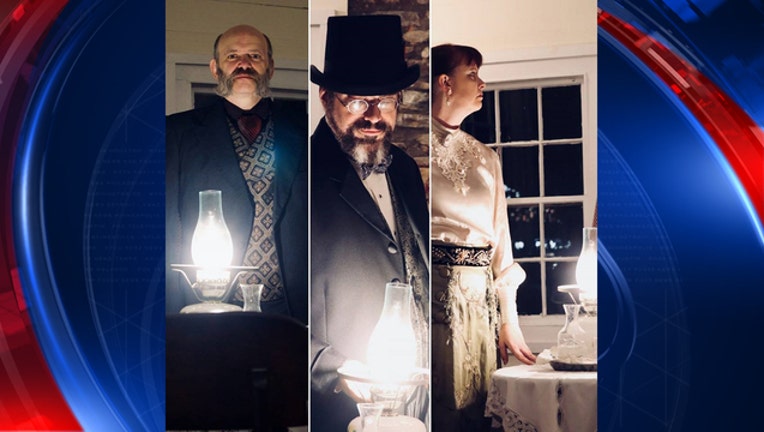 LILBURN, Ga. - The term "gaslighting" has become synonymous with psychological manipulation. It's a heavy subject, but an important one which an Atlanta-area community theatre is tackling in their latest production.
"Angel Street," known in England as "Gaslight," was written by Patrick Hamilton. The plot centers around a couple in the 1880s and touches on adult topics of infidelity, mental abuse, and even a murder.
Staged Right Theatre in Lilburn is producing a two-weekend run of the show in the unique and intimate setting of historic Wynne-Russell House, which was built in 1826.
"The house was built in the mid-1800's and performing this play in an actual room of a house form the same era is both exciting and challenging. We can guarantee that no audience has ever had a more up-close and personal view of this piece. They are literally seven in the room with the Manninghams," Director Gene Paulsson wrote FOX 5 News.
"The cast has really clicked in rehearsals to where the emotions are real – it's like eavesdropping in someone's home. The Wynne-Russell House and its close confines definitely add to the intensity - with the lighting and the shadows and the actors being right there, it will definitely be an immersive experience for the audience," said Cat Rondeau, who plays the female lead Mrs. Bella Manningham.
The director and crew agree the show is still relevant to a modern audience. Paulsson also moved the three-act play across the pond from London to Baltimore in hopes of making it even more relatable.
"The tale is set in 1880, but the theme is timeless," Paulsson told FOX 5 News.
"I feel like there are probably many people who can relate to Bella and her situation to various degrees," said Rondeau. "I am so excited to help bring 'Angel Street' to life because, while the show is nearly 90 years old, it still holds up in today's day and age."
Rondeau stars opposite J. Michael Carroll, who plays Detective Rough, and Martin A. Russell, who plays her husband. This is actually Russell's second time in the role having previously played Mr. Jack Manningham at Parnassus in 1995.
Rusell and Rondeau share some intense pretty scenes together.
"Bella hasn't had the easiest life – she has been taken advantage of and broken down for a while. However, you can still see in certain moments that she still has the strength inside her if she can only find it," said Rondeau.
The show is especially dear to Paulsson, who admits to having a passion for theatre since he was 5 when he was cast as the "M" in Christmas at our School Christmas Concert.
"I still remember the Elf costume and my older cousin poking me in the back because I was singing too loud. I have performed or directed in at least one show a year since then, except for two years after our twins were born," said Paulsson.
"My first attempt at directing was for a fundraising showcase event for Actor's Showcase Theatre Co. in Winnipeg in 1974. I chose the opening scene of Angel Street. When I became aware that Staged Right was to present Angel Street this season, I applied immediately and was very excited to be awarded the position. So, 44 years later, I get to direct the entire play," Paulsson added.
The production also stars Marianne Geyer as Elizabeth, Sydney Dirigo as Nancy, R. Chandler Bragg, and Art Fischer both as policemen.
As for how the term "gaslighting" came about, one really needs to see the play. The show runs next Friday through Sunday, with two shows on Saturday. To learn more and purchase tickets visit Staged Right Theatre's Facebook page.