Mom of girl found dead in DeKalb County closet makes 1st court appearance
DEKALB COUNTY, Ga. - The mother of a 7-year-old girl whose body was found in the closet of a vacant DeKalb County apartment made her first appearance in court Wednesday.
On June 25, 2023, a resident of the Hidden Valley Apartments on Misty Waters Drive called the police after he went to investigate a foul odor coming from a nearby apartment.
The man told police he went inside the unit to investigate the smell and found the body of a little girl in the closet. The condition of the body showed she had been dead for some time, officials say.
Days later, investigators identified the girl as 7-year-old Alivia Hobbs-Jordan. On June 27, police arrested the girl's mother, Alondra Hobbs, and charged her with felony murder and cruelty in the second degree.
Hobbs appeared in front of a DeKalb County court judge Wednesday via Zoom to hear her charges,  
Due to the nature of the charges, the judge was required to transfer Hobbs' case to the Superior Court. She will remain in custody until the Superior Court judge determines whether she will receive a bond.
DeKalb County Police have not released the official cause of death for the little girl. 
Alivia Hobbs-Jordan (Courtesy of the family)
Family members shocked over girl's death
Family members told FOX 5 that they were not prepared for the gruesome discovery.
"I woke up this morning, and it's been on my mind all day. I don't know. I haven't processed it. I'm still not believing it," said Latrience Robinson, Hobbs' aunt.
She says it still feels like a dream or more like a nightmare.
"My sister was saying, 'Latriece, you know that was Alivia they found dead in DeKalb,' I really couldn't believe that," Robinson said. "When they said on the news they found the baby with her hair combed and dressed nicely. I was like 'Wow that's my niece,' because she did always comb her hair and neatly."
While they hadn't seen Hobbs-Jordan in a while, they say her mother had a story for why she wasn't around. 
"We had no clue. The baby was supposed to be with the dad's mom in Albany. That's what she kept telling us, but she was here staying with my sister. She was staying in the back with a guy." Robinson said. 
Robinson says Hobbs has two other small kids and Alivia suffered from autism. She said the little girl's death just didn't make sense.
"I just didn't see that in her. We all have issues, but I didn't think she would do something to her kids," Robinson said.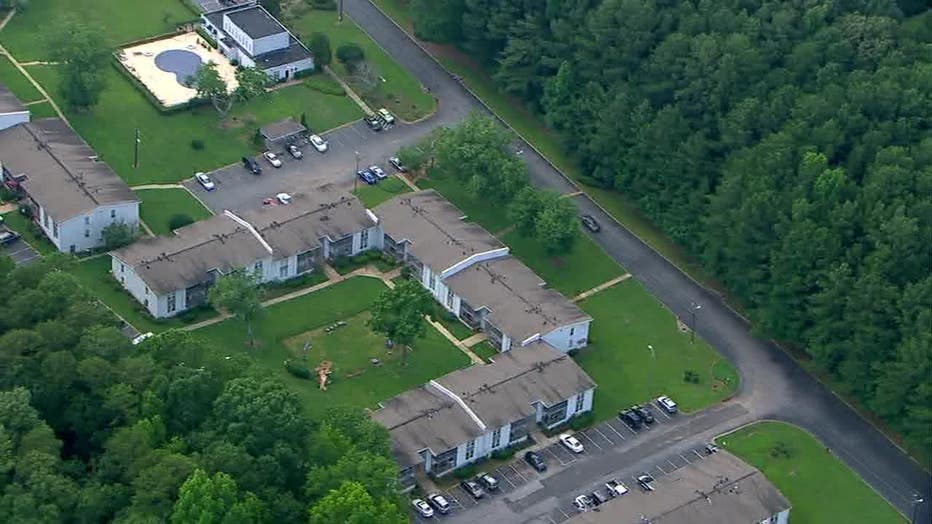 The body of a young girl was found in a DeKalb County apartment complex along Misty Waters Drive off Candler Road on June 25, 2023. (FOX 5)
A GoFundMe has been set up by the girl's grandmother to help with funeral expenses. FOX 5 does not endorse or vet any GoFundMe accounts. Donate at your own risk. 
If you have any information that could help with the investigation, call the DeKalb County Police Department.