3 suspects arrested in Fayette County after vehicle pursuit, manhunt
FAYETTE COUNTY, Ga. - Three young man were arrested on Sept. 15 in Fayette County after a vehicle pursuit and a manhunt, according to Fayette County Sheriff's Office.
FCSO says at around 5:20 p.m., deputies spotted a stolen vehicle leaving the QuikTrip near Highway 85 and Corinth Road. The deputies attempted to stop the Hyundai. Deputies say when they signaled for the car to pull over, it didn't.  Instead, the driver sped off.
Deputies say the chase itself was not very long, compared to other pursuits these days. It ended when the car lost control near River Mist Drive.
The three young men inside jumped out and ran away.
Deputies called in Fayetteville Police Department's K-9 Unit and they began searching. Deputies say they tracked three suspects through the woods and swamps.
"Very thick and very swampy. We, with the assistance of Fayetteville PD with their K-9 unit, we also had our K-9 unit out. They were able to track them and find them. They were very deep in the woods in very swampy area," said Fayette County Sheriff's Chief Deputy Anthony Rhodes.
By 5:50 p.m., all three suspects were arrested in the nearby woods.
They have been identified as 21-year-old Marcus Morris of Riverdale, 20-year-old Brian Reynolds of Riverdale and 20-year-old Derrick Strong of Atlanta.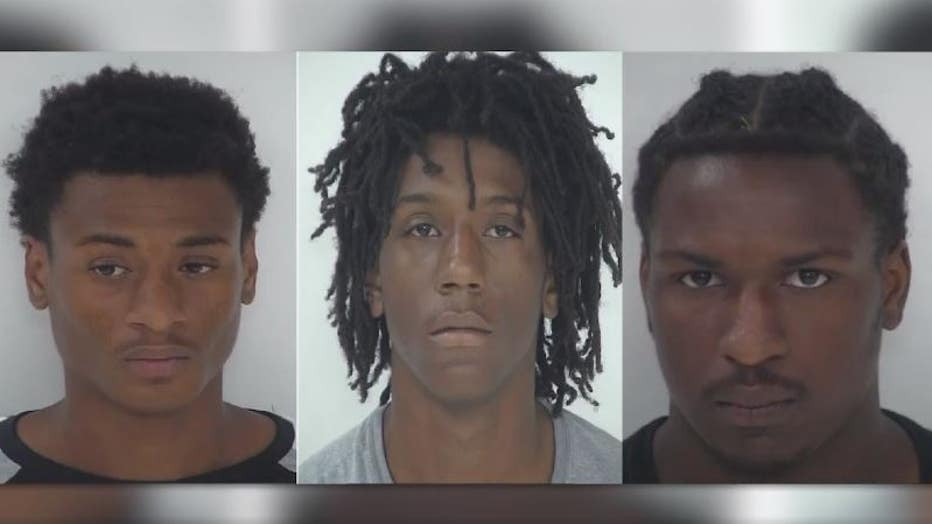 Morris, Reynolds and Strong were charged with theft by receiving stolen property, fleeing/eluding law enforcement, seat belt violation, obstruction of officer, and reckless driving. 
Rhodes says it doesn't matter if they were the driver or the passenger going along for joyride, all those inside a stolen vehicle will be charged with its theft.
The sheriff's office says the theft of Kia and Hyundai cars continues, fueled by a TikTok challenge and despite the efforts by the automaker to prevent or discourage it. 
WATCH THE CHASE