Gov. Deal declares state of emergency for Hurricane Michael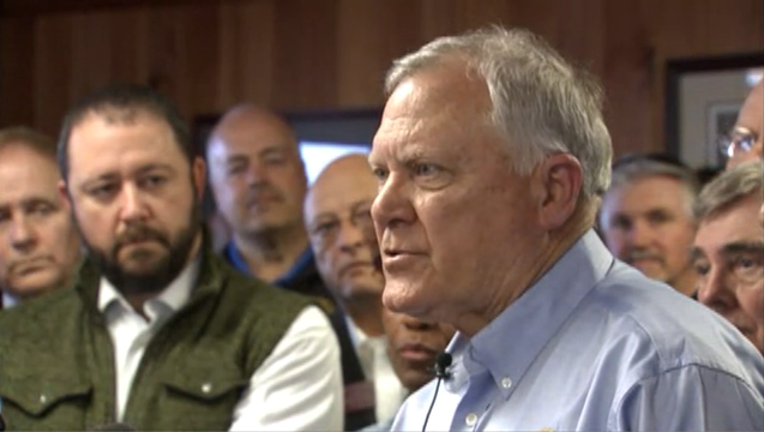 article
ATLANTA - Gov. Nathan Deal has declared a state of emergency for 92 Georgia counties ahead of Hurricane Michael making landfall in the U.S.
In a statement, the governor said he was acting on a recommendation from Georgia Emergency Management and Homeland Security Agency.
"The state is mobilizing all available resources to ensure public safety ahead of Hurricane Michael," Deal said in a statement. "In light of the storm's forecasted track, I encourage Georgians in the affected counties to be prepared and remain vigilant."
MORE: Michael strengthens to Cat. 2 Hurricane, will impact Georgia
The declaration is effective for the next week and will make resources available to local government and entities in the areas the hurricane impacts.
%INLINE%
The 92 counties under the emergency declaration are: Appling, Atkinson, Bacon, Baker, Baldwin, Ben Hill, Berrien, Bibb, Bleckley, Brantley, Brooks, Bryan, Bulloch, Burke, Calhoun, Camden, Candler, Charlton, Chatham, Chattahoochee, Clay, Clinch, Coffee, Colquitt, Cook, Crawford, Crisp, Decatur, Dodge, Dooly, Dougherty, Early, Echols, Effingham, Emanuel, Evans, Glascock, Glynn, Grady, Hancock, Houston, Irwin, Jeff Davis, Jefferson, Jenkins, Johnson, Jones, Lanier, Laurens, Lee, Liberty, Long, Lowndes, Macon, Marion, McIntosh, Miller, Mitchell, Montgomery, Muscogee, Peach, Pierce, Pulaski, Quitman, Randolph, Richmond, Schley, Screven, Seminole, Stewart, Sumter, Talbot, Tattnall, Taylor, Telfair, Terrell, Thomas, Tift, Toombs, Treutlen, Turner, Twiggs, Upson, Ware, Warren, Washington, Wayne, Webster, Wheeler, Wilcox, Wilkinson and Worth counties.