Women's World Cup: Brazil and its legendary star come charging | July 24, 2023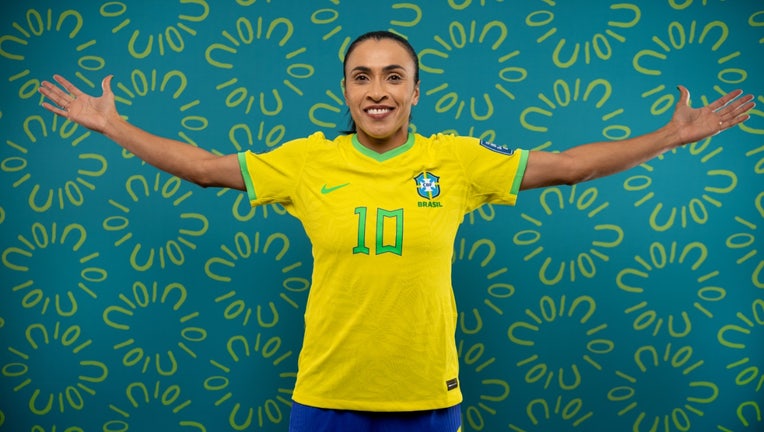 article
CHICAGO - The FIFA Women's World Cup only happens once every four years, and whether you're a soccer devotee or someone who just tunes in when the Cup comes around, you won't want to miss the action. Never fear: We've got you covered.
Every day through the Final on August 20, FOX Digital will be breaking down the details on all the can't-miss matches, players to watch and other essential details. What's next: A soccer legend begins her sixth – sixth! – World Cup. 
Watch the 2023 FIFA Women's World Cup only on FOX and FS1.
Women's World Cup matches on July 24, 2023
For details on the results of concluded matches, scroll down to the 'Soccer spoilers' section. 
In addition to those three matches, the first match of the next day will be airing while it's still the 24th stateside:
Colombia vs. South Korea, 10 p.m. EST (FOX, FOX Sports app)
Match spotlight: Brazil vs. Panama
Brazil comes into the Cup as an experienced squad with a hefty jolt of freshness, courtesy of legendary Swedish coach Pia Sundhage. She's been working with them for the last four years, and per FIFA, that's resulted in a team that's capable of "adapting their tactics to suit the occasion, a versatility they have developed in preparation for the most important tournament of them all."
And that flexibility has served them well, as when A Seleção won the Copa America in 2022, or when they took the victorious Brits to a shoot-out finish in the UEFA Women's EURO. And with Marta in fighting shape, they're all but guaranteed to put on a show. 
As for Panama, the team makes its first World Cup appearance as part of the imposing Group F (which FOX Sports calls "one of the more competitive groups at the 2023 FIFA Women's World Cup.") The odds may not be in their favor, but under the leadership of manager Nacho Quintana, the team from Panama have proven that they can win big games against serious opponents. 
RELATED: 8 teams that could stop USWNT from three-peating at 2023 World Cup
Players to watch on July 23, 2023
Brazil: Marta, forward
Legendary Brazilian footballer Marta (one name only, like Beyoncé or Cher) is making her sixth Women's World Cup appearance in 2023. Like Megan Rapinoe, she's announced that the 2023 Cup will be her last. She has yet to win it all for Brazil, however, and that sets the stage for a Lionel Messi-esque storybook triumph. That Cup will be the main thing she's hunting in this tournament – but don't be surprised if she manages to smash a few records along the way.
Where is the 2023 Women's World Cup taking place?
The eyes (and cameras) of the world have turned toward host countries Australia and New Zealand. 
In what time zone is the Women's World Cup taking place?
Well, there's more than one time zone involved, as the battles for the Cup will take place in 10 stadiums in two countries. But suffice it to say that you're looking at times that are anywhere from 12 hours (for matches in Perth, Australia) to 16 hours (all New Zealand-based matches) ahead of EST.
That means some matches – like Nigeria vs. Canada, the first match of day two (July 21) – will be played early in the day locally but air on what's technically the evening before in the U.S. (in this case, July 20). Who said there's no such thing as time travel?
RELATED: Who could be the breakout star for this young, talented USWNT squad?
Where can you stream the FIFA Women's World Cup?
We're living in the future, baby! All matches will be live-streamed on FOXSports.com and via the FOX Sports app, and full replays will also be available. So if you're not into watching soccer at 3 a.m., you're covered! 
How can I watch the FIFA Women's World Cup on live TV?
The FIFA Women's World Cup will air on FOX and FS1. The complete schedule awaits your perusal at FOXSports.com. In addition to all FIFA Women's World Cup matches, head to your preferred FOX platform for game highlights, replays, stats, player stories, analysis and more. 
How does the elimination round work in the Women's World Cup?
Good question! As with the men's World Cup, it's a wee bit complicated. The 32 qualifying teams have been split into eight groups, each assigned a letter (A-H). In the first round, the groups compete against each other: each "side" (team) will participate in three in-group matches. A win is worth three points, a draw worth one point and a loss is worth (you guessed it) zero points. 
At the end of the round, the top two teams (as determined by point total) in each group proceed to the knockout round. That's 16 teams total. 
RELATED: 2023 Women's World Cup betting primer: How to bet on soccer
When does Team USA play next?
After their July 21 showdown with Vietnam, Alex Morgan, Lindsay Horan and company will square off against the Netherlands on July 27.
Soccer spoilers: day three results
Read about Germany vs. Morocco via FOX Sports.
Click here for more about Italy vs. Argentina.
FOX Sports reports on the results of Brazil vs. Panama.
Watch the 2023 FIFA Women's World Cup only on FOX and FS1.